Well, I don't really have anything to add to that…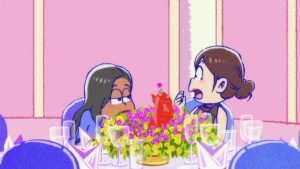 The latest in Osomatsu-san's hostile takeover of the world: tissue box covers that say "Fapping in Progress", and a tie-in with shoujo magazine "Margaret".  It's also prompted by far the largest print run ever of manga magazine "Pash!", which has interviews with Nakamura Yuuichi (Karamatsu) and Fukuyama Jun (Ichimatsu) as well as director Fujita Yoichi and writer Matsubara Shuu (it's already prompted the first-ever reprint of "Monthly Animage". which sold out in hours after putting the series on the cover).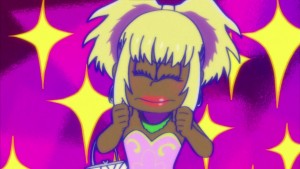 I'm pretty much in awe of this show – yeah, it's brilliant, but more than anything the impact it seems to be having on Japanese pop culture.  I wonder if this show will ever hit in the West in a big way – I suspect not, because I think the humor is just too culturally specific (it's funny if you're not a Japanese NEET, but not the same kind of funny).  I also wonder if the show's staggering success is making Yoichi and Matsubara delightfully drunk with power, because they seem to be going all-out to top themselves every week.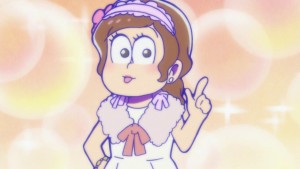 I don't think there's any point in my trying to blog an episode like this one in traditional form – it was pretty much a nonstop onslaught of self-referential deviance for 22 minutes.  I'll just point out a few moments that struck me as especially brilliant, but first note that my plaintive calls for a return by the supporting cast – especially Iyami – could hardly have been answered more literally.  I do love the brothers, but this other characters here are so great that it's kind of a shame to see weeks go by without their involvement.  Best moments:
Osomatsu-san being called out for being "remarkably unpopular"
The return of Fappymatsu and the introduction of the Fappymobile
Chibita's consternation about the three lines on his face – and his plaintive appeal to "Akasuka-sensei!"
Iyami taking the time to stop and set off dynamite because he didn't have a vehicle with which to run Osomatsu over
Ichimatsu derailing Sachiko by turning into his "hot version" and going full frontal
Iyami using his ultimate weapon and using everyone's dark side against them in an incredibly disturbing montage of brilliant surrealism
Iyami turning into a robot and using a faucet to piss all over Osomatsu
Shonosuke winning the race on a Segway
Seriously – what could I possibly say to enlighten that experience any more than it already is?