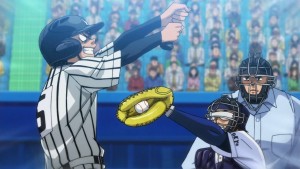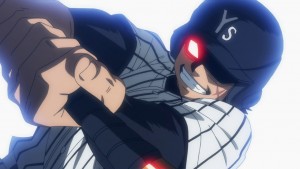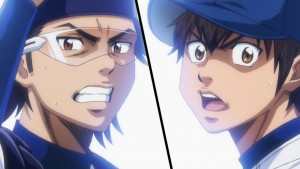 Will someone please get this guy off the mound already?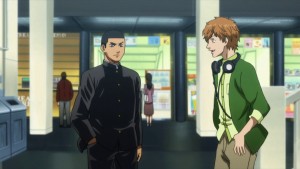 I realize that it's the point, to a certain extent, but the contrast between Typhoon Raichi and limp-seaweed Nori could hardly be more dramatic.  Talk about a difference in presence – Raichi is a ball of charisma holding a banana (or two) and Nori is a lump of dryer lint. I have a certain sympathy for the overachieving little guys in sports anime when they're portrayed well, but you can't just build a guy up as a loser for 100 episodes the way Daiya no A has and turn the big stage over to him when it matters most and expect me to buy what you're selling.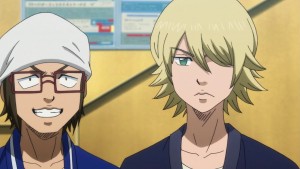 There are definitely issues with Raichi, make no mistake.  He's not remotely doing it on purpose, but he's such a wildman on the mound – and he throws so hard – that he could seriously injure somebody (and indeed he almost beans Kawakami here).  But damn is he ever fun to watch, both on the mound and at the plate.  Interestingly, as a hitter Raichi is quite the opposite of what he is on the mound – behind his wild eyes and maniacal laughter he's keenly observant, and very savvy about what pitchers are trying to do to get him out.
Thank goodness for Raichi or this game would be a total washout until Eijun comes in to pitch.  When Seidou is on defense the most interesting thing going on is the conversation between the four middle-schoolers in the stands, including newcomer Akamatsu Shinji (Yonaga Tsubasa), and eventually between Shinji and Mei-chan.  The three kids we know are all going to Seidou, but Shinji plans to go to Inashiro – and given the amount of face time he got in this episode I think we can expect him to be significant in future arcs.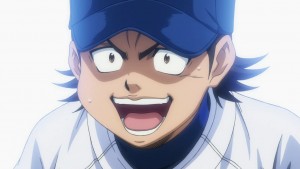 Raichi's at-bat is certainly the most impressive thing in the episode, even if the writing gives Nori the convenient excuse of having numb hands after Raichi busts him in on the fists with a blazing heater.  Raichi takes unappetizing pitch after pitch until finally getting something he can drive – a hanging sinker on the outside.  And rather than trying to pull it he just powers it out to left on a clothesline.  But I was also impressed with his dad, once again – his refusal to bunt ("We have the momentum – why give them a free out?") is great strategy and pretty unusual in Japanese baseball.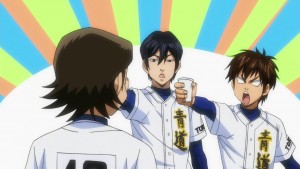 With Nori struggling to find the plate it seems the end of our suffering must surely be coming soon – though who knows how long this thing could be dragged out.  With Raichi doing so well on the mound Sanada is going to be about as rested as we've ever seen him, so I don't think Seidou is going to have much margin for error on the mound – they aren't likely to be scoring many more runs.