Every time I think I'm out, they pull me back in again…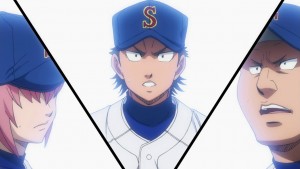 I was pretty close to unleashing the dreaded nuclear option on this episode of Daiya no A – the fast-forward button.  Another preposterous plot-advancing defensive play at the key moment, Nori getting a convenient injury to excuse his pitching lik his history says he was going to pitch anyway – there's only so much Diamond no Ace bullshit I can take.  And I'll say it right now – if Furuya gets to come in and be the hero, I'm out.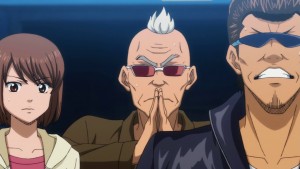 The real question, then, was whether Eijun was going to be able to ride in and save the day (for the series, not Seidou) yet again.  It's a tall order, but he does have Raichi to help him.  And God dammit, Eijun rode in and saved the day yet again.  This sadistic attitude Terajima seems to have towards him (seriously – how many bloop hits can one pitcher give up?) has stretched my patience to the limit.  But the show is just so much better when Eijun is pitching that it's all worth it again.
This the matchup the season has been building towards, no doubt about – baka to baka, mano a mano.  Eijun makes it obvous pretty quickly that he's not the same kid he was when Yakushi roughed him up in the practice game – after the bloop brings in the go-ahead run (charged to Nori, at least) he gets the third out on maybe his fastest straight-o yet (with help from Miyuki's keen eyes picking up a grip change by the hitter).  I love the fact that the cheering section has officially adopted Eijun's "Yosh, yosh, yosh!" chant – though Eijun seems to have slipped into big-boy mode too much to be seen doing it himself after giving up that cheap RBI single.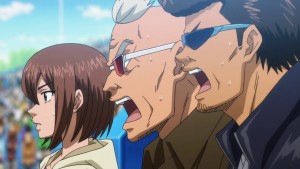 As for Raichi, he never fails to entertain, be it pitching or hitting.  He's just flat-out wild in every way, which makes him insanely fun to watch.  He has no idea where the ball is going half the time (from third base, either) and he promptly walks the first thee Seidou batters after his team has grabbed the lead.  But faced with Miyuki, all of a sudden he's dialed-in again – he freezes Miyuki with three-straight blazing fastballs right down the middle.  Once again Raichi is effectively wild, and hs insanely competitive nature makes him erratic as hell.  But never boring.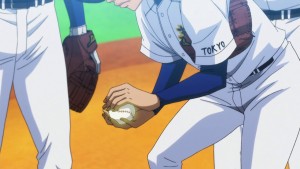 I would imagine we're going to see Sanada on the mound pretty soon here (though Raizou does threaten to have his son pitch to Miyuki every time up) but even with the bases loaded for Seidou, the real drama is in what's going to come in the next half-inning – Eijun's rematch with Raichi.  Given Terajima's absolute refusal to let Eijun be the hero I can't imagine this game will be any exception, but perhaps he'll relent a little and let Eijun strike Raichi out one time.