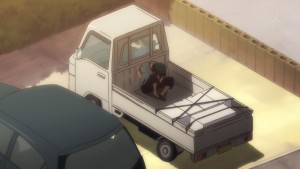 Thank goodness for shows like Dagashi Kashi, really.  They do a lot of anime's heavy lifting and don't get much credit for it, but a season can feel so desolate without a series like Dagashi – one that's as easy to enjoy as a cool breeze on a summer day, that doesn't go out of its way to challenge or trouble you but rests comfortably on its own charms.  They never get much herald, usually ending up on my #11-20 list at the end of the year if they show up at all, but they're often the shows I feel the most genuine affection for.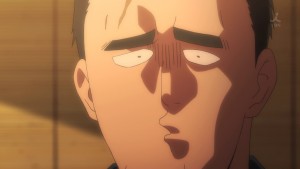 Funnily enough, the anime version of Dagashi Kashi is actually quite different than the manga.  It places a significantly greater focus on Saya and her relationship with Kokonotsu than the manga, which is focused mostly on Kokonotsu and Hotaru's candy-related insanity.  Some manga readers are complaining about this because, well – that's what manga readers do.  But I found both versions equally endearing, and I think Takayanagi-sensei is quite justified in what he's done because anime is a different medium than manga.  I suspect if this shift in content hadn't happened Dagashi Kashi would have ended up being half-length or a short, because a full cour of episodes built just around the dagashi-related gag comedy would have been a tough sell.  I for one am happy to have what we have.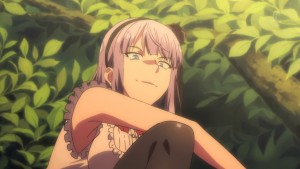 This episode is a perfect example of why the anime version of this series works – and indeed, why this sort of anime works generally speaking when it's done well.  The secret to making material as guileless and open as this successful is sincerity – lack it and you're toast.  Fortunately Dagashi Kashi has it in droves.  This was effectively one long story, unusual for this show – the theme is the matsuri, a chestnut in anime if ever there was one.  I'm an absolute sucker for Japanese festivals – I never tire of them.  I confess I never knew about the link between monjayaki and candy stores (monjayaki, by the way, is the gloopy Tokyo version of okonomiyaki – most famous in Tsukishima, where Sangatsu no Lion is set) but the rest of the story felt as comfortable and familiar as an old sweater.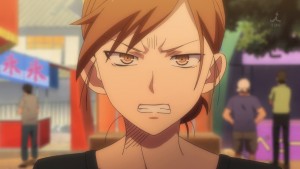 Among other things, we met Tamai, a potential love interest for You-san and an okonomiyaki peddler herself.  We were also introduced to another matsuri tradition, the cutting of images out of hard candy for prize money. It's a peculiar "only in Japan"-feeling thing, and it happens to be one Hotaru is especially good at (which is a good thing, as she's almost broke).  You has enlisted Coconuts to help at the monjayaki stand, hair tied back, but he proves himself to be a bro when Saya shows up obviously hoping to have some time to do the festival courtship ritual with Coconuts (this works out well for everyone, as Tou discovers a hidden talent as a yaki-jockey).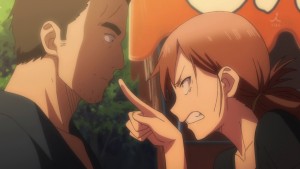 Is Kokonotsu really so dense as to have no idea of Saya's feelings towards him?  I'm not so sure – he definitely gives off the air of a guy who knows when he's supposed to blush.  It's pretty hard-core adorable to watch the two of them do the rounds at the matsuri, of course, but that's where the sincerity part saves the day.  There's not a whole lot of comedy in this half of the episode, but that warm feeling in the air isn't because it's summer on-screen.  This is the old osananajimi trope played about as well and as charmingly as it can be played.  I know it's not strictly canon, but honestly – when it's this good, why quibble over stuff like that?