There isn't a whole lot I can say in the wake of what we just saw, to be honest. But I'll try.
I really think this episode was right up there at the upper limits of how good anime can be, no exaggeration.  I'd judge at least half of the first eight episodes of Boku Dake ga Inai Machi to have been truly great – as in, comfortably in my top Top 50 eps of all time.  So I don't think there's any hyperbole with this series, even with the nosebleed fan rankings and owning 20% of the manga bestseller list in Japan for two weeks – that reaction is exactly as it should be, because Boku Dake ga Inai Machi is that good.  I knew it all along of course, but it's still nice to be validated in such spectacular fashion.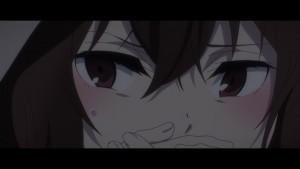 If there's anything that I find mildly off-putting about the fan reaction to this show, it's how much of the focus is on the mystery and thriller aspects.  Now don't get me wrong – Erased is indeed a thriller, and the plot itself is crucial to its very existence.  But if anything I'm amazed that the fan reaction is so positive when so much of it isn't focused on what I consider the best part of the series – the characters.  I think it's the emotions that underlie the story, and the way the characters' emotions are woven together that truly make Boku Dake ga Inai Machi a historically excellent series.
One of my favorite lines of movie dialogue comes from Woody Allen's Radio Days, in which the character effectively playing the young Woody's mother declares "The world would be such a beautiful place if it weren't for certain people."  That line was spoken about the Nazis, b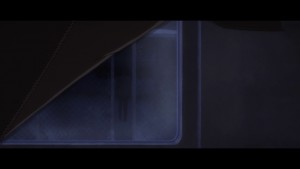 ut it could just as easily apply to Boku Dake – and one of the amazing things about this series is the way it can so vividly portray both sides of the coin that is human nature.  Darkness is so starkly on display here – there can be little we find so viscerally evil as the abuse and murder of children.  But there's so much more to this story than that, and that's what makes it such a powerful experience to watch (or read) it.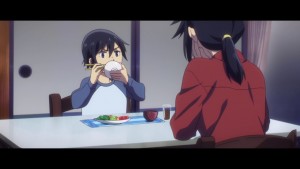 Honestly, I found this episode utterly heartbreaking – not because of the evil that people do, but because of the good.  I just love these characters so much – there's so much decency here, so much courage, so much honesty.  It's a crying shame there aren't more serious anime about children, because they can be powerful in a way series about high schoolers and adults (not that there are many of those either) simply can't.  And then we have Sachiko, who's such a quietly heroic figure – the absolute essence of what parenting should be.  She understands the gift she's been given, and the responsibility that goes with it.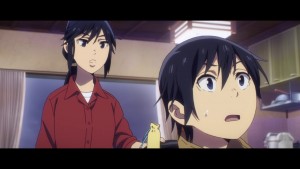 As usual, I want to call attention to a couple of specific scenes which I think are transcendently brilliant.  The first takes place on the bus, at the moment when Kayo belatedly gives Satoru his birthday present.  Just on a superficial level this is obviously a moving moment, but just ponder on all the layers upon layers that are really involved here.  This is a 29 year-old man in the body of a 11 year-old boy, living out a moment that's haunted him for a lifetime.  Who's the one doing the crying here – the man or the boy?  Is there a difference?  I love the way the two Satoru bleed into each other, each bringing something that the other needs to be complete.  I think the obvious reaction is that it's the child in Satoru that most wants to cry here, but I would argue it's actually the adult – because he's the one who's experienced all the pain and loss.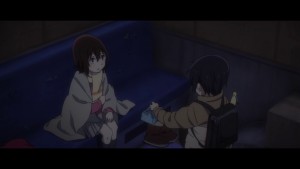 Then we have the moment when Satoru finally brings Kayo home, having been reminded in all too ugly terms that the bus isn't a safe hideout.  If you dare suggest anything that happens in the Fujinuma apartment is cloying or melodramatic I'll be tempted to slap you, because this is what earned emotion is all about.  The moment when Kayo flinches as Sachiko raises her hand is gut-wrenching for all the right reasons, because we've come to understand utterly what brought us to this moment.  Boku Dake ga Inai Machi has mercilessly brought us here, sparing us nothing, because it had to do that to allow is to grasp the true meaning behind what we're seeing.  This scene also contains one of the funniest moments of the season, Satoru's "Mmm." when Sachiko asks if she's in the way – a passage whose success is no less dependent on all the buildup that's been done to get us to it.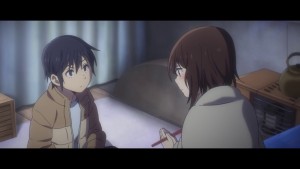 There's so much more I could get into here, things like Kenya's radar that something is off with Satoru, and Satoru's diligence in making sure Hiromi be brought into the circle with Kayo and himself – all of which we're allowed to piece together ourselves without being told outright.  I'd also like to talk about the pacing of the series, which is an interesting topic – there's actually some original Satoru-Kayo material in here that helps the anime impact in a way not even the superlative manga can.  But I feel that could potentially be an awkward topic so it's probably best not to go there, as much as I'd enjoy discussing it.  Rather, I'll just reflect again on how exquisitely good this show is, and how fortunate we are as fans that Boku Dake ga Inai Machi has received this unicorn of an adaptation – the great manga made into an equally great anime.