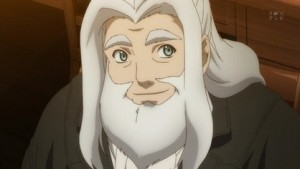 It's Oscar season (albeit a little later than usual for LiA), and that means it's time for the best of anime, 2015!
Another anime year is in the books, and now that we're settled in here at WordPress I've finally had time to hand out 2015's anime Oscars.  And the winners are: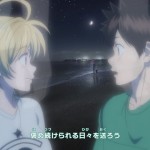 Best Song: "Believe in Yourself" – Baby Steps Season 2
I know this was an honorable mention last year, but I honestly didn't hear an OP or ED I liked better in 2015. What a fitting piece it is too – I'm not sure I've heard an anime them that integrated more seamlessly than the show itself than this one.
Honorable Mention: "Sugar Song to Bitter Step" (Kekkai Sensen ED), "Flyers" (Death Parade OP)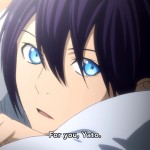 Best Soundtrack: Noragami Aragoto
No, the reason I chose Iwasaki Taku's score is not because of the ridiculous controversy that rose up around its borrowing a musical phrase from the Muslim call to prayer – but that makes me all the more glad I did. This is one of the most arresting anime soundtracks in years, encompassing Noragami's wide range of moods.
Honorable Mention: Kekkai Sensen, Akatsuki no Yona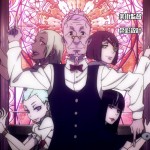 Original Screenplay: Death Parade
Every year has a category that's a total slam-dunk, and this was the one for 2015. Tachikawa Yuzuru stormed onto the scene like a Category 5 hurricane, delivering the year's best series in his TV directorial debut. The fact that this was such a barren year for original anime (in good conscience I can only name one "Honorable Mention") only makes Tachikawa's achievement that much more notable. Death Parade was brilliant, fearless, thoughtful and unsettling – one of the finest original anime of the decade.
Honorable Mention: Binan Koukou Chikyuu Bouei-bu LOVE!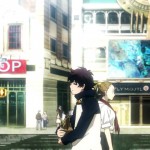 Adapted Screenplay: Kekkai Sensen
Furuya Kazunao hasn't written a lot of anime, but his work with Kekkai Sensen stands out in a year almost totally dominated by adaptations. I chose this series because the anime made significant changes to the manga, and in doing so markedly improved the story – which suffered from a lack of focus and clarity in its original form. If the goal of an adaptation is to highlight what's best about the source material and improve on the rest, Furuya and Matsumoto Rie has exemplified that here.
Honorable Mention: Working!!, Akatsuki no Yona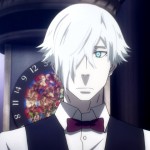 Best Art Direction: Hiranagi Satoru, Death Parade
The look of Death Parade was established in the 2013 OVA on which it's based, Death Billiards. And it's an integral part of the magic of the series, with so many distinctive visual styles at play in the various "establishments" – Decim's Quindecim being the most striking. There are so many praiseworthy elements of this series that it's hard to know where to start, but Hirayanagi Satoru's art design is certainly near the head of the list.
Honorable Mention: Kekkai Sensen, Akatsuki no Yona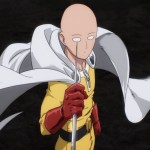 Best Animation: One Punch Man
Madhouse takes home the animation prize again, though it's perhaps less remarkable with a 12-episode series than one a dozen times longer. There were a (very) few corner-cutting moments in OPM, but Madhouse once again delivered massive amounts of Sakuga – action sequences gloriously hand-drawn, expressive faces, exacting background detail. It's what we've come to expect from them with series they care about, but I hope we never stop appreciating it.
Honorable Mention: Kekkai Sensen, Death Parade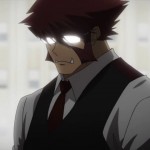 Best Character Design: Kawamoto Toshihiro, Kekkai Sensen
Seeing just how often this show tops these rankings is a remember of just how impressive an achievement it was. Character design is a very personal thing, admittedly, but I found Kawamoto Toshihiro's work here to be especially engaging and eye-catching – an irresistible merging of modern and 90's Gainax (and a healthy dose of credit goes to mangaka Nightow as well).
Honorable Mention: Subete ga F ni Naru, Shoukugeki no Souma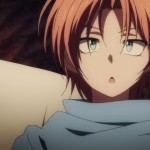 Best Supporting Actress: Minagawa Junko as Yoon (Akatsuki no Yona)
For my money Yoon was the best supporting character of 2015, and Minagawa-san has always been among the best female seiyuu when it comes to portraying boys. She doesn't get all the credit here by any means – Yoon is very much a partnership of the writer and the actor – but her performance is so spot-on that for me it still ranks as the best in the category.
Honorable Mention: Hirano Aya as Migi (Kiseijuu), Yamamoto Nozomi as Ao the Squirrel (Akatsuki no Yona)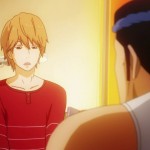 Best Supporting Actor: Shimazaki Nobunaga, Ore Monogatari
There's no question Shimazaki is stellar as Sunakawa Makoto, the most interesting person in the room where Ore Monogatari is concerned. The only question (and this is one that crops up at those other Oscars all the time) is whether his is truly a supporting performance (Suna is on the cake too, after all). In the end I think it qualifies, because in terms of screen time this is Takeo and Rinko's series and Suna does function in a supporting role. But I admit, it's close.
Honorable Mention: Yusa Kouji as Midousuji Akira (Yowamushi Pedal Grande Road), Kobayashi Yuusuke as Soo-won (Akatsuki no Yona)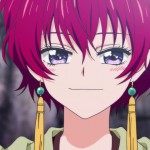 Best Actress: Saitou Chiwa as Yona (Aktsuki no Yona)
Saitou Chiwa is a really good actress. She can play girls, she can play boys. She can do comedy, and she can do drama. In her storied career she's been in many bad series as well as good ones, but I'm not sure she's had a better role than Yona – and it's hard to imagine anyone doing much more with it. This is a character with a genuine arc – she comes an awfully long way from the naive girl she is at the beginning to the proud warrior she is when the anime ends, and that development never seems forced or artificial. It's not a flashy performance, but it is a great one.
Honorable Mention: Mimori Suzuko as Nanami (Kamisama Hajimemashita◎), Inoue Marina as Mamiya Sakura (Kyoukai no Rinne)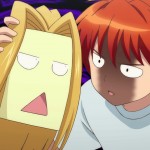 Best Actor: Ishikawa Kaitou as Rokudou Rinne (Kyoukai no Rinne)
Kyoukai no Rinne is much, much funnier as an anime than as a manga. Part of it is the medium – Rumiko's deadpan humor is more effective with a voice behind it – but a lot of it is the brilliant cast throwing themselves into the moment. That encompasses a lot more than Ishikawa of course, but he's the one that really has to carry the heaviest load – Rinne is the heart and soul of the series, not just the name in the title. Ishikawa strikes a perfect balance between Mamiya Sakura's extreme deadpan and Juumonji's frantic bakayaroucity, and brilliantly communicates the star-crossed Rinne's innate decency and competence.
Honorable Mention: Shimazaki Nobunaga as Izumi Shinichi (Kiseijuu), Murata Taichi as Maruo Eichirou (Baby Steps Season 2)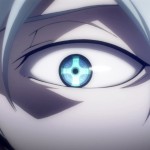 Best Director: Tachikawa Yuzuru, Death Parade
This award was a photo-finish between two young lions announcing their presence with a shout, but this year I have to give the nod to Tachikawa-sensei. Death Parade is a marvel, and the fact that Tachikawa was able to write, direct and storyboard a series of this caliber at just 32 speaks volumes about his future. The series is a testament to his vision, talent and ambition – and to Madhouse's willingness to produce brilliant works that don't check off any obvious commercial boxes.
Honorable Mention: Matsumoto Rie (Kekkai Sensen), Akitarou Daichi (Kamisama Hajimmashita)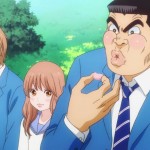 Best Romance: Ore Monogatari
Honestly, it wasn't all that great a year for anime romance – there haven't been many lately – but Ore Monogatari is a damn good one. It doesn't take the conventional path to get here in that the main romance isn't the most compelling part of the series (though it's a good one), and in the fact that it's a character who never enters a romance who offers the most interesting romantic possibilities.
Honorable Mention: Kamisama Hajimemashita, Working!!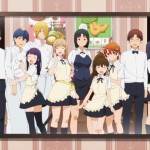 Best Comedy: Working!!
For comedy it was a pretty decent year, with several strong outright comedies and many other series that strongly incorporated humor. But I have to give the nod to Working!!, which ended its three-season anime run in brilliant fashion. Not only was it consistently funny (as usual) but it managed to progress and often conclude most of its major open plot arcs. And the series finished with a brilliant hour-long TV movie that put an exclamation point on what a note-perfect job of adaptation A-1 Pictures has done with this franchise.
Honoroable Mention: Kyouka no Rinne, Binan Koukou Chikyuu Bouei-bu LOVE!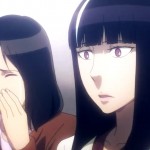 Best Drama: Death Parade
I've already talked about this show a lot, and I'm not done either. That it should win in this category is, to me, fairly self-evident.
Honorable Mention: Akatsuki no Yona, Kiseujuu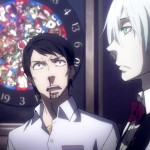 Best Series: Death Parade
A surprise? No – but an inescapable conclusion. Death Parade was the best series of 2015, and in the end it wasn't all that close either. This show asked some fascinating questions about the most fundamental elements of existence, and in the process told a very human story in moving fashion. All the while it sported tremendous production values and featured a great cast on top of their game. That's what the Best Series category is all about, for me, and Death Parade is a worthy winner.
Honorable Mention: Akatsuki no Yona, Baby Steps Season 2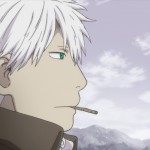 Best Picture: Musishi Zoku Shou: Suzu no Shizuku
For me at least, this was the least interesting year ever for theatrical anime. Mushishi was a film, though somehow to award this category to the conclusion of a television series feels slightly wrong. But there's really no option – a runner-up is based on a manga/TV anime as well. At least Suzu no Shizuku is utterly brilliant – a haunting and perfect conclusion to one of anime and manga's most powerful and beautiful series.
Honorable Mention: Kuroshitsuji: Book of Murder, Kokoro ga Sakebigatterunda