Another of the many faces of "Gundam" reveals itself in Thunderbolt.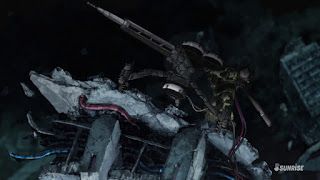 Thunderbolt is definitely Gundam for serious Gundam fans, but that doesn't mean everyone else can't enjoy it too. Clocking it at a snappy 15 minutes, this web animation is quite engaging in its simple and straightforward brutality. Accompanied by a free jazz soundtrack and drawn entirely (as far as I can tell) in glorious hand-drawn animation, it's certainly not an incarnation of Gundam that stamps itself as a product of any particular anime era.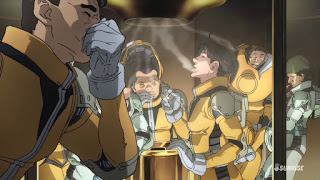 Thunderbolt is part of the "Universal Century" timeline that provides the backbone of the Gundam mythology – during the "One Year War" between the Federation and Zeon, to be precise. To be even more precise, the pilots of the Earth Federation take on the snipers of Zeon, with great carnage on both sides even in the premiere. But these pilots manage to swashbuckle their way through brashly, especially Io Fleming (Nakamura Yuichi) the jazz-loving ace of the Federation fleet. His great nemesis is destined to be Daryl Lorenz (Kimura Ryouhei), who seems to be more of a mainstream pop guy and seeks revenge against Fleming for killing his sniper colleague Hoover.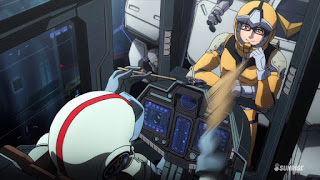 This story is very simple so far – pilots from both sides try and kill each other, and often succeed. But it's artfully directed by Matsuo Kou, and looks fantastic in all it's 2-D glory. There's a very strong sense of watching something old school in a good way, which is a quality I see in the better Gundam incarnations once in a while but one most Gundam forays into anime aren't necessarily trying to achieve.