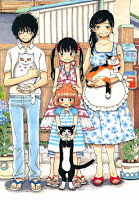 In the words of Newman, "What took you so long?"

This is a post I've been wanting to write for a long time. Maybe I need to write articles suggesting manga adaptations more often?
I really have no idea why this hasn't happened before now. March Comes in Like a Lion is a huge seller, it's won every major manga aware there is, and the mangaka, Umino Chika, has a track record of a hugely successful anime franchise (Honey & Clover). My theory had been that Umino-sensei was refusing to allow an anime until she finished the manga, but that's not necessarily disproved – this could be a sign she's planning on finishing it soon, perhaps to coincide with the anime a la Cross Game or Zetsuen no Tempest.
In any event, rejoice – this is a terrific series. Let the speculation begin, though it seems like the obvious choice would be J.C. Staff – with Kasai Kenichi or Nagai Tatsuyuki directing. And Miyu Irino as Rei, please…