If you've ever wondered, "What would it be like if Rumiko took psychedelics", it's pretty much Kyoukai no Rinne.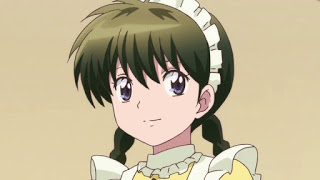 It's no secret that I'm enjoying the heck out of this series, which just makes me laugh, plain and simple. That's something I don't undervalue, believe me, because there aren't all that many shows that can do it consistently, and every schedule is much more enjoyable with a series or two you can simply relax and have fun with. It's not that there's nothing else going on with Kyoukai no Rinne, but clearly the humor is the main purpose here.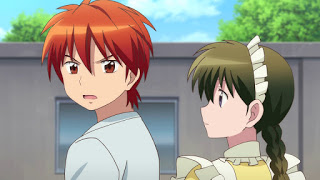 What I'm really liking is the sense in watching this show (much more plainly than with the manga, oddly) that this is a legendary author who doesn't give a fuck. It really seems as if Rumiko is saying "I just want to have a good time here, because I'm set for life and have nothing to prove". This comes through in a comic style that I think can best be described as "relaxed" – there's absolutely no sense that she's worried about things having a "point" or making perfect sense. If it's funny, that's good enough. I'm not sure a younger and less successful writer could get away with it.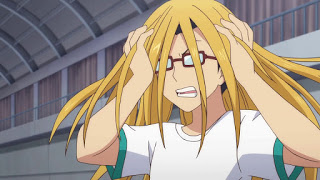 Plot-wise this a bit of a split episode, two semi-related tales surrounding the culture festival. Hiyama Nobuyuki stars in both, chewing scenery hilariously first as a wig pissed off that it was cut from a staging of Cinderalla (playing the horse's tail), and later as a Pumpkin-headed damashigami who steals the face of a deceased (again – parents, please do not move to this town) middle-school bishounen, Kiyama-kun, played by Nojima Hirofumi, in order to lure all his old suitors to the underworld. There's some "serious" plot here when Mamiya Sakura wonders at Rinne-kun's real reasons for being so determined not to lose to a damashigami, but mostly this is just about the random silliness. Among the highlights: