Punchline is definitely one of those shows where it's better no to ask too many questions.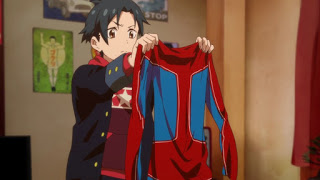 We're down to the home stretch now – three eps left – so it was a little surprising to get a relatively slow-paced episode after Uchikoshi seemed to be in full plotgasm mode. It kind of works, because as we wade deeper into Punchline I'm finding that it's the characters and overall tone that hold the real charm and not the plot. The latter is so dependent on stuff that makes no sense except that it's necessary for the storyline that it's impossible to really take seriously, even in a comedic sense. But there's still a winning quality to this show that shines through most brightly in the scenes where the five residents of Kourai House are interacting.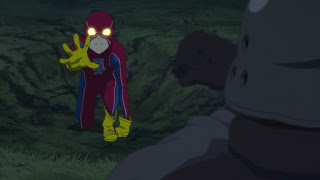 The mysteries must be acknowledged, I suppose, and there is some exposition in this ep. The story with Rabura's brother Rando seems pretty well cleared up – he's a former Qmay member who fled the group with Muhi in tow and paid a heavy price for it (as did she, in a literal sense – I wonder where she got the money). There continue to be strong echoes of the Sarin gas attacks of 1995 in this storyline, not surprising given how deeply it scarred the Japanese consciousness. It was interesting but not entirely surprising to hear that the lab was in fact a Qmay front, part of their master plan to create a master race. Nothing too original here – nor is there in the rather random notion of faxes (sent by chibi-Rabura) predicting the future being received on Maika's magic reizoukou.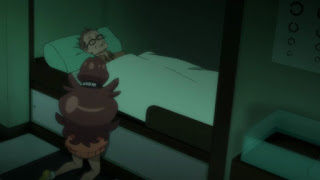 Frankly, I don't care a whole lot about any of that. Right now, it all seems like plot for plot's sake – feed corn to make sure there's something going on in all the VN routes. About the only thing I'm still mildly curious about is what's really up with the cat. What interests me much more is what happens with the characters, because I still like them. Will Pike and Chiyoko end up back in their real bodies? And there's still 90's-style anime charm in scenes like the karaoke cosplay Christmas party at Kourai House, which was pretty funny and rather warm-hearted. I can't but think a slice-of-life show about five oddballs living in a boarding house – while far from groundbreaking – would have been better than what Punchline turned out to be.