For the second time in two weeks, Punchline has surprised me.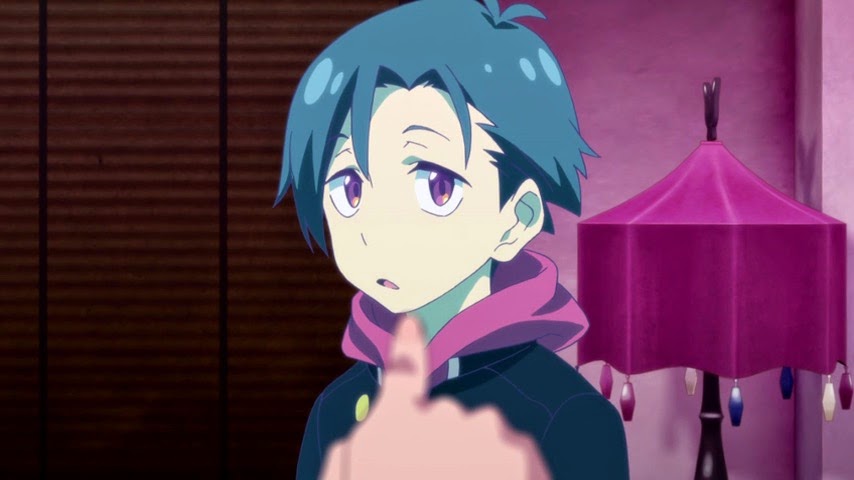 I'm still not fully sure what we've got in Punchline, but I am sure that it seems to be missing the mark with most of the anime audience. That's not remotely surprising given how little it resembles the bulk of modern anime, but even for someone who's been around a while and understands what language this series is speaking, it's still a bit of a mystery. Punchline can't be labeled simply as a Gainax clone, despite all the obvious Gainax influences literal and stylistic – the story was created by an established writer with no prior Gainax ties whatsoever.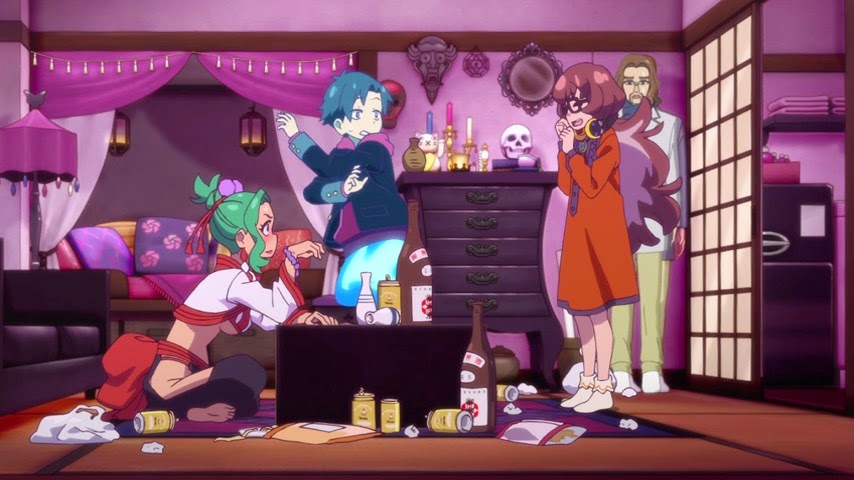 While the first episode saw the Gainax gene clearly dominate the proceedings, the second saw Uchikoushi Koutarou's influence move to the fore. There was still a lot of craziness here (again it's Chirnaosuke who gets the biggest laugh – the whole cat using a mouse thing), but this was a screenplay-driven rather than director/animation director-driven ep – there was a lot of heavy lifting for the plot and character developments to follow that took place. In the process Punchline answered a question about what sort of series it intends to try and be – now the question will be whether it has the chops to pull it off.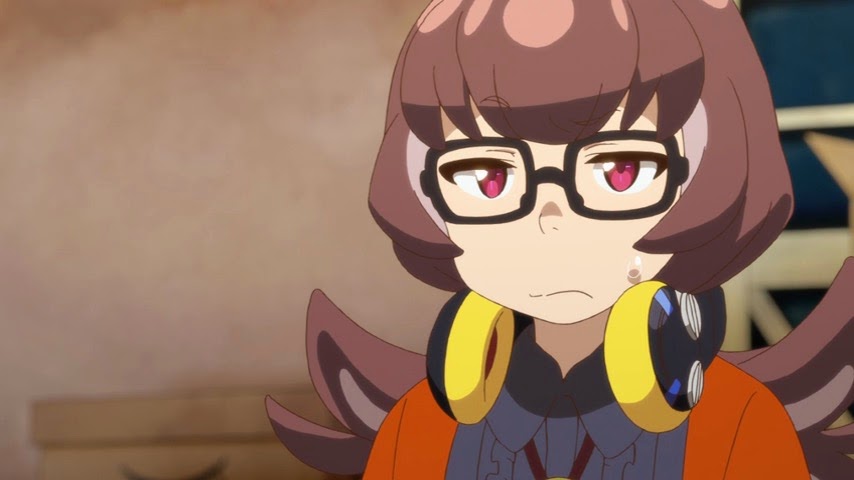 I fear the battle of public opinion may already be lost, and the audience has mostly tuned Punchline out, but I actually feel pretty optimistic after the second episode. It manages to establish the cast of Korai ("Since Ancient Times") House as fairly interesting and distinct individuals, and plant the seeds for what could be an almost coherent plot. If one looks at say, FLCL, the underlying story there was about a pubescent boy trying to save the Earth – with the fate of the planet more or less resting on his rapidly-evolving libido. One is hesitant to keep falling back on that comparison, but it's seriously unavoidable here.
The residents of this looney bin of a mansion are as follows:
Iridatsu Yuuta – The protagonist.
Daihatsu Meika (Kugimiya Rie) – Seemingly the manager, possibly an inventor, sees herself as a den mother. One of Rie's more winning performances since Kyousougiga.
Chichibu Rabura (Tomastu Haruka) – Bogus exorcist and probably virgin whose mother and grandmother apparently were legit (or at least successful) exorcists. Keeps a pet turtle. Big drinker and close friend of Yuuta's older sister (currently studying abroad in America. Oh, boy…).
Narugino Mikatan (Amamiya Sora) – a girl from the sticks pretending to be from Tokyo as part of her front as idol "She's Mei". But the idol character itself is a front for her role as Strange Juice, the superheroine. Hates turtles.
Hikiotani Ito (Kotobuki Minako) – The most plot-critical so far. She's a hikikomori who refuses to go to school because of an "incident", and was sent to Korai House to avoid embarrassing her politician father. May be enrolled at the same school as Yuuta-kun – certainly his closest friend among the tenants of Korai. Keeps a pet bear cub she calls "Muhi".

I really, really hate to harp on it but – the protagonist has an older sibling who's gone off to America, and that sibling's friend seems to sexually tease him? At least she called him "Yuu-tan" rather than "Takkun" – which would have fit with his name…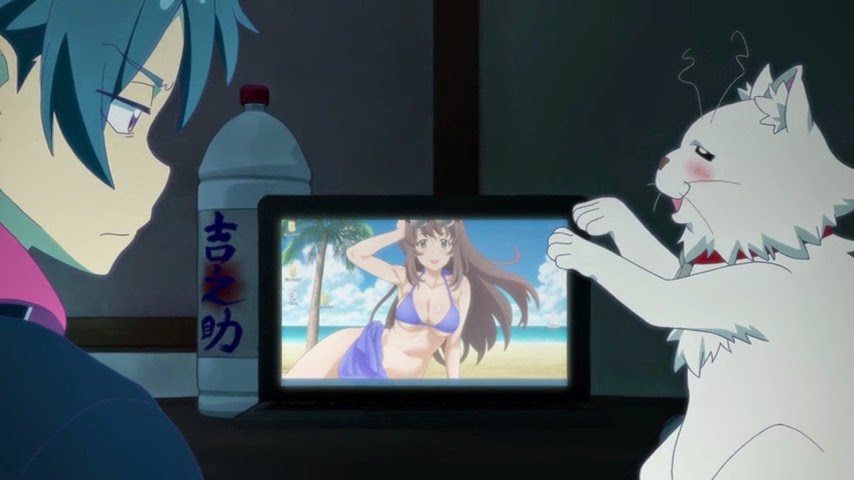 Again, it's Ito's story that seems most plot-critical for now – this incident at school, plus the fact that her name appears on a list of victims from a "Ringu" style teen-terror legend. And Ito's pain is given the most emotional traction in the episode – it's clearly she with whom Yuuta, as a fellow kid and fellow hacker/gamer, most closely identifies. And there are signs she might be genuinely mentally ill, plus the whole weird business with Muhi – though her attempts to pass him off as her 2nd-grader brother are pretty hilarious.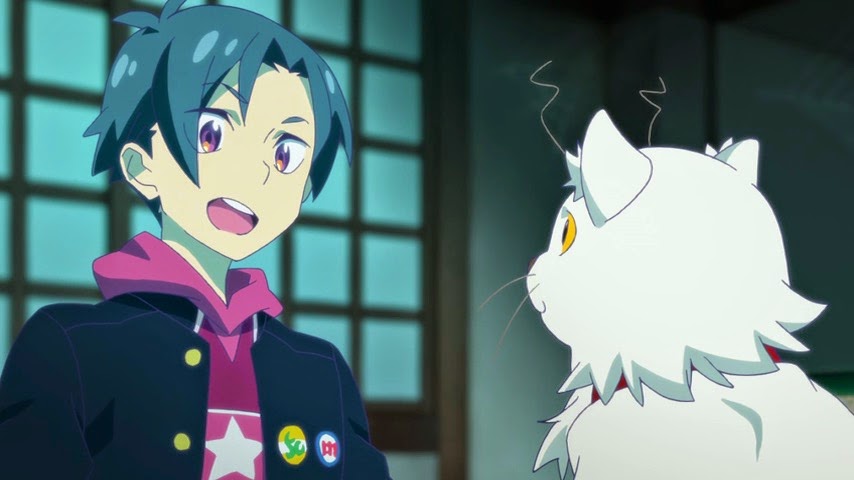 I don't know what to make of all this yet, but I will say this much – for me at least, Punchline managed to make the jump from pure random ecchi comedy to something like a story pretty successfully. This episode was not nearly as scattershot as the first, but despite the fact that I would have worried any attempts to get "serious" would break the spell, I don't think it did. As I said in my Kekkai Sensen premiere post it's the ability to weave in a compelling story and characters that separate the good examples of this genre from the great ones, so while this is undoubtedly the riskier path for Punchline to take it's also the most potentially rewarding.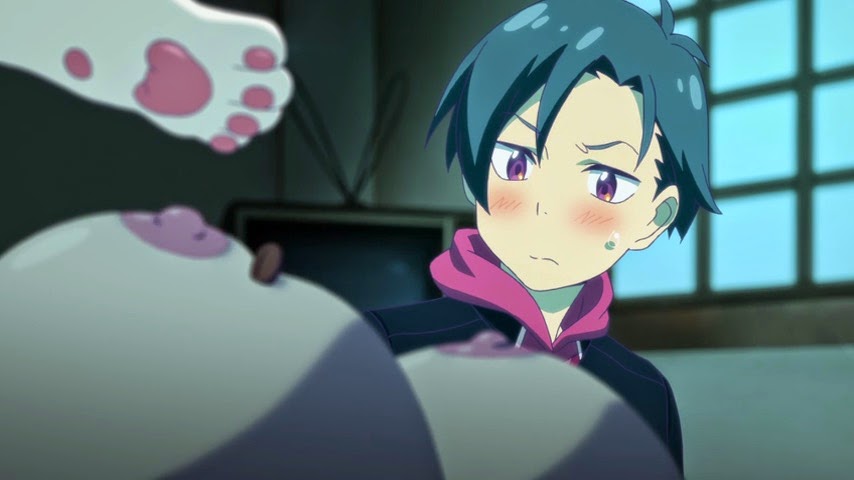 I can say this much – I found myself looking forward to this episode much more than I would have expected, and was disappointed when it ended so soon. There's a good basic structure here – apartment houses full of oddball young people with zany quirks can be fertile ground both for comedy and drama. VN storylines can be notoriously difficult to translate to anime, but when a really good VN scenario writer works specifically for anime or even light novels, the results can be impressive – take Tanaka Romeo as an example. I have no idea whether Uchikoushi is capable of that, but the early indications are promising, and I find myself extremely curious to find out.