Watch out, Inashiro – Seidou's got wood.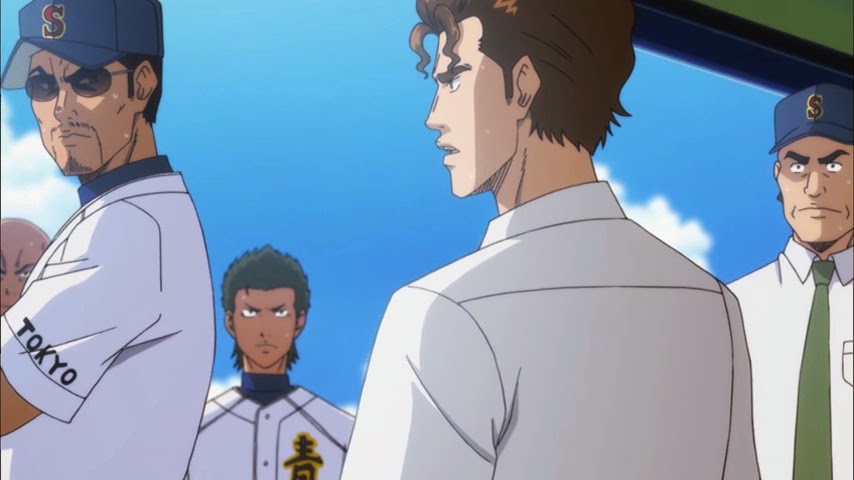 After a one-week break, Ace of Diamond is back on our screens. And while the Inashiro game has had its peaks and valleys, I definitely find that I missed this show – all the more so because the last episode ended on a real high, with Eijun at-last entering the game and breaking up the monotony of the focus on boring third-years. And while he's not much involved here, this episode will go down as one of the best that didn't feature Eijun heavily.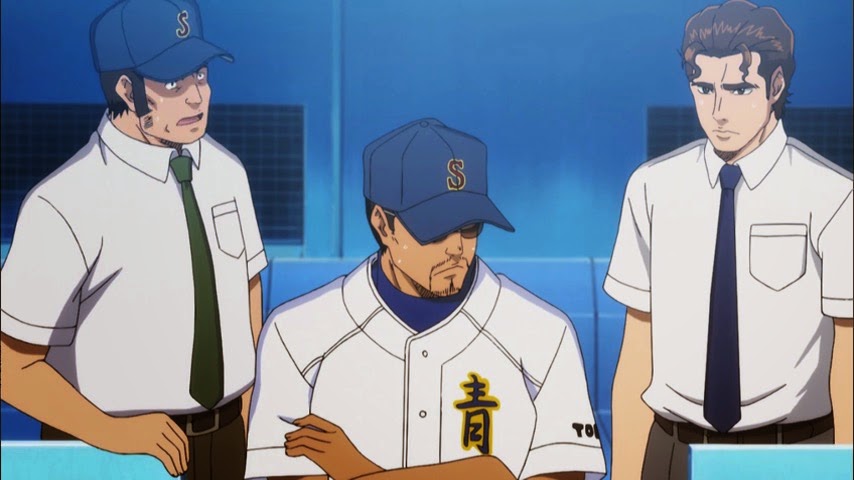 The glacial, Oofuri-like pacing does continue – the entire episode covers 2/3 of a half-inning, with both outs being gifted from Seidou to Inashiro via bunts. But it's pretty exciting stuff, and an interesting lesson on the differences between Japanese baseball (especially high school baseball) and American. There's a lot of tension in the air here, because Eijun has worked his magic and lifted the pall of defeatism that was hanging over Seidou, and because the pressure is building on Inashiro. The weight of all those missed scoring chances is adding up, and the painful memories of Mei's Koushien meltdown are never far from his mind – and I think even more importantly, from Masa's.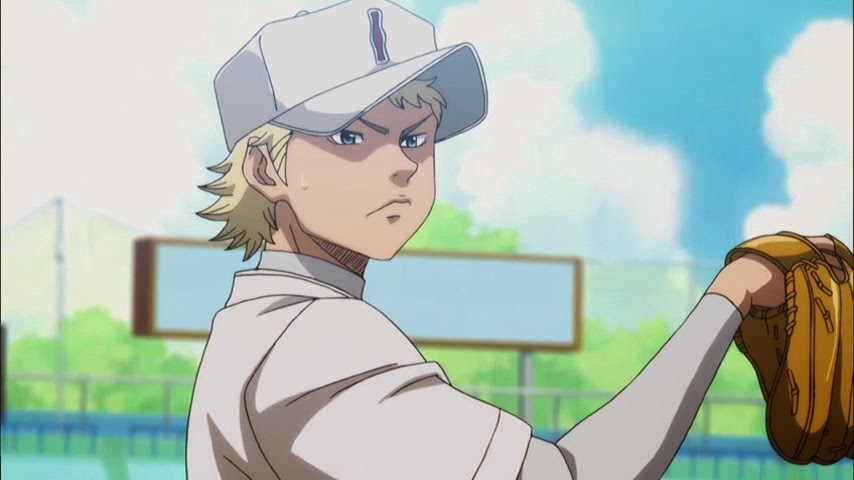 There's an interesting discussion in the Seidou dugout regarding Mei's use of the changeup – Chris wonders if there's a specific reason why he generally throws ten per game, and Mei's reaction after Isashiki lifted a harmless fly to left off one may be a clue. But Kataoka tells his guys to forget about it – if they're this obsessed with it, Mei has already won. And indeed he throws no more in this episode, and the Seidou hitters seem liberated. Furuya starts things off with a single to right, and Eijun advances him with a perfect (as usual) bunt.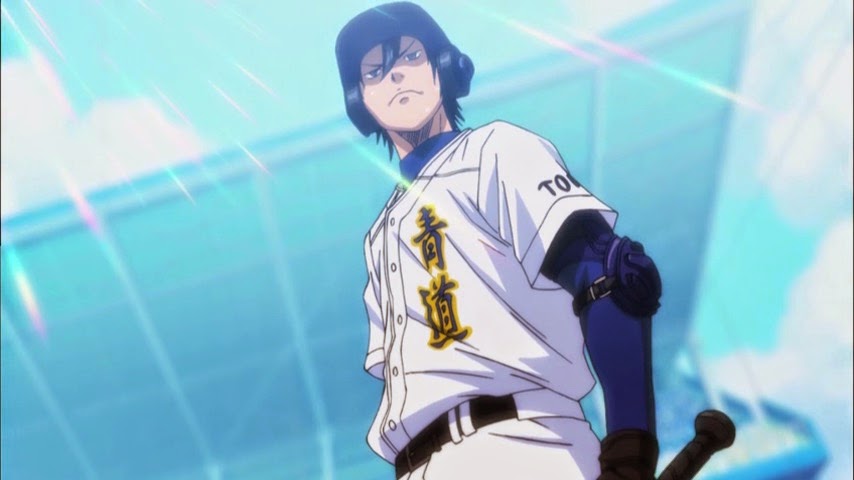 Now, in American baseball you'd very rarely see a sacrifice trailing by two runs in the eighth inning – though with Eijun apparently being a pretty hopeless hitter and Kataoka not wanting to burn him after 1/3 of an inning, it's not impossible. But after an infield hit leaves men on first and third, you get something you'd never see in American baseball – a squeeze with one out trailing by two runs in the eighth, and with a decent hitter (Kuramochi) up to boot. And not only that, Kataoka has him bunt with two strikes! Very, very Japanese, and pretty out there even at that – though it does work, and does seem to further rattle Mei (and Masa). Masa is a very good player and leader, but he does seem to have a character flaw – he thinks too much, and worries too much. He's somehow intrinsically negative in his outlook, and I think his lack of confidence in Mei's stability comes through, and weighs heavily on Mei's shoulders.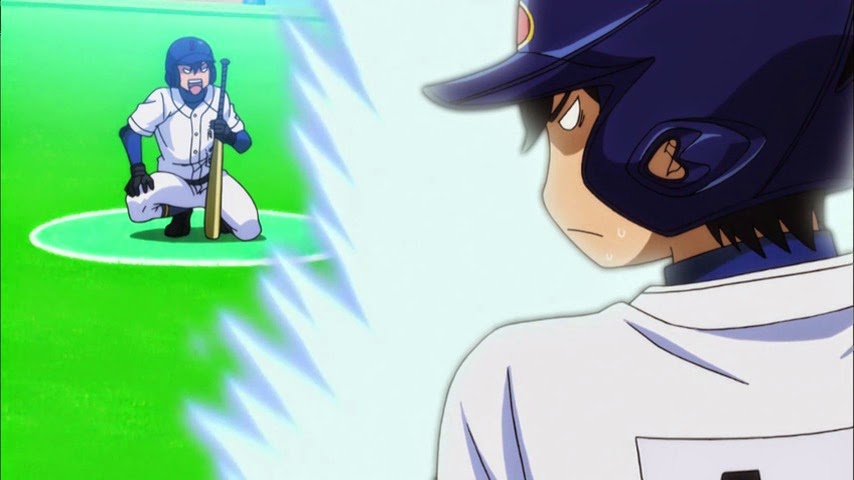 At this point, it's finally time for Haruichi to take the stage – yes, his older brother (far too late) finally admits he's been hurting the team and tells Kataoka he wants a pinch-hitter. I can see where this is hard for him – it could be his last game, and it's clear that Haruichi is going to end up surpassing him as a player eventually. But this was allowed to go on for far too long, and Ryounosuke is mostly to blame (though Kataoka or his butt-monkey advisor – or Chris – easily could have noticed the problem).
As for Haru-chin, he finally gets his moment – wooden bat and all. That in itself is interesting, because the idea of using a wooden bat by choice in a game seems very strange. But there's more to this than most people understand. Practicing with a wooden bat makes one a better fundamental hitter – you're forced to use your lower-body more, and to try and hit the ball on the sweet spot (much smaller with a wood bat). That's not news – but it's also true that if you can hit a ball on the sweet spot, you will actually hit it harder with a wood bat than an aluminium one. The wood bat has more potential power – if you can generate the same bat speed and hit the sweet spot – but it's much harder to realize it. Using a wood bat is a gesture of confidence, even a bit of swagger – superficially out of character for the mild-mannered Haruichi, but I'm thinking not so much as it seems. With he and Eijun in center-stage next week, it should be a fascinating episode.