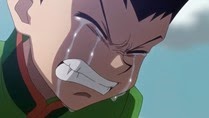 Here's the word from Megumi Han:

This news is not unexpected, of course, but it still marks the end of an era. And with anime in such a state of creative stagnation, the timing – though purely coincidental – is all the more heartbreaking. I'll obviously discuss this in more detail in the coming days.
Update: Here is the text of part of Han Megumi's diary entry, translated. She's such a sweetheart, Han-san, and her love for Hunter X Hunter shines through every time she talks about it.
Now that I've talked about the turning point for this column, there's something I want to talk about. The other day, at Sanbunzaka Studio, the place of all the beginnings, we conducted the recording for episode 148 of Hunter x Hunter, which will serve as the turning point for the anime for now. I will not say "final episode" myself. I will be stubborn and only call it "episode 148." I say this, because in terms of episode numbers, in a certain meaning, this will be the final episode, but I feel that it also feels like the start of a new beginning. If you ask me, episode 147 is the final episode, and 148 is sort of an epilogue. The original manga is still continuing, and the adventures haven't ended yet. An unknown world still awaits. Actually, it's like what has happened up until now in the story was nothing more than a prologue, and it gets me even more expectant for what's to come.

Though I say that, when I think that "I've been going to the same place every week at the same time for three years, but next week, this won't happen…," I get very sad…

I know I shouldn't talk too much, but I will condense my feelings right here. To everything up until now, and to everyone, I say, "Thank you."