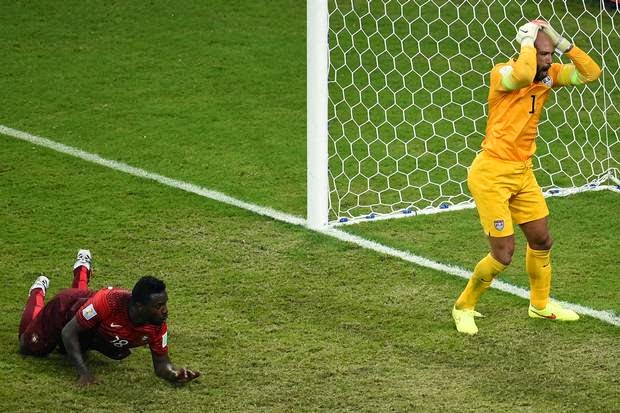 That was only like kissing your sister if this is your sister…

Before anyone else says it, yes – if you'd said a week ago the USMNT would have 4 points after playing Ghana and Portugal, I'd have gladly taken it. So would they. Hell, both of us would have done so this morning – a tie was certainly a better result for the U.S. than Portugal. But the circumstances being what they are, it sure doesn't feel like it was a good day.
It's Jurgen Klinsmann's job to accentuate the positive now, and get his side ready to take on Germany in a mere four days. His side was ready for Portugal, that's for sure – they were the better team for most of the match, and certainly performed at a higher level than they did against Ghana (this sort of irony is common in soccer). Geoff Cameron's ghastly mistake led to an early Portugal goal, but the Americans then dominated the flow of play for most of the next 75 minutes. When Clint Dempsey chested in the go-ahead goal in the 81′, the Americans deserved to be the team in front.
On balance it was a very strong performance for the USMNT. Fabian Johnson was a huge threat all day despite being the right-back, causing havoc on Portugal's weak left side. Klinsmann shockingly ignored my advice and went with one of the other possibilities I suggested he might, inserting Zusi into the starting lineup and using 5 in midfield. It worked pretty well – Dempsey fared respectably as the lone striker even before his goal, though I think it's fair to say much of the success stemmed from Johnson's tireless runs on the right. Michael Bradley was weak again – he missed a sitter goal in the second half, and it was his mistake that allowed Portugal the last chance they used to convert into Silvestre Varela's equalizer on a header off Cristiano Ronaldo's gorgeous cross. Ronaldo wasn't much of a factor before that – the Americans played a strong game at the back apart from Cameron's disaster (including Cameron). Matt Besler was again a rock – he's the elite central defender the U.S. has been searching for all these years.
Now what? Well, we're still in pretty good shape, but it sure would have been nice not to have to worry about Germany. If the U.S. wins or ties, they're through. If Ghana and Portugal tie, we're through. If someone wins that match and we lose to Germany, that's when things get complicated. Portugal is currently -5 in goal differential compared to the Americans, so they'd either have to destroy Ghana or have Germany destroy the U.S. to have any chance. But Ghana is only at -2, so even if they win by a goal and we lose by a goal, the differential goes to even. A 2-2 draw today certainly was better for us than a scoreless one, because the second tiebreaker is goals scored – we have 4 and Ghana 3. If we can avoid losing by more than a goal or Ghana winning by more than a goal or Ghana scoring 2 more goals than we do on Friday, we advance.
As always in the final game of the group stage, all games start at the same time. That rule, by the way, was put into place after Germany and Austria obviously colluded in their third pool match in 1982 knowing the result would advance them both. The same is true here, and I think the U.S. would be OK with second-place – it would mean facing Belgium in all likelihood rather than a weaker 2nd-place team from Group H, but Belgium isn't the worst Round of 16 opponent one could imagine. However, although German coach Joachim Low is a good friend of Klinsmann, I can't see the Germans parking the bus going against a German coach – especially when one freak goal could deprive them of first place in the group. I don't think there will be any secret deals.
That said, what should we expect, and how should Klinsmann approach this game? First of all, expect no help from Portugal – they know how desperate their situation is, Ronaldo isn't 100% and it wouldn't shock me if they mailed it in. I think the U.S. has to approach the Germany game with caution but not fear – you can't park the bus and let Germany run at you all day. If the Germans play conservatively, that's fine – that's what you want, and it's true that with a tie being a good result for both sides Germany may not take many chances. But you still have to be enough of a threat to make them cautious about attacking – paradoxically, if the Americans want this to be a cautious game they need to be a bit aggressive.
Personnel-wise, I don't expect to see many changes for the Americans, if any. The one player whose performance was especially unimpressive against Portugal was midfielder Alejandro Bedoya, and if Altidore were healthy Bedoya would be a prime candidate to be benched in favor of Graham Zusi (who was middling against Portugal). 20 year-old youngster DeAndre Yedlin replaced Bedoya in the 72′ and actually played quite well, having a major role in setting up Dempsey's goal – but it's hard to imagine Jurgen turning to him as a starter in a game of this magnitude. Likewise he could go with Wondolowski or Johannsson up-front, but given the strategic context I doubt we'll see that either. Bedoya will likely get a chance to prove he can do better.