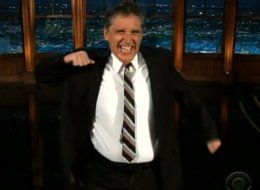 Given the sad but expected announcement that Craigyferg is leaving CBS before they can force him out, I just thought I'd top this 2010 post as my own personal tribute.
A little while ago I had the chance to be in the audience (and the green room, thanks to a phone call from my esteemed pal who works in show biz) of Craig Ferguson's "Late Late Show" in LA. If you haven't seen this guy – and I assume most of you haven't, as he gets almost no publicity of any kind – he's probably the funniest and most creative force in late night TV right now. For all the controversy about Conan and Jay, the hubub about Jay vs. Dave, it's Ferguson who takes chances and flies blind every night. He's the only network personality who still has some of the dangerous creative fire that drove Letterman and Conan's success in their early days at NBC. Here's a clip of one of Craig's more popular bits, a visit from Secretariat:
One thing you notice a bit from watching Craig's show but much, much more in person is this – that sucker is cheap. No band here – just a "DJ". The tiny studio seats less than 200 people. And no highly paid Andy Richter as a sidekick, we have a robot created by one of the "Mythbusters" guys, who goes by the name "Geoffrey Peterson":
It's safe to say there's nothing quite like Craig Ferguson on American TV – maybe there never has been. He's a true improviser, with all of the non-interview portions of the show going basically unscripted. His mind runs a mile a minute, like a pinball bouncing from one gag to the next. It leaves his guests exhausted sometimes – they just can't keep up. His warmup comic felt the need to warn the audience not to gasp when Craig says something really outrageous (often) and to laugh even if they don't get the joke right away (it takes a second to catch up, sometimes). I can't think there are too many talk show hosts who need that kind of interference run for them, but this guy is different – he's dark, self-deprecating in much the way Letterman was in the 80's, a recovering alcoholic still very much at war with his demons.
Craig is also, among other things, a huge "Doctor Who" fanatic – yes, that's a TARDIS on his desk. As someone who grew up watching Who when only hard-core geeks knew about it and had to stay up till 1230 AM on Sundays watching on PBS, the notion of a network TV show in the US devoting an entire hour to it was unthinkable. Yet that's just what Ferguson did – and in this clip you can see both his love for "Who" and his truly off-center comic aesthetic:
The other specialty of the house here is puppets – alligators, ferrets, bunnies… They play a huge part in the show. It all seems incredibly lightweight and bizarre – but it's driven by the mad genius of the host. This a guy who won a Peabody award for his 2009 interview with Archbishop Desmond Tutu – he can hold his own with anyone. I guess Ferguson is about as far under the radar as anyone with a nightly network TV show in America could be, but that doesn't diminish what he does – in fact, as the comedic decline of Dave and Conan has displayed, that relative obscurity is an artistic blessing-in-disguise. Give him a watch, or at least DVR him if you work for a living – and give it a few episodes before you decide. Sometimes it takes a second to catch up, but once you do – it's well worth the wait.