How about a little trip back in time?

Author's Note: Recently VVV tweeted me about Cross Game, which got me thinking about this show for the first time in a while. He made reference to the soundtrack, which got me thinking about "Koi Kogarete Mita Yume" (the first ED), which got me listening to it. That brought all the feels flooding back in, and all of a sudden the feeling came over me that I should really watch this show again. Well – I went to Youtube and plugged in "Cross Game" and the first hit to come up was Episode 47. If you know Cross Game, I don't need to say anything else – it's fate.


It's a new year, and just for fun I thought I would top this post – the first I ever did on LiA (June 14, 2010, 7:43 AM PDST), not counting the introduction post. If there are any of you out there who still haven't seen this masterpiece, there's no time like the present. I watched the first couple of episode (and #47) and it hits me just as hard now as it did then. Enjoy…
As I understand it, these blog things are basically a chance to spout off about whatever interests you. As such, I suppose in my case that might be anime, Japanese things in general, politics, wine, complaining about my job. By my reckoning it's unlikely anyone will care too much, so it doesn't really matter.
So, I may as well start off by telling you why you should watch an anime (which if you're not already a fan of anime, you probably won't do anyway) that doesn't get much attention, even among the hard-core geek set.
Basically, it's about these two: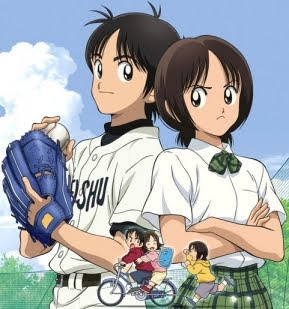 Namely, Kitamura Kou and Tsukishima Aoba. If you're not a fan of anime you're just about to dismiss this as a post about cartoon characters and stop reading. Thanks for stopping by. For the rest of you who've already figured out that animation doesn't mean the same thing in Japan that it does here, I'll tell you why these two people are worth 20 hours of your life.
Really, this is a post about a guy named Mitsuru Adachi. He's a manga-ka (that's a manga writer, if someone from the first group decided to stick around) who burst onto the scene in Japan 30 years ago with a manga called "Touch". While not his first published work, it was the one that introduced him to the Japanese consciousness. It wouldn't be wrong to say "Touch" became an integral part of Japanese life – during the 80's, the two most popular boys' and most popular girls' name in Japan were the three main characters. It spawned a TV series, several animated and live-action films, and a career.
Adachi is a living legend, if not the commercial dynamo he was. He's written several series since (how's that for alliteration) "Touch", most of them sports themed in some way and always about teenagers. But here's the trick with Adachi – sports is just the hook, the easel on which he paints. The real art here is the people, and the way they interact with each other. And what is it about Adachi that makes him special – that elevates his work above weekly magazine reading for the trip to work on the Yamanote line and raises it to the level of art? He knows the secret that eludes writers everywhere – the more emotion is inherent in a situation, the less you have to spell it out.
The premise of Cross Game is really impossible to describe without entirely spoiling the wonderful first episode (or volume, if you choose to read the manga first). Like all Adachi plots, it's deceptively simple but packed with hidden emotional trauma – childhood playmates growing into young adults, tragedy, struggle against injustice. But all this is played out against a backdrop of everyday life. it unfolds at a leisurely pace, because it has to – Adachi isn't going to tell you what the characters are feeling. Not in words, anyway – but in the their actions, and in what they don't say as much as what they do. In the way they slowly change in their perception of each other and themselves. In this way, the observer subtly becomes aware of the changes before the participants themselves seem to – much as often happens in real life. Adachi is all about an economy of emotion – a look, a word, a laugh can carry more meaning than an entire episode of dialogue from a typical show.
Without spoiling too much, the other thing that makes Cross Game so spectacular is the two people above. Complex, flawed, not entirely honest with themselves or each other. They become incredibly real as the story slowly progresses. Kou, especially, is Adachi's greatest creation – a seemingly normal kid dealing with unusually harsh circumstances, his intelligence, courage and competitive spirit is slowly revealed over the course of the story. And Aoba is his match, his perfect foil. They play off each other in myriad and amusing ways, only over time exposing the raw and powerful nature of their relationship.
I could go on and on about the other reasons why this story is so special – the incredible supporting characters, the music, the ending… But this is already a very long post. Quite simply, go watch it (or read it) with all possible haste. Even if you're not an anime person, or not a "sports manga" person, allow yourself to be surprised. You won't regret it.