The sheer number of hidden gems in Tokyo never ceases to amaze me.

When people dismiss Tokyo as a soulless and grey modern megalopolis, they reveal their own ignorance more than anything else. It's here more than anywhere else that the duality of Japan is most inescapable – the juxtaposition of ancient and aggressively modern that for me defines the very nature of the country. Tokyo is a city of neighborhoods, of hidden gardens and temples and shrines clinging to survival in a sea of concrete and neon and steel.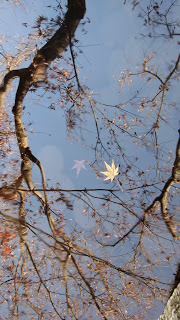 Happo-en is a place even many Edoites don't know about, and it doesn't get much attention from the travel guides either. Tucked away next to Shirokanedai Station near Meguro, it's a garden that's been around since the 17th-Century, when the area was the estate of one of the Tokugawas' mot trusted aids. It seems most popular as a site for weddings these days – there were at least two happening that I saw today, and there's a modern wedding chapel on the grounds. But it also presents yet another opportunity to see Tokyo's amazingly late-arriving autumn colors, which I'd put at just past peak but still spectacular.
This was one of those rare days when the stars are aligned so that even with my meager skills I snap some pretty good shots. The weather was clear and bright (despite the tenkeyohou to the contrary), I arrived at just the right time for the perfect light, and I had the best of my limited camera options – a solid but outdated Canon PowerShot gifted to me by a good and generous friend that I don't often carry because it's quite bulky. I did take it today despite having a pretty serious flare-up with my back (a recurring event I've come to call "Time of Eve" – Eve being the brand-name of the best over-the-counter painkiller I've found here) and I'm glad I did, as Happo-en is yet another of those discoveries I can hardly believe I didn't make a long time ago.