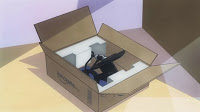 So I've taken the plunge and set up an LiA Amazon Store. The link is in the Navigation bar, and the preview window in the sidebar.
This seems like kind of a no-lose proposition to me. It's a great way for readers who want to support the site to do so without it costing anything above what they'd be spending anyway, but I actually hope it will prove a useful tool for at least some of you.
What went into the thinking as I set it up? Well, obviously I'd certainly appreciate it if you choose to port to Amazon through the LiA store even when you aren't buying anime-themed merchandise – that's why I added all the big categories like electronics, TVs, smartphones, books, music, etc. I also added a general section for each of Anime, Manga, and anime-themed stuff like clothes, iPhone accessories, music, etc. But I also set up a "Lost in America Selections" site, which contains every interesting thing I could find related to site favorites likes Chihayafuru, Hunter X Hunter, etc. It also has a section for anime that are airing this season, and I plan to add links for the import releases of current shows I cover here when the Japanese Blu-rays and DVDs become available.
Frankly (and I'm not just saying this) I was surprised by how much stuff Amazon has – tons of posters and other swag related to less commercial series like Ginga e Kickoff and Seirei no Moribito, all kinds of Japanese import goods etc. Obviously any available BD/DVD is on there, plus Japanese editions of manga (the Japanese/English dual editions of Chihayafuru are a personal favorite – a nice learning tool) and the licensed US editions where available. This is the section that I hope reflects both my tastes and yours, and I'm hopeful it'll be interesting and useful to have all that stuff gathered together in one place.
It would be extremely helpful if you guys would let me know (either by commenting or emailing) of stuff you'd like to see in the store and isn't – it's a work in progress and I'll be adding new stuff continually. And any and all feedback would be much appreciated.
As far as supporting the site through other means is concerned, thanks to many generous readers it's been a great first week. Most of you chose to go through Paypal, but a couple have chosen to support the site by becoming patrons on Patreon. I've also set up a link in the sidebar so that anyone who wants to subscribe montly but doesn't want to sign up with Patreon can simply do it through Paypal as well.
Sincere thanks once again, to everyone who supports this site with your visits and your comments.
Enzo