The odds were pretty heavily stacked against this episode going in as far as I'm concerned.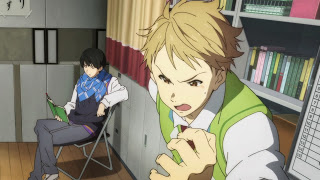 Taking everything into consideration, I think the surprise for me is that I didn't really dislike this episode of KyouKan. It was a 100% comedic episode in a series that really struggles with comedy. It was a blatantly fan-dering episode from a studio that panders to its fans way too much to begin with. It featured a truly awful piece of music at the heart of its climactic scene. But in spite of all that, it wasn't half-bad. I don't have much to say about it, but it was modestly fun to watch.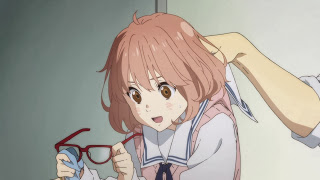 The pics tell the story – it was just a light-hearted waste of time about a vaguely Zetsuen-esque (was that "Exodus" reference in there intentionally?) youmu that defends itself by squirting noxious liquid when threatened (nothing unusual about that in nature). Conveniently, this youmu also happens to be an ecchi-freak who likes young girls and J-pop. Check your logic circuits at the door – there's no attempt to make any of this stand as anything but a pretense for mild fanservice and extreme silliness. The main thing that strikes me is that I was pretty much pulling for the youmu here – it hung out quietly on the school roof and didn't do anything to bother anybody, and why should it be punished because it likes to look at cute girls? It's not like there was any touching going on.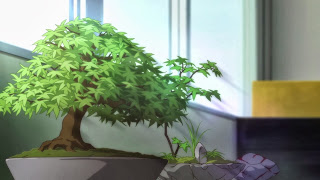 As for the so-called ending, well – seriously, no one thought of that little problem? Apart from that, I wonder how it is that Hirofumi (who's emerged as the funniest character in the cast) knew what song had been used "the last time someone defeated" this youmu – wouldn't the youmu be dead if that was the case? Again, I should take my own advice here and not worry about logic. There were a few decent laughs and no youmu were harmed in the filming, so no harm done – but now KnK has to get back to the more serious task of building on the case it began to make in episodes 4-5 that there are compelling reasons to keep watching it.