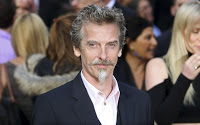 In case you missed it, Peter Capaldi has been cast as the new Doctor Who.

I confess I didn't buy the rumors – I never thought Moffatt would go through with casting an actual grown-up as The Doctor. Capaldi is 55 and while he's easily now best known known as Malcolm Tucker from "The Thick of it", I've loved him since his work is "Local Hero". A terrific actor, and a big fan of the show – he actually wrote a fan letter to the Radio Times as a 15 year-old.
This is the most excited I've been about Doctor Who in a long time. I liked Matt Smith as The Doctor, but I think Capaldi can take the role to places it hasn't been for a long time.