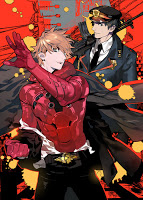 In case you missed it, NoitaminA revealed their plans for the rest of the year yesterday.

Original series from NoitaminA are always welcome (any NoitaminA series are welcome at this stage), as is the news that Gin no Saji will be getting a second cour. Still, there are so many wonderful manga that are likely never to be adapted outside the block that it's a little bittersweet knowing we won't be seeing any of them for 9 months at the very least.
The news:
Gin no Saji will be a split cour, with the second season airing in Winter 2014
October will consist of two original series:
Samurai Flamenco – Two cours. This looks like the more interesting of the two to me. Omori Takahiro – best known for Natsume Yuujinchou but also a NoitaminA veteran with Kuragehime and director of Baccano and Durarara is at the helm. Kurahana Chinatsu is doing the character designs, which will thrill some but doesn't do much for me. No word on the writer yet (Edit: apparently they were at the press event – wearing a mask) – seems to be a possibly satirical hero show in the Tiger & Bunny vein. Link:
Galileo Donna – One cour, Umetsu Yasuomi (Kite, Mezzo) directing. Adachi Shingo (Working!, SAO) character designs. The story of three descendants of Galileo who are all on international wanted lists? Not much spark for me yet, though the art looks modestly appealing. Link:
That takes us through Winter 2013, which will be the second cours for Silver Spoon and Samurai Flamenco. There was also an announcement of a spinoff novel for Psycho-Pass, which will have disappointed fans expecting yesterday to be the announcement of a second season – a prospect about which I confess I'm somewhat ambivalent.