At this point, it seems as if you can pretty much fill in the blanks of an episode of Attack on Titan before it starts.

I've been trying to remember another action shounen that moves as slowly as Shingeki no Kyoujin does, and it's not easy.
It is a tale.
Told by an idiot, full of sound and fury.
Signifying nothing.

With apologies to Shakespeare's Macbeth, I wouldn't quite so that far – Isayama-sensei is no idiot. But there does seem to be a remarkable amount of running in place with this series. In any given episode, you pretty well know you're going to get:
Eren yelling
Armin looking terrified and being confused
Mikasa doing superhuman things
Slow-motion shots of screaming soldiers approaching titan gullets
A rousing speech in the middle of a battle, which pauses to allow the speaker to finish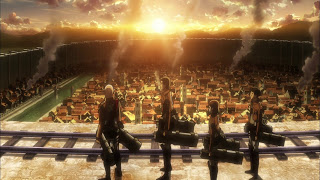 Consistency is fine for what it is, but the problem that's developing for me is that the routine seems to be taking the place of any actual plot progression or character development. It wouldn't be fair to say there's been none of those, but considering we're twelve episodes in – basically halfway through – it's remarkable how little. And what there has been was mostly in the first six or seven episodes – Trost in general has been a lot of sound and fury and not much significance. People get eaten. People make speeches. The main trio do what they do. Next episode.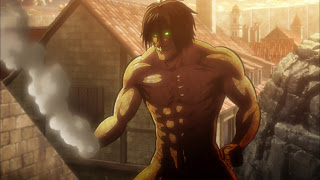 We do get the occasional lurch forward – the reveal of Eren being able to turn himself into a titan certainly qualifies. But what's happened with that development since it happened what, four episodes ago? I think my track record with anime is pretty good with series that take their time, but this one seems to be in another category. If you're going to have a slow-moving plot, you need interesting characters to keep the show engaging. Otherwise – especially in an action series – there's a risk that what you end up with is just a lot of noise. And that seems to be a real risk with Shingeki at the moment, if things continue at the rate they're going. I get that the manga is also a pretty slow mover – there've certainly been enough spoilers to that effect – but I really wonder if there's any way for Araki-sensei to pick up the pace a little.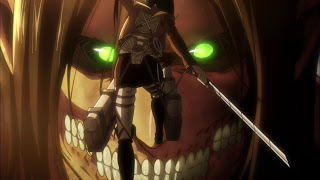 Sorry to offer so little in terms of response to the new episode, but to be honest there really isn't much to say because there wasn't much in it we haven't already seen. It was nice to see Armin be proactive and try to salvage the situation, but it's not as if we haven't seen him show courage before. A few moments with Jean always offer the most believable human reactions in the cast. Mikasa's blush was effective fanservice. And I suppose the perspective of Eren while he's in titan mode amounts to the most important exposition of the episode, though it was pretty much as you assumed it would have to be. Next week is the finale of the first cour, so I guess it's more likely we'll see something major happen – maybe a cliffhanger. I certainly hope so, because anything that breaks AoT out of the Groundhog Day mode it's currently in would be a good thing.