Robotics;Notes was always going to have to go big at the end if it had any chance to tie the loose ends together, but now that we're in the moment the change is still a bit shocking.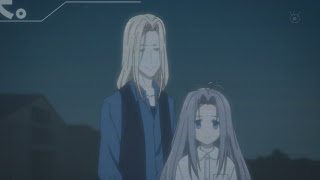 This is what is looks like when you try and do 22 episodes worth of plot in 4 episodes of a series that's been mostly character development for the first 18. There's something to be said for that approach in terms of pure adrenaline-induced thrills, but I'm a bit sad that R;N as we're seeing it now seems at quite a big remove from the show I grew to like so much. At the same time, though, as big a departure as this is stylistically (it could hardly be bigger) I'm pleased that the ending is being crafted in a way that's philosophically at least in perfect synch with the series as a whole.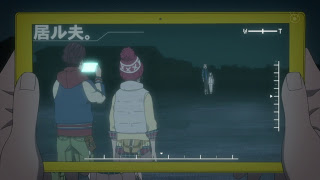 I think, at heart, Robotics;Notes has always been a very innocent show. For all the dystopian conspiracy and occasional outbursts of violence and despair, the other part of the story – the friendship, the club, the pursuit of childlike dreams – is closer to the essence of what the series really is. It's only fitting that a series like that should have a good old-fashioned storybook good vs. evil ending, complete with a super-villain, a reunion of the core group and a rallying by the community in support of their plucky efforts. It's campy to say the least, and Aki's speech (cleverly webcast by Deux-ex-Mitchie) is about as corny as it gets. I don't think a show like, for example, Psycho-Pass could get away with a speech like that – OK, that might be the understatement of the year – but here it somehow fits. I wouldn't have written that speech myself, don't get me wrong, but I think R;N has more or less earned the privilege.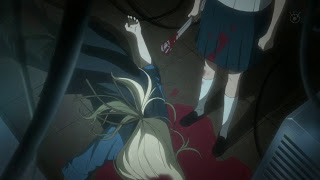 There are still some elements of the big picture that I don't quite understand, and the continued avalanche of revelations this week hasn't changed that fact. The big news, I think, is that it was Misaki who killed Kimijima Kou – and the fact that she did it to stop his "body experiment" on the SS Anemone doesn't change the essential fact that she was a murderer even before the Committee of 300 got their claws on her. For the average person that would be a horrible thing to deal with even if the act were justifiable, and Kimijima (who as best as I can tell was already in the process of transferring his consciousness to Iru-O when he died) uses this as leverage to manipulate her into becoming his puppet in RL. Eventually this moves on to literal mind control, as he seems to be more or less possessing her at the moment, though she has enough of her own free will left to try and kill herself at the spot where Mizuka died.
Here's what I'd really like to know:
How, exactly, did Misaki know what Kimijima was up to on the Anemone? How did she get hooked up with him in the first place?
How is it that monopoles began raining from the sky – and why? Who's behind it?
What exactly is the raison d'etre behind Kimijima and the Committee's intention to kill 5 billion people with the black hole bombs? Are we just supposed to assume it's an issue of resources or general megalomania or will that be addressed specifically?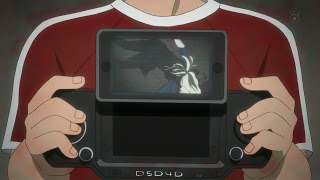 I imagine the Report #0 that Misaki sends to Kai in a burst of free will – the same one which she uses to allow her father to flee – will shed some light on at least some of those questions. In the meantime it seems as if everything is going to come down to a battle between the Committee of 300 and one plucky band of kids on Tagoshima – not so different, really, than the notion of a final battle between SERN and a band of wacky oddballs in Akihabara. One major difference here is that thanks to Mitchie, the rest of the community knows what's going on, and thanks to Aki's speech they're flocking to help. That starts with Kona, Subaru, Jun and Doc, who've already drafted a plan to retrofit the Gun-Pro-1 with monopole motors and a pile bunker (damn, Subaru is a bigger robot geek than Aki) the time Kai and Aki crash-land their plane from Tokyo at the old airport on Tagoshima. While I have no idea why the landing gear didn't deploy, this scene still delivered the funniest moment of the episode as the others watched the plane crash land on its fuselage with eerie calm, until finally Kona said "Shouldn't we like… run?" Which they promptly did – knocking the hobbled Subaru to the ground in the process and leaving him to die.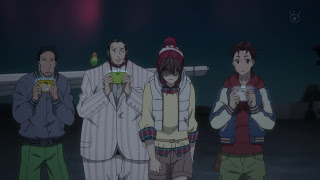 We're pretty much in pure popcorn territory now – Aki's speech closed the deal on that – so there's not much to do except strap in and enjoy the ride. I don't expect we're going to get a reflective character-driven ending, any movement on the romance front or anything of that nature (which is a shame) but just about anything else seems possible. More Steins;Gate cameos certainly can't be ruled out, and I expect final showdown between GunPro-1 and Sumeragi to be full of pyrotechnics, both literal and figurative. I just hope they're able to pull it off while still delivering something of the quieter charm that made the first 18 episodes of Robotics;Notes such a refreshing and enjoyable series to watch.