It's always been obvious that the Emperor had no clothes, but this week Psycho-Pass paraded him around naked in front of the world.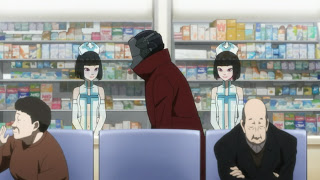 We're about two-thirds of the way through this series, and things are beginning to crystalize, mostly along the lines I've been suspecting for quite a while. While it was always possible to view Makashima as a crazed psychopath and nothing more, he always struck me as more of a revolutionary than anything else. Cold as ice, ruthless and seemingly immune from feelings of mercy or remorse, but driven more by a sociopolitical agenda than by any pleasure he might derive from his crimes themselves. It's the nature of the conundrum Gen presents the audience that Makashima's larger goal appears to be at least debatably worthwhile, but his methods for achieving it are truly horrific.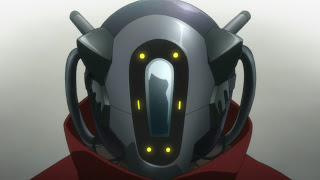 Akane's assessment after the second murder involving a masked assailant sums up the situation as well as any – "We lack any means to combat crimes like this." What to make of a society where onlookers will stand idly by and watch a woman beaten to death to death with a hammer (and possibly raped post-mortem, though this is unclear) and do nothing except stare idly and shoot the occasional video? The lack of human concern is what strikes you initially, of course, but the problem is the society itself, not those individuals. Imagine a population of deer that was raised in an ecosystem where there no predators, to the point where the current population had lost all instinct to fear wolves and bears. Then imagine that population of deer turned lose in an ecosystem where those predators thrived. The population of the Tokyo of Psycho-Pass has lost all survival instinct, having been told that there society was completely safe (and no doubt, had many crimes hidden from their knowledge over the decades to preserve the illusion). The "humans as sheep" analogy is dreadfully overused, but this is a scenario where Makashima seems to be using it exactly as it was intended.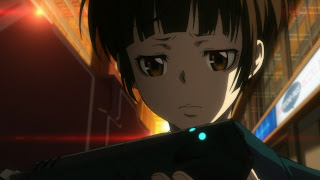 Any episode that's focused around Kougami, Akane and Masaoka is off to a pretty solid start – those three are the heart of Psycho-Pass, and some of the most interesting characters of the season. This was an episode that was right in the sweet spot for this series – brutality, deduction, social commentary and black humor. It's not the most original formula but in Gen's hands it clearly works. It might be argued that the show's characters haven't shown as much growth over the course of the series as they might have – Gino is still the company man incapable of real insight, Akane is still the brilliant but naïve rookie who hesitates under fire, and Kougami is still the brilliant tactician who figures out the solution before everyone else. But I think this series is less about traditional character arcs than taking traditional character archetypes and putting them to use in the service of a larger cause, the dissection of a dystopian future that's like a beautiful red apple whose inside is being eaten away by worms.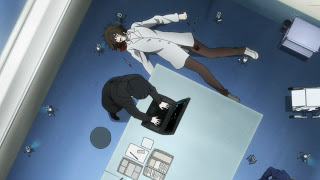 The helmet is a new wrinkle – a parlor trick, really, simply a portable reader than superimposes the normal psycho-pass reading of anyone within 30 meters to mask the reading of the wearer. What it does do, however, is show how helpless the Sibyl system is against anyone with a dash of cleverness and ability, and the will to circumvent it. As always, the most interesting element is not the crimes themselves but the motive of the man behind them. Makashima's goal here seems simple – to create as much panic and unrest as he possibly can by attacking the structure of the society he loathes and undermining confidence in its institutions. Public murders, armored-car robberies – all of it intended the undermine the foundations. Even here the fallacy of the Sibyl society is clear, and one need look no further than its strongest apologist – Gino speaks derisively of a time when people had to lock their doors, because society operated under the assumption that people couldn't be trusted. Yet even in this so-called utopia we still have such a thing as armored cars? Why should they even be necessary, if Sibyl is based on the notion of transparency and trust?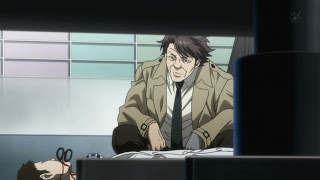 There's enormous potential here for the kind of Sturm und Drang that Gen the Butcher thrives on. Makashima is in many ways the perfect criminal for this society – his evil invisible to its guardian, and a population that's lost its ability to smell danger (and almost entirely lacks anyone capable of defending it by force). But if Makashima's goal is to turn the sheep into wolves, is that even possible? A wolf turned loose among sheep with no instinct for self-preservation might eat until he's fit to burst, but no amount of savagery will make those sheep anything but what they are. Makashima uses people until they no longer prove useful – as witness the thugs who robbed the armored car – but what will he do once he realizes the population is incapable of the kind of transformation he envisions? For now, we're left to wonder who his new accomplice is – the "only one he's told the entire plan to", and seemingly the one who designed the helmets. As for those helmets, their limitations were acknowledged by their creator even before Kougami spotted the trick – but merely knowing that trick doesn't mean the Bureau knows how to prevent its use in the future. Makashima has been one step ahead of the others from the very beginning, and in that sense nothing much seems to have changed.