That was an ending that matched the character of the series perfectly.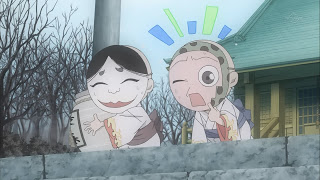 Two series by Akitarou Daichi ended this week, and that's a sad thing. I've argued here on many occasions that the director is an absolutely critical part of an anime's success or failure, and probably the least understood and most underestimated by anime fans. Akitarou-sensei is a master, especially when it comes to shoujo. He did as much with Poyopoyo as it's possible to do in a three-minute series, and here he gave us a light but not inconsequential blend of romance and fantasy that ended up being one of the most pleasant series of the season to watch. Both series were simple pleasures, and they reflect the easy brilliance with which Akitarou handles a project.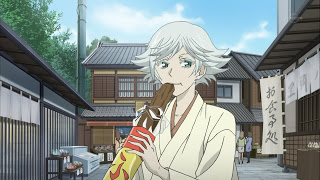 Kamisama Kiss is certainly one of the funniest series of the Fall season, but it also has a way of being just serious enough when it's funny and just funny enough when it's serious – the balance is perfect, and it rides like a luxury car as a result. This being the final episode of an ongoing manga adaptation it was obvious we were going to have a conflict drive the ending, and it was obvious from last week's episode what the basic premise would be – but the result was predictably low-key even so. Maybe it's a fault and maybe it's a virtue, but there's a safe and warm feeling watching this show that makes it seem as if nothing ever really bad could ever happen.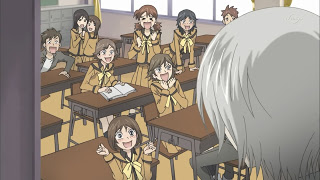 Where we left off, Nanami had completely lost confidence and bailed on the shrine, and Otohiko's miasma was wreaking havoc as Mizuki and the shrine spirits tried desperately to hold it at bay with sake and Tomoe searched for her with increasing desperation. I can't imagine anything that happened after that was much of a surprise. Nanami realized that what she was doing was selfish (and of course that she has no other place to live) and rushed home just as that old chest that we saw last week had its payoff – it contained the miasma from the Earth Spider, a powerful Naraku-like beast that Mikage (as a butterfly Kami, he must surely hate spiders) sealed away centuries ago. This was a little too hot for Otohiko to handle, so rather than help clean up the mess he started he bolted, and Nanami arrived just in the nick of time – as Kotetsu was being turned to stone by the Earth Spider's miasma.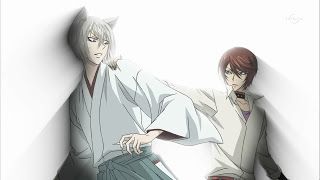 Really, this is pretty much all pretext for the big payoff – which is to see Nanami do her Kagura dance in full kimono, first in fighting off the spider and then later at the Matsuri. At the height of battle we got two of the funniest moments of the ep – Nanami tripping on her hem at the climactic moment of the fight, and Mizuki's ever-incompetent flute playing. And even that was preamble to Tomoe's reaction to seeing Nanami dance like that – a declaration of love (or close enough) that sets aside for now the question of whether Nanami might be the reincarnation of the human woman he loved all those centuries ago. And as for Mikage, things seem to have been following the plan he's had all along…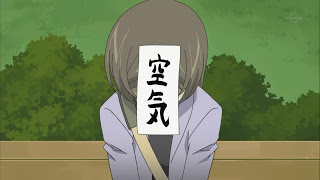 There's not much else to say about Kamisama Hajimemashita, really – it's just a charming, sweet and adorable series that's really hard not to like. The very good supporting cast all had roles to play in the finale, including reappearances (strictly for show, mostly) from old favorites like Himemiko and the Dragon Lord and an appearance by this fellow, who was obviously played by Suwabe Junichi and is apparently named Kirihito – a strange thing to happen, since he's obviously an important character. Perhaps this is meant to tease a possible second season, though I haven't seen anything to indicate this series is a prime candidate to get one.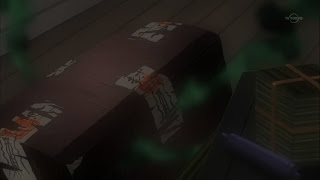 Every year needs anime like Kamisama Hajmemashita – shows that don't reinvent anything or especially challenge the audience, but entertain in an undemanding way without insulting the viewers' intelligence. They're not easy to blog about – this show certainly isn't – but they're very easy to enjoy. The cast is terrific, the visuals – while not lavish – are consistently clever and amusing, and Akitarou's direction is a thing of beauty. Last year we had Nekogami Yaoyorazu, this year Kamisama Hajimemashita, and hopefully next year will offer a few more gems like them. Who knows, maybe even a second season of this one.