Trying to encapsulate an episode like that was always going to be tough, even under ideal circumstances.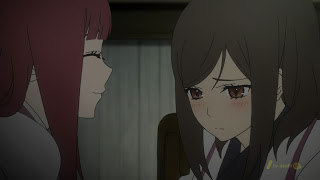 Shin Sekai Yori is a show that begs serious analysis, but at the moment I just don't think I'm capable of it. There's something vaguely surreal about watching such a complex and unsettling episode when you're barely able to sit up in a chair and make your fingers work the keyboard (for example, I just mis-typed "work" no less than seven times) like they're supposed to. In the moment I was completely caught up in it, following every development intently, but now it's just a mess of words and images that stubbornly refuse to come together. Maybe given the subject matter there's a certain irony in that.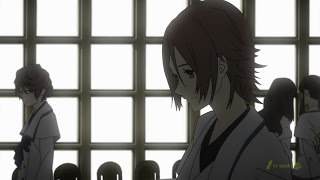 In lieu of the usual in-depth breakdown I usually do with this series, maybe it's best if I just relay some of what struck me at the time of viewing. In the first place, it's always an interesting thing to speculate on the rights and wrongs of what's taking place in this world. What happened to Shun (and to Saki's sister, and so many others) was a terrible thing – but given what we saw (the destruction of his entire village) perhaps unavoidable. Indeed, this whole system has the feel of something that might be unavoidable, but where the prescribed cure is worse than the disease. But somehow, seeing the direct results of the adults' efforts to wipe Shun from the memories of his friends seemed like an even more horrendous development. It's such a fundamental violation – not just to take that person away, but to take away the memories too? To make us lose all connection to a person we loved? It' undeniable that the survivors in this post-PK world had to make the best of bad choices, but perhaps the world they're trying to save isn't worth saving if this is the only way to save it.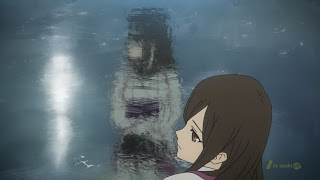 Perhaps the most telling line of dialogue came when Maria said "There are some truths we're better off now knowing." As Saki was becoming more and more convinced of her notion that something was terribly wrong and that the boy called Ryou (who showed up briefly in the pre-time skip episodes) wasn't who she thought he was, Maria's words were already playing in my head. It would be so much easier if Saki simply accepted the reality her eyes and ears showed her, and not kept digging for the truth. But Saki is compelled to do so, not least because she keeps having dreams where the departed and forgotten speak to her. It's Mamoru – as ever the weakest of the group – who's most helpless against the conditioning telling him that the waters the children are rowing into are deadly dangerous.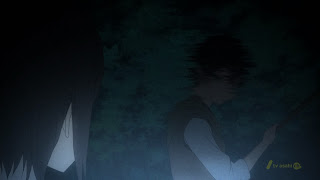 I'm a great admirer of the way Shin Sekai Yori uses visuals to subtly enhance the emotional direction of the story. Shots like Saki's eerily "wrong" reflection on the pond surface, and the five beams of sunlight being blocked by the clouds, one by one, give a sense that nothing in the world is as it should be, and the future holds nothing good. Serious anime like this one tend to fall under the heading of either mystery or tragedy, and SSY is definitely looking like the latter – there's been a bleakness to the adult Saki's narration from the beginning, but it seems more and more as if she may be telling this story from a "last survivor's" perspective.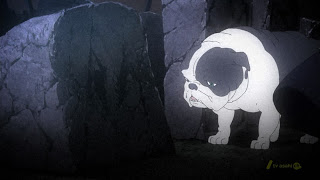 As to the new developments in the episode, it seems only right that Satoru and Saki should have chosen each other for their "partner", though it's not as if there's anything obviously romantic there. They simply have more in common than anyone in the story – they depth of their shared experience is stronger than anyone else's – pushing itself to be remembered more strongly. They both experienced the flight from the Queerats, and they both loved Shun. As a result they understand each other better than anyone, though it's fair to say Saki still emotionally leans on Maria more than anyone else. And as for Satoru's Grandmother (Sakakibara Yoshiko) and the summons at the close of the ep, that's a development that's loaded with dangerous implications. Of course it's worrisome that she thinks so little of her grandson that he never knew of her role as head of the Ethics Committee, and the fact that she's taken an interest in Saki specifically leads me to wonder if Saki isn't about to be told to become part of the system she's currently rebelling against.