If you're a fan of NoitaminA – and I'm one of the biggest – this goes down as one of the best and worst days of the year.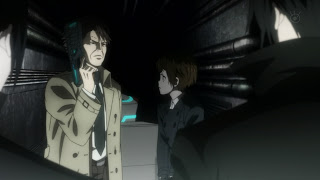 It seems odd to be depressed about the NoitaminA block on a day when both halves of Production I.G.'s entry delivered standout, brilliant episodes. Yet with the day also came the news that the entire Spring schedule will be turned over to reruns of Katanagatari. This is terrible news on many levels – a debate over that show's place on NoitaminA would be an interesting one for another time (I don't personally think it belongs there) but it's moot. We're looking at reruns of a non-NoitaminA series, and now at the very least it will have been a full half-year with no new NoitaminA shows. The NoitaminA project always seemed a bit Quixotic – an attempt at delivering quality anime for its own sake and most of the time succeeding – and the pessimist in me wants to believe that this is effectively the end, and that Fuji and Yamamoto Kouji have finally thrown in the towel. But I refuse to accept that until it's official, as it would be a minor tragedy for those that love good anime.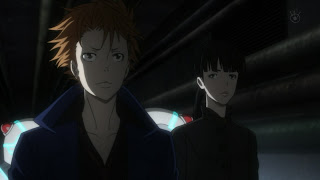 If indeed this is it for the block, it seems as if it has a good chance to go out in style with Robotics;Notes and Psycho-Pass. This week's conclusion of the Senguji arc was every bit the equal of last week's gem. It was incredibly tense, a breathless experience to behold – exciting and nerve-wracking without a moment's respite, concluding with a classic Urobuchi Gen scene that combined his usual flair for conversation (or in this case, mostly monologue) with a mind-screw as only he can deliver it. The world inside his head must be a very dark place indeed, judging by what he allows to escape and put down on paper.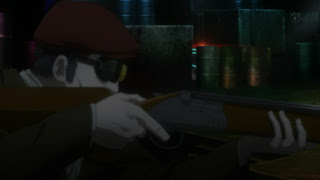 I've been saying for a while that Akane was going to live out Nietzsche's observation about the void, and this week she definitely had the experience – she stared into it, and it damn well stared back. It's been clear all along that Makashima was the far more dangerous opponent than Senguji, but that was never more apparent than in watching their respective actions in this episode. Senguji is basically a dead man desperate to feel alive, and willing to do whatever is necessary to try and recapture that feeling. For him killing is a short-term high, but ultimately unsatisfying – what he's really been craving is the enemy who will not be prey, but a duelist. Makashima ultimately gave him what he wanted in Kougami, a fox with real teeth. You can make what you will of Makashima's attempt to warn Senguji that the jig was up and police help on the way – perhaps there was an element of fondness there, or perhaps a desire to avoid the inconvenience of having his bankroll cut off. But I think Makashima knew what Senguji would say, and simply wanted to hear it for himself. Both men are enablers for the other, and each sees something in the other they admire.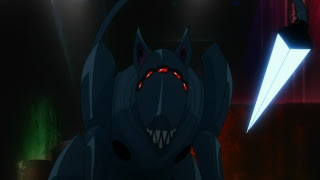 Senguji's duel with Kougami might have been the mere preamble this week, but it was no less gripping for it. A modern sentient weapon against an old-school double-barreled hunting rifle seems like a mismatch, but as Kougami found out old-world technology can bite pretty hard (might a cop in another time have been wearing a kevlar vest?). Ironically it's Kougami's old-school police skills that allow him to stay alive long enough to outwit Senguji (hunting foxes is no preparation for hunting men like Kougami) with Yuki's help, and put an end to the most dangerous game after taking several bullet wounds. It's Masaoka and Akane who arrive on the scene first, shortly after Makashima takes Yuki and makes his escape as Kougami teeters on the verge of unconsciousness. As she runs off after her friend, Masaoka first treats Kougami's wounds and then memorably disables him to keep him from doing the same.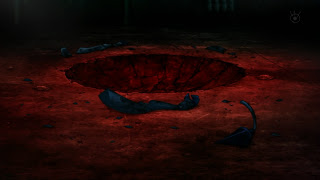 I predicted Yuki's demise last week (green bananas indeed) but it was certainly artful the way Gen managed to turn her into a memorable plot driver in the process. In Akane and Makashima we have a fascinating funhouse mirror effect – they're quite similar in critical ways, but self-evidently very different people. They both confound Sibyl, and both have the remarkable trait of a constantly white Psycho-Pass. There are many memorable things about Akane's confrontation with Makashima (it gives far too much credit to her performance to call it a confrontation) but I think the most jarring was listening to Sibyl give a litany of Makashima's falling crime coefficient as he approached the moment he would kill Yuki in cold blood. Senguji's crime coefficient was over 300 but Makashima's was 48, and drops all the way to zero by the time Yuki's race is run.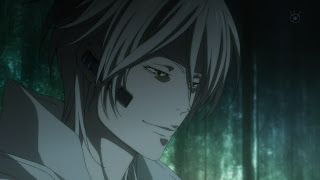 Makashima's very existence is an indictment of Sibyl and all it stands for. As he says himself, Sibyl can't account for the human will – "I wonder what sort of criteria you use to divide people into good and evil." He frames the moment for Akane in utterly ruthless fashion: as she stands helpless, her Dominator refusing to target Makashima, he puts Senguji's rifle in her hands and gives her a choice – "Kill me, or I kill Yuki." For the first time she can feel the immediacy of death in her hands, and it can't be passed off as the will of a machine intelligence – it's flesh and steel and lead, and no one else's finger is on the trigger. Makashima says he wants to "bear witness to the splendor of man's soul, and find out once and for all if it's something worth admiring." Whatever his ultimate aims, what's clear is that Makashima is a subversive in every sense of the word – a living anathema to everything the modern society represents, his existence a threat and his will to unmake it at its very core. In a career of memorable antagonists, he might just end up being The Butcher's best.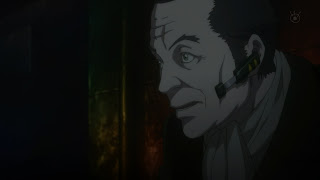 As for Akane, I think it's very much an open question just what impact this existential battery will have on her (and her supposedly unassailable Psycho Pass). She was revealed in the moment of crisis and the aftermath as the child she is – not ready to step out of Sibyl's protective embrace and face the void without staring away. As to Descartes' view that those unable to make a decision are crippled by too much desire or too little intellect, I think it's clear that it was the former in Akane's case – a desire not to take responsibility for someone's death, a desire to save her friend, a desire to believe the system she was raised in isn't a complete fraud. By not pulling the trigger and letting Yuki die she did make a decision, in a sense – she chose to accept the premise her life was built on over the life of her friend. I think this is what Makashima wanted to force on her all along, and it represents a terrible and visceral violation of her psyche – and how she responds to that is going to go a long way towards determining what the second half of Psycho-Pass looks like. If he can finish the job as well as he's finished the first half, Urobuchi Gen has a chance to craft his finest work in anime, and to give NoitaminA a memorable sendoff – whether temporarily or for good we can't yet know.