Absence makes the heart grow fonder, they say, but mine was already pretty fond of this series before the latest information blackout.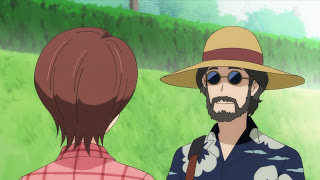 I'll be honest – I'd already watched these episodes (and the next two) raw a while ago. So as a result I had a pretty good idea of how intense the soccer was going to get. Still, it's always interesting to pick up those little bits of detail that fly over your head without translations. Happily, it's not as many as I expected.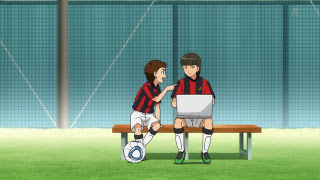 It seems likely that with 10 eps to go (it's agony for me just to say that) we've reached the point where the remainder of Ginga e Kickoff is going to focus pretty heavily on the on-field action. Everyone has gone through their personal trials to get to this point, and the team is in its final form. And it truly is a team now – the weak links have gotten stronger, the selfishness of the Furuyas has taken a back-seat to their desire to win as a group, and Hanashima's laid-back coaching style has allowed the team to form a personality of its own – one that reflects the personalities of its members, most especially the Tireless Terrier. Now all that's left it to duke it out on the field and see if that's enough to get them to Spain – and if so, how far it will take them there.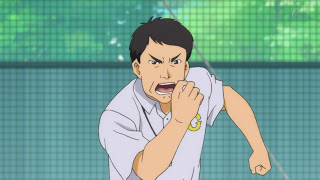 But Spain – and even Kageura and Amarillo in the national tournament – is still a long way off, and there's the Kanto regional still to survive. With the preliminaries a breeze and the semi-finals a comfortable win, this final match comes down largely to coaching – a difference in coaching philosophy, and the ability of the Predators to think for themselves (a product of that philosophy). The contrast with the opponent – Nenotoko Guts – could hardly be more stark. Masaru-san-chan calls their approach "Spartan training" and it's an apt phrase. Their soccer is a fairly joyless affair and their ball skills mediocre. Guts has one weapon and one weapon only – their training (and depth) have given them an ability to run and run while other teams gasp for air, and it's that that gives them a 2-0 lead at halftime.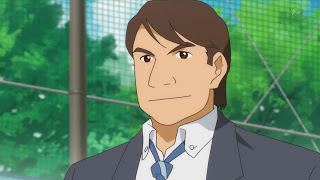 Even here, Masaru gives the kids only a slight nudge – instead of trying to beat Guts with their "Pure Pace" style, rely on your own. Here the Preds two secret weapons emerge – Reika-chan and Ryuji's skills with his Dad's soccer simulation. Reika's Blitzkrieg training has given her a stamina the other Predators lack, and she's shown an instinctive ability to "collect the garbage" – pick up cheap goals on loose balls and rebounds. Ryuji sees an even greater potential in his simulation – counter pure pace with Total Football, the position-less revolution that The Netherlands unveiled at the 1974 World Cup (and which FC Barcelona and Spain's national team use today in modified "Tiki-Taka" form). In 8 x 8 soccer this means choosing the right moment – and in Shou that have the perfect person to choose it – and literally swapping positions, sending the back-line forward and the attacking players to the defense. It's the perfect counter-measure to pure pace, and soon it's Guts who're confused and gasping for breath. The Predators dominate the second half, with Reika getting the winning goal in a 3-2 match.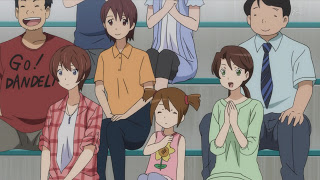 If Ryouji was the Furuya in focus for the Kanto tournament, it's Ouzou who takes the spotlight for the Nationals (after another behind-the-scenes look at the Furuyas' interesting home life). He's always been the most interesting of the Triplets for me – despite being the youngest he's the most level-headed and selfless on the pitch, and in terms of full-field skills he's probably got more "total football" talent than either of his brothers. But here we finally see the cracks in Ouzou's façade, as Kageura has clearly gotten into his head. Kageura is a dominant player (I'd be checking the birth certificate if I were the opposing coach, but he he has skills to match his size) and he's outwardly polite – but everything about him speaks of arrogance, from his feigned ignorance of the Triplets' identity to his disapproving reproach of Aoto for agreeing to play for Momayama.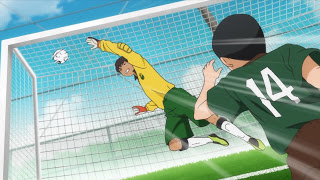 The problem for Ouzou is that he's taken all this personally, and turned the finals into a grudge match with Kageura – and there's still the pool play and semi-finals to worry about in any case. Fortunately the pool opponents are no match for Momayama and the Preds' compile a 9-0 goal differential in winning their two matches, with only Shou failing to score (though he did his a post and set up several goals). The semi-finals against the defending champs from Shikoku are tougher, but still result in a shutout win that keeps Kagi's sheet perfect. Because Hanashima's old buddy has rigged the draw so that Momayama and Amarillo avoid each other until the final, only Amarillo now stands between the Predators and Spain.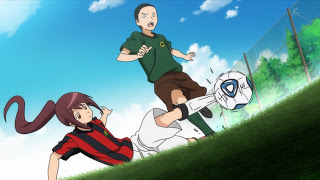 This is clearly the biggest thing ever for all the Predators. The final matches are in a professional stadium and on TV to boot – which Kyouko takes to like a fish to water, while Masaru-san is more like a dead fish. Momayama-san is highly emotional at seeing his troops standing on the big stage, with a chance to upset a powerful club team and win the national title. And it goes without saying that this is the biggest moment in Shou's football life too, though there hasn't been much focus on how all this makes him feel about losing the father who taught him to love the game.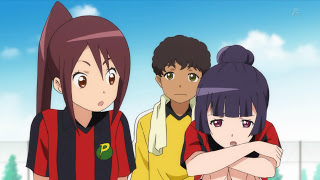 Sadly, things don't start out too well – Ouzou tries to do everything himself, and Kageura proves unstoppable on the first exchange of the match. A couple of things are clear – Amarillo is just as dominating in 8-on-8 as in full-field play – maybe more, since Kageura is even more unstoppable on a small pitch – and we're headed for the biggest on-field drama of the series. The pieces are all in place – the 3-U, Shimizu-san and Nagabuchi-san in the stands, the giant staring at Momayama from across the field, and everyone's dreams – and the loose and fun brand of soccer they represent – on the line. I wish Ginga e Kickoff would run for another year, but this is how you set up a climax in a sports anime.