While Chuunibyou never achieved real profundity in its final episode, I think it crafted a finale that was true to itself.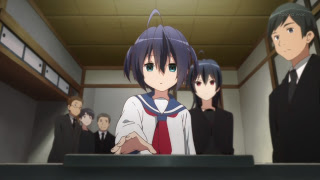 In a sense, I think this series had written itself into a corner going into the last episode, but not necessarily in a bad way. The fact is that there's no single resolution for the whole chuunibyou dilemma – it is what it is, a part of us whether we like to admit it or not. In and of itself chuunibyou is not a good or bad thing, and when you build a show around it that makes for a major challenge in trying to craft a resolution. Subtlety was certainly never this series' strong point so I don't think we were ever going to see a finale that transcended all that and framed the situation in a new way, but my big worry was that we were going to see a too-perfect sentimental ending that rejected the evils of adulthood and celebrated escapism as the purest form of virtue. Thankfully if the novelist and anime staff were ever tempted by that siren's song they resisted, and found exactly what they probably should have been looking for – an ending that acknowledged reality but didn't curse it.
In fact, I think it's fair to say I would be a total ingrate for criticizing the substance of Chuunibyou's ending (we can talk about the execution separately) given how closely it tacked to what I was asking for last week. Please indulge me for a brief moment as a call out a couple of things I said in that post:
I don't think it's right or healthy that Rikka should deny her father's passing – one way or the other, she needs to accept it before she can move on. So when she told Yuuta her mother asked her to visit his grave, my instant reaction was that no matter what else you believe, that's something she should do. It's only right.

Is this diminishment of spirit an inevitable part of growing up, a compromise we make to enter the world of adulthood? In truth I do think a middle-ground exists. I watch anime and read "Game of Thrones", but I don't role-play fantasy scenarios under the professed belief that they're actually true. And more straight-laced adults than me watch TV dramas or read romance novels and exercise their fantasy life in their own way. Life has to be bigger than what we see in front of us, or we go crazy – it's the blessing and curse of being human, the product of the imagination that evolution or God or whatever you choose to believe has bestowed upon the human race.

Rikka says "I don't know what I can and can't keep", and that line as much as any in the series reaches a kind of profundity. It sums up the nature of the chuunibyou paradox as well as it possibly can be in a single sentence – that's the question we all wrestle with at one time or another (and maybe another) time in our lives. I suppose the answer is different for everyone – as for Rikka and Chuunibyou, I'm hopeful that it can draft one that escapes the traps of sentimentality and predictability and sheds real light on the experience.
I'm not crazy about voice-over narration as a way to summarize an ending neatly, but here's show Chuunibyou chose to sum things up:
People sometimes tell lies, imagine a completely different fantasy world, dream about the distant future, or invent a lover's relationship that exists only inside their heads. This process repeats from the day we're born until the day we die. Forever and ever. It is depressing. It is shameful. But it is dear to us. It is an illness knows as "self-consciousness". It is something we all must face known as "ourselves".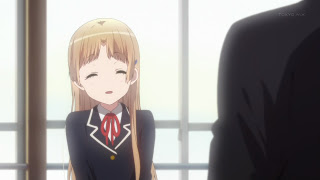 In effect, Chuunibyou chose not to answer the question it's been posing for twelve weeks – and in doing so, made exactly the right decision. There is no answer – we either have chuunibyou, or deny that we do – which is every bit as much of a fantasy. The blessing and curse of being human, the illness known as self-consciousness, whatever you want to call it – it's part of who we are. Those of us who acknowledge this side of ourselves are better off in the end than those who try and shut if off, IMHO (and that of this series, I think) but everyone has to deal with their chunnibyou in their own way.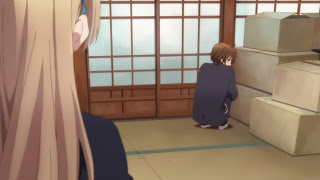 As for the episode itself, it was everything that Chuunibyou has been for three months – sentimental, dramatic, outlandish, subtle as a kick in the teeth. This is a show that tells you exactly what it's thinking at every moment, so there isn't a whole lot of mystery or interpretation to it. The notion of the 14 year-old Yuuta writing a letter to himself is pretty fitting, given that it's that person who has the last laugh – the Dark Flame Master is still in there, even if you pretend he isn't. I found the premise of Kumin stepping in as the new Wicked Eye a bit silly, to be honest, more of a plot device that a real plot development, and it sadly robbed us of any chance to see her arc achieve any closure on its own terns.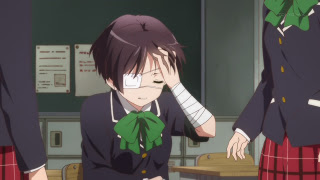 As for the other three, Dekomori had probably her most interesting episode this week, first appearing as a demure ojou-sama (you had to know that wouldn't last) before being tempted by Kumin's Rikka impersonation and then revealing her true colors (and bank accounts) at the end. Isshiki did reveal that he wears a sleeping cap, but apart from that remained strictly a comic character. It was actually Nibutani who probably showed the most growth as a character, though I found her late-series role as a sort of oracle to be a bit too convenient.
As for the main pair, I think they got their closure in such a way as to make any thoughts of a sequel unnecessary – the ending left the two of them in a good place narratively. Yuuta's role in shaping Rikka's journey was revealed in all its layers – it was in secretly watching him (which we've seen in flashback) as a middle-schooler that she was first lured into the world of chuunibyou as a means of escape. He ended up guiding her to a place – literally and figuratively – where she could finally say goodbye to her father, which irrespective of your feelings on escapism is something she desperately needed to do. The whole 10th-grade spin on "The Graduate" was pretty cheesy and over-the-top, but as I said, it's true to Chuunibyou – when in doubt, go bigger. I feel as if I don't need to know where Rikka and Yuuta go from here as a couple, because the point of the series was to get them to exactly where we left them. In that sense, it's clear that the writing staff knew exactly what they had to do with this episode, and kudos to them for that.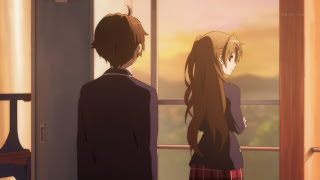 In the final analysis I don't have any second thoughts about my intermediate conclusion on Chuunibyou – it's a great idea with pretty good execution. As a concept to build an anime around, chuunibyou is a powerhouse – a fundamental question about the nature of consciousness for which anime is the ideal medium to explore. Given that anime is itself a kind of chuunibyou there's a meta quality to this that's really interesting, and I still feel that if the writing had real subtlety and polish, as a premise this is good enough to have spawned a classic. Perhaps Tanaka Romeo's Aura, which preceded Chuunibyou in print, accomplishes this – he certainly is a writer who possesses those qualities. I suppose I'll find out when the movie is released.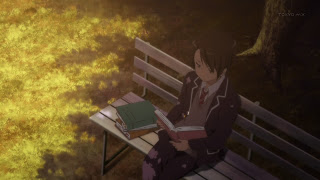 I can't hold Chunnibyou to any standard but what it is, though – if we get two or three classic anime in a year it was a good one, so that's clearly the wrong bar. I definitely view the series more positively than I did at the midway point – it handled the transition we all knew was coming better than I expected it to, and did a more elegant job exploring the metaphysical dilemma at its core than I thought it might. I wish the entire series had interwoven the zany comedy of the first half and the character drama and philosophical musings of the second rather than have it be a "one or the other" scenario, and that's where I think better writing would have made a difference – but in fact, both halves were quite good. Chuunibyou was funny a good percentage of the time it tried to be, and told a pretty moving story as it explored the role of chuunibyou in our lives. It's a good show with a fair amount of wit and a genuine desire to explore interesting questions, and as such marks another hopeful sign for Kyoto Animation in what's been their best year creatively in quite some time.