Raise your hand if you didn't see that cliffhanger coming.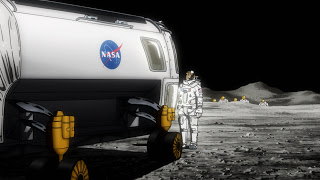 The decline of public interest in the space program has been the source of a lot of sadness for me over the years. There was once a time when Americans were glued to their TV screens every time anything NASA-related was taking place, but it seems like a distant memory now. And it's not all that recent a phenomenon – even the later Apollo missions saw a serious decline in public interest, as the public mistakenly got the idea that space travel was routine. Subsequent tragedies have certainly disabused them of that notion, but the lack of interest remains.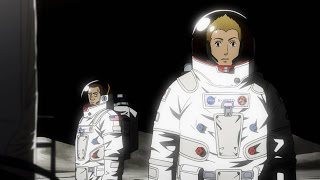 There's no question that a general decline in the availability of the "American Dream" has caused many to rethink their priorities, and with the goal of every child doing better than their parents, earning a pension and retiring with a home of their own out of reach for so many, space travel seems more like a luxury. But I think there's more here, and it hearkens back to the head vs. heart debate I've referred to with Uchuu Kyoudai before. Intellectually, a case can be made than manned space flight is almost never necessary or even advantageous. It's much more expensive, lives are endangered, and the planning of any mission takes much longer. Yet, I think it's necessary, because unmanned space flight simply lacks the power to engage the mind the way manned flight can. I think Space Brothers believes this too, and watching those scenes of the Japanese people staring up at the moon really brings the message home.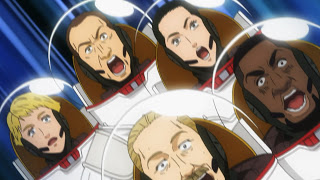 Of course, the best thing to engage the public would probably be the discovery of intelligent life – verifiable, provable – beyond our planet. I don't know how far Uchuu Kyoudai is going with the idea but it's clearly important, given the role it played in the first episodes. And now that Hibito is on the moon at last, he's seen something – a flash, much as earlier astronauts had seen. Not only that, he's found a fellow UFO-taku in Buddy, though Hibito doesn't seem too interested. It's certainly true that astronauts have reported strange sightings over the decades, and that NASA hasn't wanted to discuss it – but whatever Hibito and Mutta saw and whatever Hibito sees now, the sense of curiosity that drives the characters in the show foreword won't accept such things without explanations easily.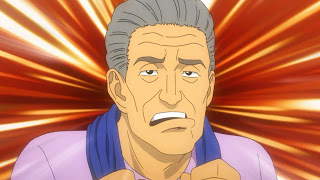 Generally speaking Hibito is having a blast up there – naturally – while his brother stays behind, waiting for the Ides of March. My favorite moment of the episode was when Mutta hugged his "lucky dog" Apo (well – that and Nanba-Otou-san's space haiku) – it was a supremely human moment for a supremely human character (not the pug). It's hard to imagine a scenario where Mutta doesn't pass – no matter how he frets about his luck being wasted on toilet paper and hot babes – I'm really ready for the suspense to end, and Mutta to take to the skies, but as I feared the announcements from JAXA are going to be milked for a bit longer. In fact, it appears almost as if next week's ep will be dedicated entirely to Kenji, who got the call just as this ep ended – I certainly hope that doesn't mean we're going to get an entire episode dedicated to everyone else selected before we get around to Mutta. From a narrative standpoint, I think he's been through enough, and it's time to see him living out his dream at last.