The internet really is a wonderful resource.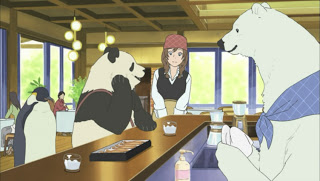 Thanks to the magic of Google and the mass of tubes and wires that make up the interwebs, we at last have an answer as to what the mysterious "Flatus Patsy" is. Namely, an effort to translate something hopelessly untranslatable. Apparently during the Edo Period, wealthy families employed someone called a Heoi Bikuni – a woman whose sole job was the stand by in case one of the women of the family passed gas, and say "It was me." Thus, Shirokuma-san's dialogue.
No, I'm not making this up.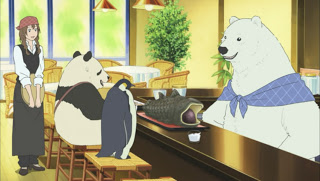 As for this week's episode of Shirokuma, I don't have a whole lot for you as it was pretty straightforward. Nothing nearly as outlandish as last week's classic, just two chapters that veered towards Shirokuma's heartfelt side. The first chapter reunited us with out carnivore drinking buddies, and Sugita Tomokazu's Wolf-san is still facing his midlife crisis. After Tiger's assistant at the sweet shop (Tora-ya – get it?) Zebra-san quits ("Those damn herbivores have no guts") he asks Wolf – who's just recently quite his bakery job because of a bad back – to help out around the shop. It's a surprisingly played-straight tale of bromance and loyalty, and relies more on that than punchlines for punch – though the part where Shirokuma-san tries to win Penguin's attention back from Tiger-san's sweets by creating his own, in the shape of extinct animals, is a pretty good gag.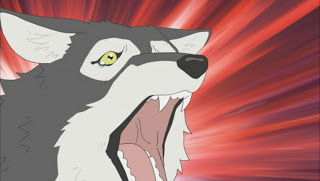 Batting second, Penguin-san has a new crush – but again, this chapter is played very straight, and it's mostly a tale of a romance between Penguin and café (and caffe mocha) rather than penguin and penguin. Penguin-san hasn't been showing up at Shirokuma Café for a while, and Llama-san catches him two-timing – he's been going to Brown Bear Café ("Not very original", sayeth Shirokuma) in the next town. Turns out there's a hot penguin waitress there and when Shirokuma-san – who's clearly more hurt than he lets on that Penguin isn't coming by – goes to spy on him, he sees the truth. Penguin-san actually works up the nerve to ask this girl out – the mochas at Brown Bear are just too sweet – but sadly, the results aren't all he'd hoped. The best part of this sketch for me – as it often is – was to listen to Kamiya Hiroshi's verbal gymnastics as Penguin-san tried to work up the nerve to ask his new dream girl out.