Shin Sekai Yori is once again comfortably the best series of the season.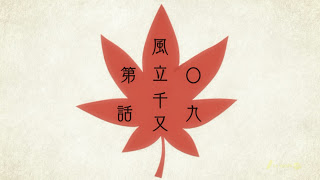 There's a sense of foreboding that runs through "From the New World" that makes it much scarier and more unsettling that most shows with more violence and conventional horror trappings. It's tempting to say the relatively idyllic treatment of the first few episodes lulled the audience into a false sense of security, but I really don't think that's true – in fact, those eps were incredibly creepy too, but what they did do is give us an investment in the characters by making us watch them in seemingly normal and innocent childhood interactions, set in a world that had the stench of wrongness sticking to it like your clothes after a night of drinking in a smoke-filled bar.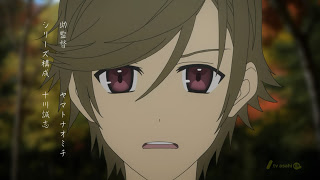 If you care for these kids as characters at all, it's impossible not to worry about them – there's a growing fatalism to this show, a sense that we've seen nothing of the terrible things that lie in store for them. They know it too, of course, but they're trapped between the knowledge they gained illicitly and the knowledge that if they pursue their instincts further, they'll likely end up "disappearing" like so many children before them (including, apparently, Saki's older sister Yoshimi). Pandora's Box has truly opened for these children, and they can never unlearn what they know. And, seemingly, they can never function as obedient members of their society because they know it. It seems entirely possible that it was Shun's "potential" – and or their fear of his powers – that stayed the adults' hand from eliminating all five of the kids as soon as they returned from the mountains.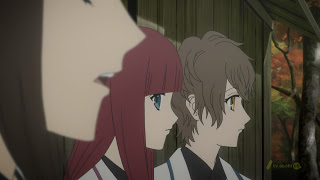 With Shun gone now, though, the wall of self-denial the remaining four have built around themselves has begun to collapse, and they can sense the trap closing around themselves. It's Satoru who's the most forceful about looking for him, and Saki more willing to join him – not surprising given the circumstances – while Maria is openly skeptical and Mamoru just seems bewildered. Maria tells of rumors (a bit of role-reversal, one of the others using legend to try and frighten Satoru into inaction) that cantus masters like Kaburagi and Hino Koofu – a name I don't believe we've heard before – can create animals from nothing, to suit their own needs – something that would explain both Shun's "watch out for the cats" warning and the preponderance of strange creatures roaming this strange world. In the end she and Mamoru take the seemingly safer job of asking after Shun at school, while Satoru and Saki – together on the water again – head off towards Shun's village of Pinewind to see what they can discover there.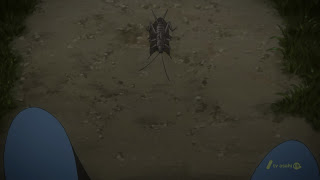 As with so much that's happened in SSY, the rest is very much open to interpretation. The pieces that we're given – everyone from Pinewind absent from school, the village sealed off from land and water and guarded by humans and queerats, the strange conversation Maria and Mamoru overhear at school – leads me to believe that the adults wiped out the entire village (though it could have been Shun as well). If that's the case, the obvious question would be "why?" Why would it be necessary to take out Shun's entire village – are they all so "tainted" by association with him that they can't be allowed to live (if so, why are the other four children still alive)? Something strange happened there, at the very least – the ground was cold and covered in frost despite warm weather elsewhere – the whole thing had a "salting the Earth" feel to it that was extremely disturbing.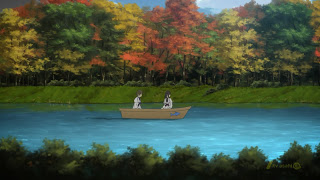 As for what Mamoru and Maria overheard, that was pretty disturbing too. One can only assume that their crime of sneaking into the inner sanctum of the school would itself be enough to merit the death penalty according to the code of ethics. Assuming Maria is telling the truth (I don't think we can dismiss with absolutely certainty the chance that she's lying, given Saki's earlier narration – though I suspect she isn't) the Elders have decided Shun must be eliminated before he turns into a "full karma demon" – a child's horror story brought to life – and they unleash the power of the "tainted cats" which I suspect were at least partly responsible for whatever happened at Pinewind Village. And indeed, when Saki goes off on her own to investigate after hearing Maria's tale, she runs into one there – and all the earlier adjectives you care the use fit. "Wrong", "creepy", "disturbing" – the beast is all of them, a nightmare of unnatural features that looks like something that should never have been allowed to come into existence.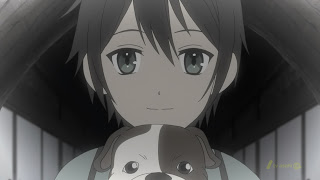 In hindsight it's easy to see how artfully everything has been pieced together to lead us up to this moment. Saki's mother's admonishment to her daughter to stop "prying into things she shouldn't" is as much as an admission that she's been under suspicion for at least two years, and as the daughter of a couple who've clearly lost many children who were deemed unsuitable, maybe since she was born. I don't see any good path forward for Saki or any of them at this point whether Shun is still OK or not (and I'm more pessimistic about that than I was) short of fleeing altogether and facing whatever other horrors await them in the world. And even should they choose to do that I'm certain they won't be the first ones to have tried, and measures to prevent just such an occurrence are surely in place.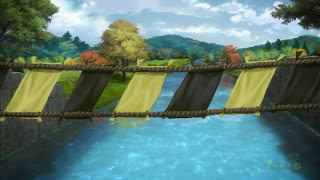 Lastly I want to specifically mention the visuals, which were really spectacular this week. There have been some inconsistencies in the last couple of episodes – not uncommon around the seventh ep of a two-cour show – but this episode was gorgeous top to bottom. The animation has been consistently good from the beginning, but this week the art direction was top-notch – the episode was full of gorgeous backgrounds, interesting shot composition (including the title card) and on-model character designs.