Well then – let the apoplexy begin.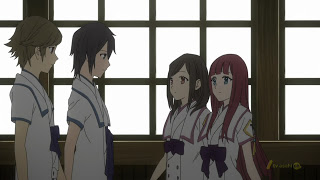 If you're going to do a timeskip, I guess you may as well go all-out and completely blow preconceptions out of the water as Shin Sekai Yori did. Novel readers obviously had an idea of what was coming, and some of us who aren't had heard bits and pieces, but it was still pretty striking. What a difference two years makes – and it's true, if you were going to pick a two-year age gap in the maturation of the human animal were you'd see the greatest difference physically and emotionally, 12 to 14 would probably be it. That's why Saki's voice-over intro was so fitting.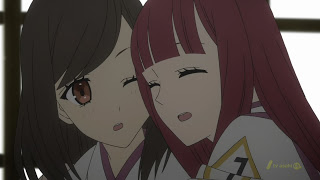 I don't need to read the various forums out there to know that the response to this episode is going to be filled with gay-bashing and righteous indignation about the turn of events in the first half of the episode, but given the way the story has been set up it really shouldn't come as anything like a surprise. Setting aside the truly spectacular levels of hypocrisy among anime fans when it comes to same-sex romance, I think it's probably fair to say that the explicit nature of the contact between Shun (now played by Murase Ayumu) and Satoru (Kaji Yuuki) was somewhat more surprising than that between Maria and Saki – it was certainly more graphic. But rather than shock or titillate I think it was intended to communicate that despite their very human emotions up to now, these kids are not living in a world similar to ours. Whatever you may think of same-sex relationships, I think it's safe to say kids aren't nearly so open about them in middle-schools in the real world, generally speaking.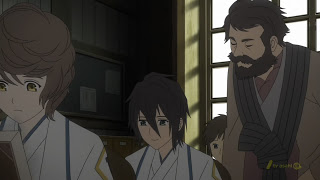 Remember the reference to bonobos, where sex is not primarily a reproductive activity (though it certainly is that too) but a social bonding exercise, and you have a pretty good sense of the way genetic engineering has reshaped the society in which these kids live. I was struck by how their interactions seemed so very typical of middle schoolers – Saki's casual cruelty towards Mamoru (Takagi Motoki, never one of my favorites) stands out as an example – yet how it felt subtly alien in so many ways, too. For these five in particular, the really odd part is that they're fully aware of what's happening to them and why – yet the physical changes to their bodies are impossible to suppress. Imagine taking puberty, which is normally a time of incredible hormonal turmoil to begin with, and adding in the foreign element of genetic manipulation to make the sex drive even stronger. It's hardly surprising to think that sexual relationships of all possible combinations would be openly practiced, but human beings are not bonobos – these kids still have the same emotional frailties we do, and the urge to pair-bond romantically goes beyond the purely erotic in them.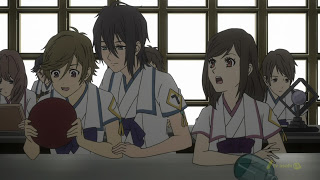 Saki, Satoru, Shun, Maria and Mamoru have been living a lie since their return from the mountains, that much is certain. Shun (who has the ugliest dog I've seen in many an anime season) seems to have taken it the hardest, but they're all impacted in subtle ways. Between the normal teenaged yearnings, the genetic engineering and the show they're putting on for the adults it's hard to just how much of the physical contact that's occurring is borne out of true romantic attraction. Shun seems quite casual about his relationship with Satoru, to the point where I'm not sure there was ever anything to it but the purely physical and an (ironic) desire to look normal. Saki is clearly still very much in love with Shun, as witness her reaction to seeing he and Satoru tongue-kissing (I wondered for just a moment who she was jealous of, but it seems clear). It was Maria she ran to and they seem to have a very strong relationship as well, but it's hard to know if Saki's feelings for Maria are as strong as they are for Shun. Satoru appears simply to have the strongest sex drive of the bunch, and he does seem to prefer males at this point (Saki's rejection having lasting effects, or just the gene splicing?) and then there's poor Mamoru – the most "traditional" of the bunch. He appears to just be a lovestruck boy mooning for Maria, with no interest in seeking salvation in the arms of another. As always he seems to outsider in the group – Saki is especially mean to him though I don't think it's intentional, but Maria is more pitying than anything – and he just generally seems to be the fifth wheel.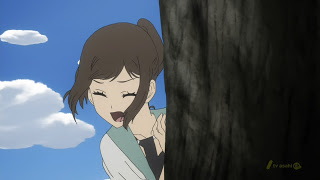 All of that is preamble to Shun's confrontation with Kaburagi, the strongest cantus user in the village, who pays a surprise visit to the classroom. I keep going back to Shun's tale of the boy who was too clever for his own good, as it seems to fit him like a glove. He's been living with the expectations that he would eventually take Kaburagi's place, but he seems to have known for some time that the secret of what happened in the mountains is out, and something happens between he and Kaburagi (who one suspects was in the classroom to check up on Shun specifically) that sends the man storming from the room and gets the class dismissed for the day. The end of Shun's "project" of hatching the egg is gruesome and unsettling, and carries the whiff of symbolic significance to it as well. His final meeting with Saki contains a warning to "watch out for the cats", and a charm to help her do that, and the message that all of them are being watched all the time, and that their punishment wasn't pardoned – only delayed.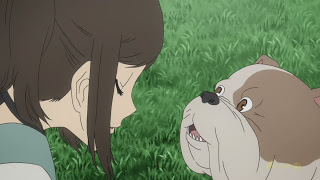 So much has happened that it's had to believe we're only a third of the way through Shin Sekai Yori, yet it also feels as if we've barely scratched the surface of this story for all that we've seen. With Shun being sent to "rehabilitation" – a process from which I'm assuming he's not expected to return – the story takes on an even deeper and more personal sense of danger and foreboding than it has up to now (don't forget Saki's ominous narration about Maria a few episodes back). We're seeing some definite lapses in animation pretty early in the series – though interspersed with some quite lavish and beautiful moments – and a series that takes as many chances as this one does is going to make mistakes. On balance, though, this is the Fall series that's captured my imagination and my emotions like none other, and the one I most look forward to every week.