The last two episodes of Shin Sekai Yori have had a "which one isn't like all the rest?" feel to them.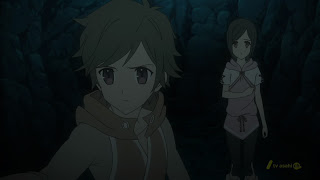 Someone (forgive me, I can't recall who) suggested that the change in art style courtesy of the idiosyncratic Yamauchi Shigeasu last week was intentional, to make the near-sex scene between Saki and Satoru less shocking than it would have been with the normal cute character designs. I can't vouch for whether that's true or not, but I can say that I fell in with the camp who generally liked the change in style (though not necessarily wished it would continue) – the more mature character designs and paranoid camera work suited the freak-out mood of the ep very well, and I like to see studios willing to take chances like that.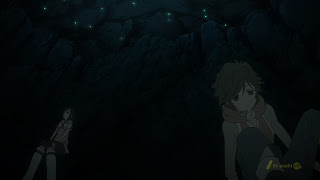 This week the series returns to it's more familiar look, with relative unknown Kurosawa Mamoru in the director's chair, and we have an episode that gives the very familiar feeling of having lasted about five minutes instead of 22 – a peculiar quality that attests to the superb pacing and arresting nature of Shin Sekai Yori, and one that I've never experienced this intently in any other series. But it was an odd episode nonetheless. For about the first five minutes, my feeling was "My God, this show is getting even more trippy and I didn't think that was even possible." But after that it felt – at least to me – like the most conventional anime episode in the first six. The background music had more of a modern feel, and the narrative structure was more linear and driven by pure action.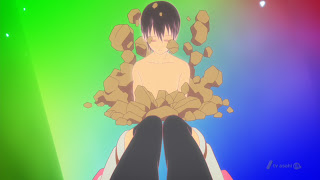 As for the trippy part, presumably we can lay some of that at the feet of the poisoned gas that leaked in through the collapsed cave and caused Saki to have some very strange visions – either that, or she's one hell of a dreamer. Freudians and Jungians can make what they will of Shun appearing from the ground like a Queerat soldier – I don't know whether the obvious anatomical anomaly was supposed to be significant or was just odd censoring – and then turning into a Minashiro. But the materially significant part was her memory of a typical boy-girl incident in class, where she dared Satoru to "show her his if she showed him hers" – mantra, that is. The hallucinations apparently clued Saki into the fact that Rijin's theft of their cantus was a hallucinatory exercise itself, and with Satoru's mantra (short) having been stored in her subconscious she was able to replicate the ritual where the children receive their mantra from the Buddhist monks, and restore his. Of course having had her own mantra purged and not being able to see her own piece of paper in her vision, she still doesn't remember her own – but one cantus is surely better than none.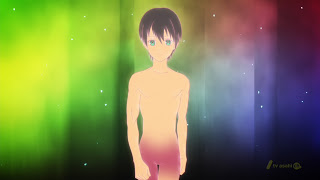 Or is it? That brings us to what I think is the most important element of the episode. If last week's ep revealed the influence of the genetic engineering and the "Bonobo Effect", this week brought us a taste of what happens when PKs overcome their programming and get a taste of violence. Without suspecting it would come home to roost quite so quickly, I said this of Saki overcoming her Bonobo programming last week:
In this instance it may seem like a good thing (though perhaps not to poor frustrated Satoru) but given what we know about what the human race has done over the last thousand years and are still capable of, perhaps it's not such a good thing after all.
Satoru was always a brash little boy but I never saw him as truly violent or mean-spirited – just a typical genki kid with too much energy and a streak of braggadocio. In short, I think what happened this week wasn't some character flaw in Satoru – any one of the children would have reacted to the taste of blood the way he did. And there's no question that the feeling of power he got from killing all those Ground Spiders have him a major rush (who knows, maybe sexual frustration made it even worse). So was giving a cantus to a PK with no choice but to use it in self-defense really a good idea? Though, to be fair, it's not as though Saki had much of a choice either.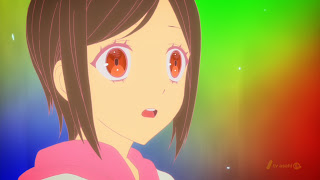 That's the essence of the matter for me – the pure thrill a PK gets from slaughtering Muggles is exactly what those scientists spent all those centuries trying to bury so deep that it would never again see the light of day, and now that it has I'm not sure the genie can be put back in the bottle. I still don't know exactly what Queerats are – though I'm certain their connection to humans is very direct – but I don't think it matters much to the PK doing the killing. There's no denying that the Ground Spiders are very good at killing themselves – hiding in impossible places to launch ambushes, employing frog poison on their arrows and oddly cyberpunk technology to pump poison gas, possibly even shapeshifting (and they appear to have cave trolls). The Robber Fly group doesn't stand much of a chance, and the effort of keeping himself and Saki alive seems to have worn Satoru down to the point where even his bloodlust can't keep up. Of the others there's no hard news, just an ominous "Thank goodness" from Saki when Satoru suggests that they likely escaped.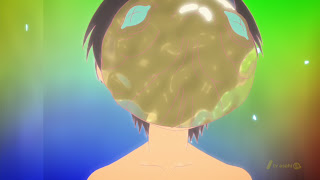 On balance I still don't think Shin Sekai Yori has had an off week yet – though the last two have certainly been quite different than the ones that came before. In many ways this series is reminding me more and more of Noein, both because of it's experimentation with visual styles and it's focus on a group of pre-teen children dealing with apocalyptic concerns at the same time as pubertal relationship complications – but also because the tone of the show can change quite radically from week to week. I do like Shin Sekai Yori better when it's in the more exotic and unconventional mode it was in for the first five episodes, but even though this week's effort was more of a conventional action episode I think it proved the series could pull that off extremely well.