So, yeah – remember that whole end of the solar system thing? Still happening.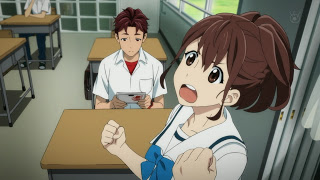 Robotics;Notes has definitely been a slow build, but I certainly don't hold that against it. It's an excellent series, and I suspect it's only when it's complete that viewers will realize just how well-written and expertly-directed it was. Even now, the collective whole of seven episodes seems greater than the sum of its parts – despite never seeming to be in a rush, an awful lot has happened right under our noses. And best of all, the character interactions remain as natural as any in anime this season.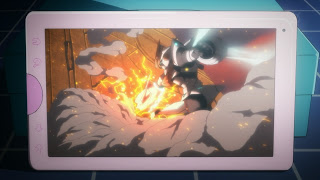 The pattern in R;N has established itself pretty well now – a lot of laid-back slice-of-life interspersed with Aki theatrics and snappy humor, and a few expositional whoppers thrown in for spice. The show very much reflects the personality of it's main character, and Kaito (played as a child by actual child Sekine Wataru, BTW) also grows in appeal weekly, with the cumulative effect of his character being more impressive than you realize. What I especially appreciate about him is how he never takes the bait – not when it comes to Aki's teasing and hyperactivity, or Frau Bow's insanity, or even the craziness developing around him. He keeps a calm head and calls BS when he sees it, but that disguises a very clever and very committed kid who has a knack for getting right to the heart of the matter, be it personal relations or the destruction of the planet.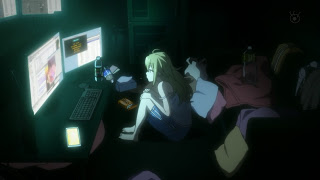 Frau Koujiro continues to be the weirdest character in the cast, and Nazauka Kaori's the weirdest performance – can this really be Eureka? Yet she's working for me, with that bent eroticism (Duhuhu!) and halting manner of speech. She's roped Kaito into helping her catch the cheaters in her beloved creation Kill Ballad, and there are hints that's going to be important – both the fact that people are cheating and she can't catch them at it, and the fact that Kaito specifically mentions a top player named Tagiri who plays fair. But the bomb she dropped this week overshadows that, and it's the fact that her mother, Kogoori Minami, was the director of the Gunvarrel anime – and that the reason the finale was never aired is that "at least" 13 members of the staff died just before the scheduled airing, and that her mother is the prime suspect. As if that weren't enough, Kona has moved to Kagoshima because that's the last place her mother was seen.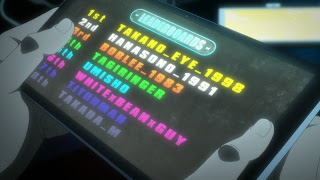 That whole tale is interesting on so many levels, starting with the reason it was offered. Kaito had just scolded her for laughing about his condition, and she offered him a secret as a crude form of apology (I thought she might have been making it up as a lark, but that doesn't seem likely). This is the first time we've seen recognizable human emotion and a desire for contact from Frau Bow, and the fact that it's Kaito on the other end isn't entirely surprising. But I'm also becoming increasingly convinced that the last episode of Gunvarrel is directly connected to the conspiracy to hide the sun's impending destruction – perhaps Minami somehow knew the truth, and was going to reveal it in some fashion. I can't see specifically how yet, but I'm dead-certain the connection is there, and not at a couple of removes. We'll find out soon enough.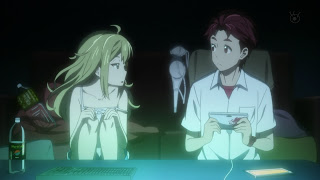 There's much more going on in the conspiracy front. There's been another major solar storm, causing havoc with electronic equipment – right on the schedule that Kimijima Kou predicted, as noted by Kaito with some trepidation. And another teen urban legend has come true – the gang all receive emails on their Pokecoms with the song Kagome, Kagome – a very creepy kids' game in Japan whose true origins are unknown. Just after that happens, shit definitely gets real – the MIBs show up at the hangar, and their leader appears to be none other than the long-awaited Nae Tennoji (Yamamoto Ayano). Clearly the kids have stumbled too close to the truth – thought whether these visitors are MIBs in the Ano Natsu sense or perhaps even CERN, we can't be sure just yet.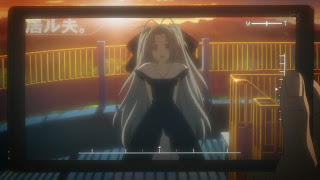 The mastery of this series is that no matter how weird things get on the conspiracy side, life goes on – and somehow, it seems even more important (in that R;N has much in common with Steins;Gate). Subaru is sneaking around behind his Dad's back again, though he's disassembled the M45 (I'm sure he knows how to put it back together) and shows up at the hangar to help with the Gunvarrel (I suspect he's responding to the first people to show him any real kindness and validate his passion). Nagafukada has ponied up the dough for Gunvarrel's completion but wants Jun to be the one piloting it (Impact!). And Aki continues to show a lot of interest in Kaito spending time alone with other girls for someone who has no romantic interest. As great as those two are together, I'm pretty sure I'd rather see them remain best friends without serious romantic complications – I think that would be a very refreshing direction to go.