Robotics;Notes is still taking its time getting down to the business of planetary destruction, but that's just fine with me.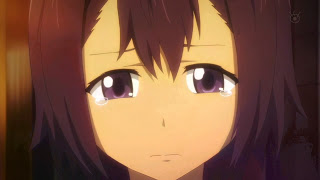 It's not every show that would have the balls to introduce an "Oh by the way, the solar system is about to be destroyed" plot twist one week, then basically ignore it the next. But R;N definitely isn't every show. The storytelling is determinedly languid, in a funny way getting very much inside the mind of a teenager where things like the destruction of the planet seem impossibly remote, but whether the Robot Club will have enough funds to compete is immediate and prioritized. So far, this is a series that very much reflects the personality of its main character.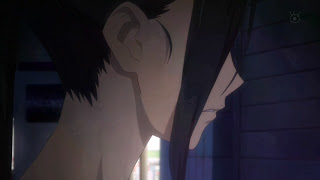 To be fair to Kaitou, he really has no reason – apart from the unlikely existence of Airi/Sister Centipede in the first place – to take the unlikely assertions of Kimijima Kou at face value. There's certainly circumstantial evidence, starting with his own condition and the incident that caused it, but that's still a ways from believing that the sun is about to explode. Kaitou is increasingly an interesting presence at the center of the series – he never loses his air of bemused indifference, but he has a funny sort of determination about him – he plows ahead slowly in fits and starts. He's like a train whose engine periodically gives out and runs only until there's enough friction on the rails to grind him to a halt – and every time it does, his engine kicks in again. What Kaitou is for sure is smart, curious and quietly empathetic towards others. His deliberate manner may well be directly connected to his Elephant & Mouse syndrome – there's no indication he was especially languid as a child, but it's also common enough for genki boys to undergo just such a transformation when they become teens, so the jury is still out on that question.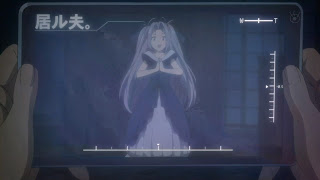 We certainly seem to have our Robot Club complete in its final form for now anyway, with Jun having officially joined (presumably to be close to Kaitou, though her family connections suggest a hidden motive could be a factor). Also officially joining, albeit in absentia, is Frau Kojirou – who I might as well start calling by her given name Furugoori Kona, as Subaru (unlikeliest romance of the year?) does. She remains the most singularly strange character in the cast, with her rampant BL fantasies and obsessive hikikomori personality. I haven't quite decided how I feel about her character yet, though she seems to make me LOL with every appearance at least once – this time with her "condition" that megane-boy Subaru pose naked (except for the glasses) in exchange for adapting the Kill Ballad controls to his M45. Not even Jun's wildly misdirected fantasy about he and Subaru being naked with "cheetahs" could get a rise out of Kaitou, though.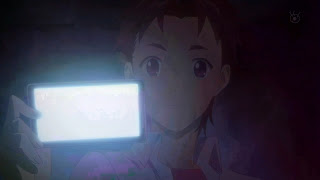 I'm also not quite sure what I make of Subaru's arc so far. His father (Kinoshita Hiroyuki) is a world-class ogre so far, and sadly has already placed himself pretty much outside the zone where redemption is a possibility after only one major appearance – once you've closed-fist punched your child in the face, the game is pretty much over as far as I'm concerned. And Subaru's dilemma seems pretty conventional – boy dreams of being a great robot designer, Dad wants him to be a fisherman, strife ensues. But at the same time anything that gets Subaru some more depth is a good thing, because so far he's alternated between comic absurdity and sullen detachment.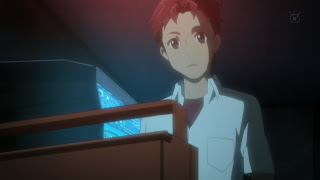 We didn't find out all that much about the dystopian/apocalyptic/5pb conspiracy plot this week. Kaitou's digging turned up a locked room in the basement of the abandoned park building that still had power and was apparently broadcasting a repeating signal using it's EGI – very reminiscent of the real-life "The Buzzer" that we heard about last week. Airi revealed that Kimijima Kou created her, and Sister Centipede that he'd been murdered – though by who has been deleted from her memory. And Irei revealed that she knew of Airi too – she'd been a "friend" of Misaki's when they were kids. The web is intricate and it's surely going to catch all these flies buzzing about at the moment, just as it did with Steins;Gate, but for now it boils down to taking the conspiracy and faith and enjoying the show for the atmosphere and characters. Fortunately for me, I do enjoy it very much on those terms, even if this wasn't the show's strongest episode on the whole.