It probably hasn't escaped your notice – it certainly hasn't escaped mine – but Yoshida Kouji really is a terrible person.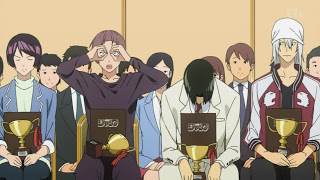 There's a line in Woody Allen's "Deconstructing Harry" where Woody as the title character says "Do you smell sulfur?" when his best friend runs into he and his wife at a bookstore. What we know and Harry doesn't is that the best friend is about to steal Harry's wife, but even though I don't know what's going to happen, the events at the end of the episode this week had that sort of vibe to them. When Bakuman drops new info at the end of an episode like that, it usually means something major – and probably traumatic for Saiko and Shuujin – is about to come down.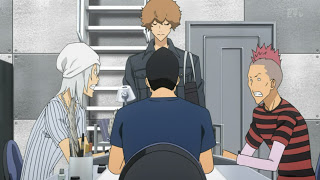 But before we get to that, I pretty much smell sulfur whenever Yoshida walks into the room. I've never found his abuse of Hiramaru especially funny, but I was always just a little unsure where Ohba and Obata came down on this issue – by repeating showing Yoshida in action and never paying any consequences for it, there seemed to be an implicit approval of the way he handles Hiramaru – a belief that if it's not admirable, it's at least harmless. Because Hiramaru is well into the second tier as a character, it never seemed like a high priority for the series – just one of those things that got under my skin.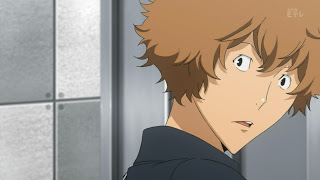 Well of course, what Yoshida does to Hiramaru isn't harmless – it's harming Hiramaru, and I would argue pretty badly too. He's basically made Hiramaru into a miserable person for the sake of his own career, pushed him hopelessly into debt and dependence and controlled every aspect of his life. At the very, very least it's highly unethical and highly unprofessional – and while Hiramaru's life is usually played for laughs, Bakuman isn't the sort of absurdist comedy where things like that should never be acknowledged. Yes, people like Yoshida to exist and certainly some of them are editors, but it was still galling to me that there seemed to be no point-of-fact statement that he was thoroughly in the wrong.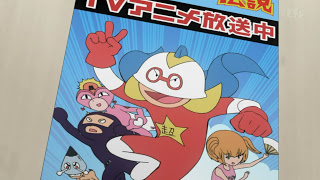 So you can imagine how glad I was to see Hiramaru finally fight back this week, even if I wasn't totally satisfied with the end result. Even Yamahisa, who isn't the most ethical or professional guy around himself, told Yoshida flat-out that he had no business messing with his author's love life and he wasn't about to mess with Aoki's. If you ever dug a little deeper into Hiramaru's story there was always an element of the tragic to it, and while it's true that only a true genius could churn out high quality manga week after week despite hating his job, unhappy is still unhappy. I'm not sure there's any future between he and Aoki, but at least he showed Yoshida that he isn't a total pushover. I would have preferred that he stick to his guns and take the break he so desperately wants rather than rush right back into syndication, but baby steps I suppose.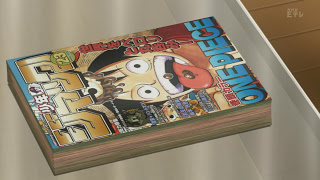 As for our heroes and that ominous ending, while they weren't at the center of the story this week it was still an important one for them. Fukuda's "Giri" got an anime – another series less popular and less worthy than their own work – and while they took it well, it's clear that Mashiro and Takagi are once again failing to be rewarded at a level commensurate with their talents. Takagi's idea of "unorthodox battle manga" defining the next generation of "Jack" is certainly an interesting one – I think a person might even call Death Note an unorthodox battle manga, and it seems as if Ashirogi Muto's talents are uniquely suited to that genre. It certainly wasn't dropped into the story by coincidence – one way or another that's where I expect them to go with their second serialization. Patience is a virtue but too much gets you nowhere – and makes for a less interesting story. Either PCP is going to get a surprise anime or Ashirogi will be doing two serializations, and likely soon.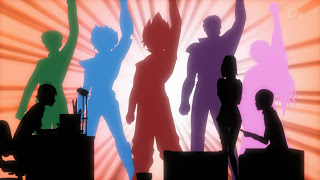 Finally there was that ending, which slips into the story through Saiko and Shuujin acting as judges for "Treasure". There's one manga in particular that Hattori found impressive, and he even made the rather shocking proclamation that it was "maybe even better" than Ashirogi's work. That more than anything clues me in that this is major – Hattori is such an Ashirogi fanboy that even if he was mostly trying to motivate Mashiro and Takagi, he'd never go that far unless his socks were blown clear of the scene. I'm assuming this is the author of "Classroom of Truth", and that he's going to be the next major player added to the scene, as soon as next week.