Not wanting to bathe in false modesty, I'll just say right out that my track record for picking out the best shows of the upcoming season is looking pretty decent lately.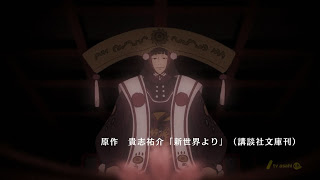 I can't pay this episode a higher compliment that this: I was completely immersed in it from start to finish, and despite the fact that there was relatively little action, the episode really did feel about five minutes long, cliché though that is to say. When the title card came up before the ED (which I love BTW) I thought "Wow – is it half-over already?" Nope – forget half, that was 22 minutes, Mate. That's good anime that can do that, and especially considering my mind is a whirl of excitement and anxiety, I was completing lost in this world for the entire episode.
We still don't have enough information to piece everything together, but the world-building has been terrific so far – the atmosphere feels incredibly real to me. We have another creepy and cryptic pre-open, this time a deification ceremony for the new "Emperor of Delight" (I sense that this is his personal title, rather than that of his office) who hovers above the crown and declares "The first hundred people who stop clapping will be the chosen sacrifices" – at which point those people are consumed in blue flame. A metaphor for the maniacal ego of our leaders and celebrities? In any case, I suspect this scene is some sort of bridge between our current day and the time frame in which Shin Sekai Yori is set – perhaps the beginning of the rule of humans with "cantus:" over the muggle masses (though Delight is referred to as the fifth Emperor).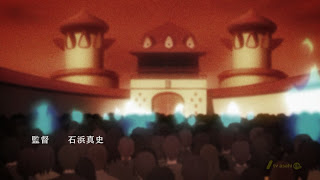 If we're going to throw "Potter" terms around we got a look at the Sage Academy version of Quidditch – a game where the children use their powers to try and roll a huge boulder across a course, while the opposing team tries to stop them. The game is interesting in itself, but more interesting is the sense that there's so much more at stake here than just winning (as is true of much in this world) and the contrast it provides between the children. Shun again proves himself not just powerful, but clever – he finds a workaround in the rules, technically legal but deceptive. By contrast his opponent Manabu not only cheats outright, but breaks the "Code of Virtue" – which seems to be the ultimate taboo – by directly opposing Shun's cantus with his own (this can apparently warp time). The teacher seemingly overlooks this, declaring the game a draw – but later, Manabu disappears just like poor Amano Reiko (Hochan, nooooooooooo!) did last week.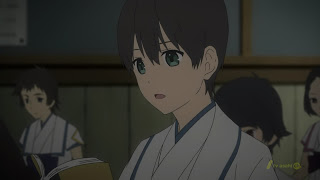 I couldn't help but reflect back to the scary tale Shun told at the beginning of the episode, of the boy who turned into a "karma demon" because of his arrogance and refusal to listen to the grown-ups. It could certainly refer to Manabu, but at the time I thought it might refer to Shun himself – who, despite his serene competence and kindness, strikes me as a suspicious little boy. There's something deeper going on with him, and while he may not be evil himself, I think he's connected to the evil that lurks just below the surface here in some profound way. We see another glimpse of this in the encounter the children have with the "Queerats" – a sort of sub-human (or mutated human) species the locals seem to use as slaves. They worship adults with cantus, but they're kept hidden from children because no one knows how they'll react to humans without cantus (no, nothing dark or ugly there). It's Saki who feels pity for one of them that's fallen into a crude fishing net, and uses her cantus to save it over the objections of the others. They pledge to keep it a secret, but there's surely trouble brewing here.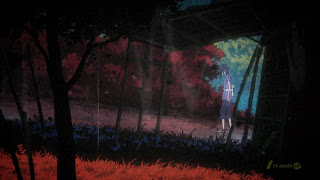 I don't want to paint Shin Sekai Yori as perfect, because there are a few rough spots. I'm not crazy about the interplay between Saki and Satoru, which basically consists of his being a smartass and her beating on him – it's pretty silly for a series that otherwise has a lot of gravity to it (pun intended). I wouldn't say we've had great development with any of the five leads yet, but I'm fine with that because this is a two-cour show and it seems clear that the story is built around the mythology first, with the characters following. And I do care about what happens to them, especially given the menace lurking everywhere. Saki's final words of the episode are foreboding indeed – she speaks of the girl named Maria born two weeks before she was, and how "countless deaths" could have been avoided if Maria had never been born. This world seems to have been born under a bad sign itself, and I think we've only scratched the surface of the tragedy and terror that it has to offer.