As mentioned, I went to see Ookami Kodomo last night.So, belatedly, here's my brief review…

I'll preface it by saying that I didn't realize when I bought the ticket that the show was letting out at Midnight. This was worrisome as I had to think about the last train, as I had to make two connections to get back to the hotel. So towards the end, as the clock ticked down, I was a bit on-edge.
Dome at Tokyo Eki
On balance I rank the film probably a notch below Summer Wars, but at least on par with TGWLTT. I have a few issues with it, mainly involving the narrative flow. I think totoum was absolutely right in that I didn't need to understand all the dialogue – it's more visual poetry than prose, and I could definitely get the gist of it. The flip side of that is that the character stuff seemed to move pretty fast at times, without a lot of build-up. Sometimes I would have liked more dialogue to help understand what drove the characters to do what they did.
Visually, as narratively, I think it's a real departure for Hosoda. A much simpler look and a much simpler film structurally, yet emotionally profound in many ways. Character designs were much more – with apologies – Ghibli-like. Hana (the mother) is what I would call a quietly heroic character. I found the ending quite powerful, though it's one of those instances where I would have liked a bit more understanding of the journey a certain character was making building up to it. Maybe with the subs, that would have come through more clearly.
From Rainbow Bridge
As for today, I engaged in one of my most favorite Japanese activities – onsen. I paid a visit to Ooedo Onsen Monogatari, or "Oh! Edo Rocket Onsen" as I think of it. It's that same mix of Edo-period setting full of modern anachronisms. The baths are part of a complex with a miniature Edo village, complete with food court and entertainment, through which you stroll in yukata and bare feet. It's campy to the max, but fun. Imagine a guy in full samurai regalia and topknot playing the entire horn section of Ravel's "Bolero" one at a time and you have an idea how surreal the place can be. But the baths are excellent, and that's the main thing. And let me tell you, the Japanese like their sauna hot – 80 C. I have to build up to that. If you have any self-consciousness about being a gaijin in Japan, an onsen or sento will test your nerves. It's a unique Japanese experience though, and not to be missed.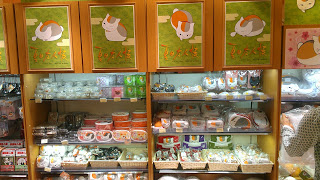 Wall o' Nyanko-sensei at Character Street
Also got a look at the newly renovated Tokyo Station, which is really gorgeous. It has a spectacular underground shopping complex complete with "Ramen Street" (rotating ramen legends from around Japan) and "Character Street" featuring 15 or so stored dedicated to character goods (mostly kiddie). It was nice to see Bakuman getting some real love in the Jump Shop.