They're gonna have to invent some new kinds of awesome for sports anime, because the 11 kinds they have just weren't enough for how good this episode of Ginga e Kickoff was.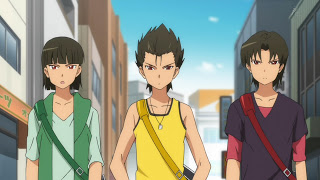 Pretty much a perfect episode of a sports anime this week, one of the best of an already impressive run for GeK. We pretty much had everything – great on-field action, rousing GAR-infused rivalry, kids competing against adults and holding their own (always a great moment in a sports series) and excellent comedy. Of course thing being Ginga, it was all solidly rooted in the characters, and we saw the fruits of their hard work last week already being sown on the field of play. We even got Masaru-chan-san in action, Erika in full fangirl mode and a brand new ED.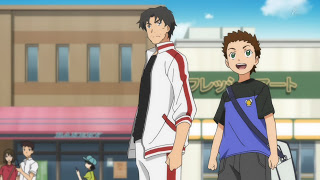 The main duty of the episode, of course, was to bring the Mini-Maradona Aoto and Tagi into Shou's soccer harem at last, but they couldn't have picked a more entertaining way to go about it. The vehicle? Futsal, a five-on-five game of "half-football" that I confess I was almost entirely unfamiliar with despite having played in an "indoor soccer" – more like a soccer-hockey hybrid – league a few years ago. The pitch is small, the ground is hard, and the game is fast – and the practice that Erika calls Haneshima and the boys out to watch is an interesting mix of adults, teenagers and one kid – Suguro-kun, the hard-working and hotheaded boy whose team fell to the Predators in the city tournament. It was originally Erika's intention to get Aoto and Tagi to her normal practice field – well, it was her original original intention to get Aoto one on one and put the moves on him, and I don't mean on the field – but the futsal practice they encountered on the way was too much to resist. Just how did she get his number anyway – and why did it turn out to be Tagi's?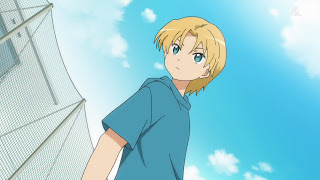 Watching the Micro-Messi go up against large men on a tiny field only proves that he's an unreal talent, a striker whose skills put Kouta's to shame (and it infuriates him). A true fantasista as Masaru-san calls him – and watching him is enough to get the old man's competitive juices flowing to the point where he takes to the pitch himself to try and win the Petite-Pele over to joining the Preds. Yep, it's the Lightning Light vs. the Fantasista – and Masaru's defensive technique is as terrible as it was when he was a pro – like Aoto, they're strikers for whom defending is strictly not in the game plan. But Masaru does unleash his cannon shot, and the GAR is flowing hard and fast enough to get Kouta and Shou onto the pitch in short order.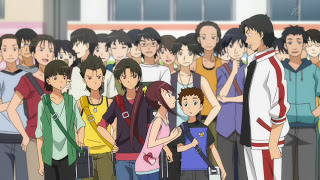 Watching a bunch of folks who love a sport play what amounts to a free-for-all pickup game is a really fun experience, especially when they're characters we know so well. Kouta's petulance and rage returns in full form after taking the pitch with Aoto – maybe this is a setback for him, and meshing he and Aoto together might prove a huge challenge even for Shou – not that the Tireless Terrier doesn't do his best into shaming them to work together. Watching prodigies excel is great and seeing Haneshima in action even better, but my greatest on-field rewards always come from seeing the everyman, hard-working Shou – whose blood, sweat and tears made this team – succeed as a player. Here it's a gorgeous through ball to set up a Kouta goal and, perhaps even more impressive, a perfect dummy on a long ball from Tagi (who's own competitive fire and urge to work with Aoto again finally has him back in goal). It's great seeing Shou succeed because he deserves to succeed, but even better because he's so genuinely thrilled every time he makes a good play. The blind soccer clearly helped him more than anyone, but with his superb field vision and sense already a strength, there's no reason he shouldn't become a brilliant playmaker in time.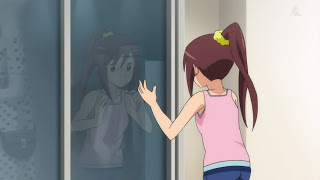 The relationship between Tagi and Aoto is an interesting one, clearly the closest friendship of any two characters in the cast. It's clear that Tagi went through something many boys who play sports do – his body grew too fast, and he lost confidence in his reflexes and movement because it wouldn't do what he told it to. He was willing to struggle at basketball because he doesn't love it like he does soccer, and because he didn't feel he belonged on the same field as Aoto. The lure of possibly going to Spain – his #2 goal after Argentina (just where is Aoto's father from, I wonder – probably the latter) is enough to entice the Chibi-Cruyff to join the Preds, but for Tagi it's simply a matter of regaining his lost mojo – it's clear he desperately wants to play football with Aoto again.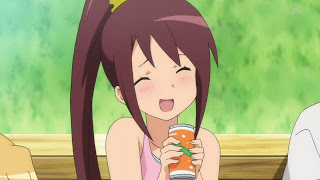 The stage is now set for the Predators to really excel. If they can make the two-striker alignment work with their two huge egos, they look amazing on paper – two super-skilled forwards, a triplet in midfield and the back, a vastly improving Shou and the speedy Erika, and now a top-notch keeper. Again it's a treat to see the joy in Shou's face when he contemplates life with Aoto and Tagi, because Murayama Predators is his baby – and he's seeing it gloriously grow up before his very eyes. And then there's Reika, whose family is hosting the "shocking" training camp in episode 26 – and that, surely, is where the big reveal will happen. As for that new ED, it's another winner – terrific animation and perfectly suited to the series.
ED2: 「人生わははっ!」(Wahaha Life!) by Otokojuku Wind