Bakuman is back, it still rocks, and it's still almost entirely ignored. It's almost comforting in a way.

OP: "Moshimo no Hanashi" by nano.RIPE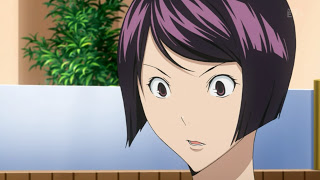 After four cours spread over two years, the anime from the manga about manga is back for two more. The big difference this time, of course, is that the manga has finished its run, and it seems likely that JC Staff will bring the adaptation to a close with this third season, even if that means cutting a few things out along the way. With Tanto and Miura in the rear-view mirror, this season is poised to hit the ground running.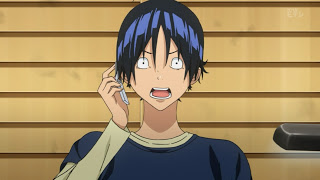 It's always interesting with long-running series like this one to look for changes from season to season. The biggest difference between the first and second was pacing, with Bakuman 2 running through chapters at almost twice the pace of the first (and it was better for doing so). If we're to judge by the OP and the first episode, one might speculate that the third season is going to focus more intently on Mashiro – he's always been first among equals, but Bakuman began more or less as the story of his personal journey and it wouldn't surprise me to see it end that way.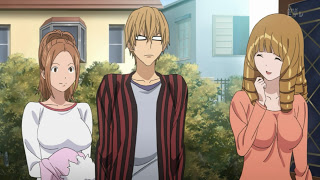 From the beginning a big part of that story, of course, was Mashiro's relationship with Azuki. That was the main focus of the season premiere, and it raises the interesting specter of Maho getting the lead in the anime version of +Natural, the manga by Niizuma Eiji and Ashirogi Muto's arch-enemy, Iwase Aiko. One thing I've always admired in Bakuman is its willingness to include genuinely unlikeable characters – not in the cartoonish Noumi from Accel World sense, but unlikeable in a real-world way. It can be an incompetent toad like Miura, who damages careers with his poor decision-making and cowardice, or a corporate bully like Sasaki, more interested in his own pride than in the success of his authors. Or someone like Iwase – hyper-competitive, vindictive, arrogant and petty. She's a talented writer but one of the most genuinely distasteful characters in manga or anime because most of us have known people just like her. She's the very definition of self-centered and when she gets wind of the fact that Azuki is auditioning for the lead role, she sees it an opportunity to sabotage the careers and personal lives of Mashiro and Takagi – because she can, and because they have the temerity not to believe their lives revolve around her.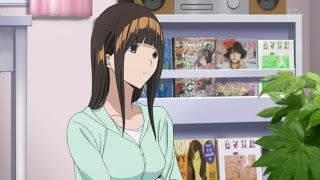 The issue, of course, is that if Azuki is playing the lead on +Natural and it's still running when (or if) Perfect Crime Party gets an anime, she'd never be allowed to star in two "Jump" adaptations running concurrently. It may seem like forced drama but it's a very interesting situation. Though Azuki didn't know her manager had submitted her tape, it still represents a potentially huge break for her career. Yet it also represents a real blow for Mashiro (it even manifests in his work) and he's not wrong to feel badly about it, though he's reluctant to say anything himself. Whether you think Takagi and Miyoshi were butting in or being good friends, their hearts were in the right place – and yes, both Mashiro and Azuki are stubborn. I'm torn on their relationship – there are times when I find their self-deprivation absolutely silly, but there's a real sweetness to their extremely old-fashioned ideas.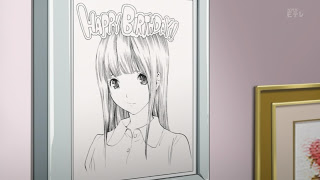 It seems to me that all of their taboos are being violated, one by one – probably the best indication that they're kind of silly in the first place. It's pretty hilarious to see them so worked up about holding hands (and Miyoshi's reaction). As for the seiyuu matter, while Mashiro shows up at the Shibuya studio like Benjamin Braddock at the Church (with an amazing blister to show for his tireless dedication), it's ever-GAR Eiji who saves the day, defying Iwase's vindictive pledge to force Azuki to take the role by saying he'll refuse to have her in the part. For all the fact that he was introduced as someone clueless about human interaction, he's shown himself to be a very sharp observer time and again. As always, Niizuma gets as much out of his screen time as any character in anime – the very definition of a great supporting character.
ED: "♪Pride on Everyday(プライド・オン・エブリデイ)" by Sphere