There's no two ways about it – Natsuyuki Rendezvous is really putting me through the emotional wringer.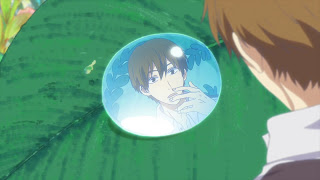 If you buy the argument that the most damning thing you can feel for a series is apathy, then this one is definitely in the clear. Sometimes I'm furious at it and sometimes terribly sad and sometimes on a gut-churning emotional edge, but I'm always feeling something. Most of that comes down to Shimao, the one around whom everything revolves. More and more it's been clear that he's both the emotional center of the show and the one who has everyone else – audience and characters alike – dancing to his tune. That's almost literally true with Hazuki and only slightly less so with Rokka-chan.
No question, Shimao is an infuriating character. He's supposed to be, so I'd call that good writing, though I know not all would agree. He's a confounding yet fascinating entity, one of the more interesting characters of the season. I think he does a pretty good job of encapsulating his situation this week using his own words:
"I think it's inconceivable when you're alive… But you should learn that the feeling of not being able to handle something become overblown if you're dead. As long as you have a physical body, rationality wins out."
and later:
"I never gave up on anything. That's why I'm here, right?"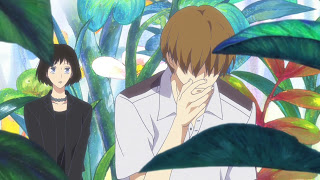 That sums up Shimao-san pretty well, I think – his stubbornness, his devotion to Rokka, and the selfishness that's consumed him. It's Hazuki himself who later asks a very telling question of Shimao's stubborn clinging to Rokka: "Is it creepy or admirable?" The line is very thin, that's for sure – Shimao as a character is so full of contrasts, and inspires a complicated reaction. The rationality he had when he was alive, the thing that told him Rokka would be better off moving on and drove him to try and push her away, has been subsumed by the pure desire that only helplessness can generate. His feelings for Rokka kept him around, and now they've driven him to be a sort of "hungry ghost", to do things he would never have thought acceptable when he was alive – to consume life for his own purposes in the same way living creatures consume plants and animals to survive.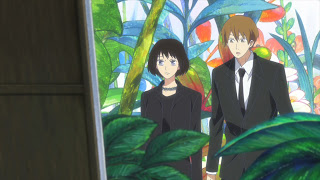 Maybe that's the question that everything will boil down to, then – how much of Shimao remains inside the being that's stolen Hazuki's body? Being confronted by Hazuki's specter certainly gave him pause. I'm not sure just exactly what happened after Shimao raised the curtain and told Hazuki what was really happening to him in the storybook world, and why both Shiman and Hazuki's astral forms could exist outside Hazuki's body. But I know this: Hazuki has finally decided to reclaim his life. He knows what he wants, and the future he desires – even if it's a childishly simplistic view. The problem is that he can't reclaim it on his own, as he's apparently given that power to Shimao. Hazuki know understands a little of what Shimao's existence is, and what the feeling of helplessness can do to a sane mind.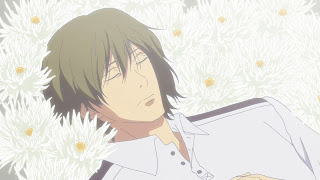 The contrast between Hazuki and Shimao is really fascinating. Hazuki is still seeing the world through a child's eyes, his emotions are all primary colors and his desires are straightforward. He knows he loves Rokka even if he doesn't know why, and he knows he wants to be with her even if he doesn't have a real plan for what their lives will look like. When he breaks down crying, partly it's because of the helplessness of his situation of course – but I think it's mostly because he's finally found a purpose in his life, and wants it back so he can pursue it. Shimao, by contrast, is all regrets and manipulations, a creature molded by the monumental weight of all he's lost. And then there's Rokka, who had me quite worried there for a while by her seeming lack of concern for Hazuki. I certainly couldn't blame her for wanting to revel in being in Shimao's presence again, which surely seemed like a miracle to her – but I would have thought less of her if she was content to simply accept that reality without questioning it. But she rose to the occasion, eventually asking the questions that needed to be answered – for how long had Shimao been possessing Hazuki's body – and demanded that Shimao answer, even after he tried to refuse. And finally, where was Hazuki – what had Shimao done to him in order to make this possible?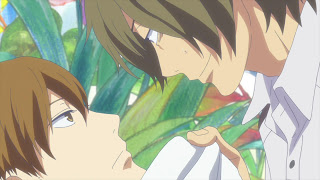 More than any recent series I can think of, my assessment of Natsuyuki Rendezvous is going to depend heavily on the ending. It could either validate the entire experience and give it transcendence, or leave me feeling angry and disappointed. For all Shimao's threats of "taking Rokka to the afterlife" I can't imagine he'd do it – and I still can't imagine Rokka accepting a life with Shimao, knowing the price that was paid to make it possible. He can demand that Hazuki "give her back" but Rokka isn't Hazuki's to give – so if Shimao is to accept his passing and move on, it can only come from within whatever reserves of compassion and empathy he still maintains. It should be clear to him now that Rokka has truly come to love Hazuki for himself, and maybe that as much as anything will be what finally gives him the strength to break that chains that hold her to him and set them both free.