Poke-phantoms – gotta catch 'em all!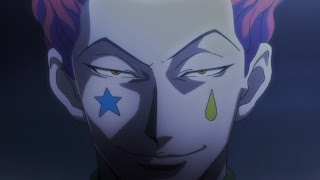 I don't think it would accurate to call this episode the calm before the storm so much as the eye of the hurricane, as the intensity has been pretty high already and looks as if it's headed for another peak next week. This was definitely a breather ep in any case, and Togashi (and Madhouse) are quite brilliant at inserting one of those just when they're needed to provide a much-needed contrast to all the violence and drama. We didn't lose a single named character this week, which presented quite a dilemma for Gon & Killua (still in ganguro mode) in their Hunterpedia, with no deceased character to feature – let's just say that if I were Squala, I wouldn't be buying any green bananas.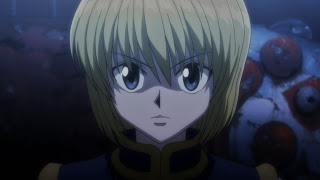 There were many things we got to see this week only as a result of the brief lull in the action, and first among them was seeing Kurapika fully immersed in work mode. Not before he struck his deal with Hisoka, mind you – and by telling Kurapika that "Spiders only stop moving after you crush the head" Hisoka made it clear what his eventual goal is. It was striking how dutiful and responsible Kurapika was when he stepped into his bodyguard role – a role he only accepted to try and get at the killers of his clan, after all. It's no wonder his fellow survivors voted him leader after Dalzollene's death, and it's another reminder of how Kurapika really is like two different people – the seething, hate-driven loose cannon when he's lusting after revenge, and the calm, responsible and kind friend and colleague when he's not. The changing eye color of the Kurta seems to have symbolic as well as literal meaning within H x H, a reflection of this split personality within Kurapika, which perhaps existed in all of them in some way.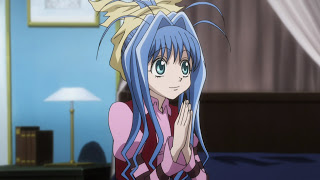 Kurapika is also the cleverest among his bodyguard brethren, seemingly, which comes in useful when Shalnark uses his hacker skills and hunter license to track down information about the Nostrade presence in York Shin to aid Uvogin in his own quest for revenge (what the heck was with that kiss?). By accessing the Hunter website himself Kurapika realizes that the surviving bodyguards – and Neon – are sitting ducks. I don't have much sympathy for Neon – certainly not after she showed no concern whatever for the four bodyguards who died protecting her – but Kurapika steps into his leader role with gusto, moving her to relative safety and waiting behind in the vacated room to take on Uvogin – who Kurapika knows will show up soon enough – himself.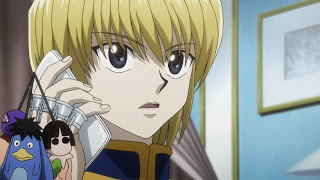 Meanwhile, we happily get a turn with the boys and Leorio at long last. I miss their presence in the show – Kurapika is a very serious person, his story is extremely dark, and when he's the entire focus things can get just a bit one-note. Gon and Killua, by contrast, are either restless bundles of schoolboy tomfoolery or charging into battle with an overflow of GAR martial spirit. What's more, their banter with Leorio is consistently hilarious – I could have listened to Leorio trying to explain his scheme to the boys with Gon repeating every other word ("Moles? Fish?") to Leorio's growing frustration for the entire episode and not gotten tired of it.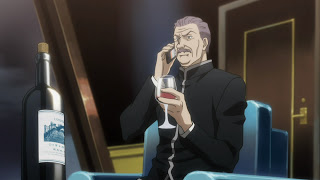 Fact is, we're finally at the point now where Gon & Kil's interests are overlapping with Kurapika's storyline, and the path to their collision – always inevitable – is beginning to show itself. Kurapika is obviously avoiding all contact with the boys because he doesn't want to expose them to the danger he's facing, but ferociously loyal Gon – for all his focus on raising Jenny for the "Greed Island" bid – is growing increasingly worried for his friend. After Leorio's arm-wrestling scheme (little Gon broke twenty arms in a day) finally lands a big one, it looks as if there's big money to be made in an underground arm-wrestling fight club – but that's just a feint. The real story is the mob reps who hijack the event and use it to drum up bounty hunters to capture the Phantom Troupe, at a cool 2 billion a head. This is a clear act of desperation that Kil sees through immediately – the Shadow Beasts gone, they're turning to the public at large to track down those who dared attack them. Of course they're sending almost all of those people to certain death should they ever encounter anyone in the Troupe, but this is the mafia, so that's obviously no concern to them.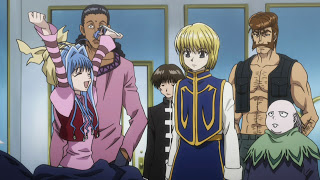 Two billion is two billion, and Leorio and the cubs will certainly take that money if they can get it – but there's already a sense among them that Kurapika is deeply involved, and I think their own involvement is as much to find him as to find the Phantom Troupe and claim the reward. The first order of business though is surely the long-awaited battle royal between Kurapika and Uvogin, and it should be a cracker – two campaigns for revenge clashing at full force, Uvogin's Godly power against Kurapika's Chain Jail, with his own heart held as collateral. As battles go I fully expect this to be among the top tier of the entire series so far – I wouldn't be surprised if it took up the entirely of episode 47, and maybe beyond. Take the cat inside and lock the doors – it's going to get loud.
Gon & Killua's Hunterpedia: "Squala"