Considering that was everything I like about Tari Tari and none of the things I hate, not to mention some long-overdue developments, it's hardly surprising that this was my favorite episode of the series.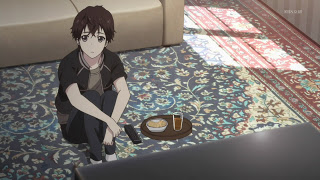 To get it out of the way, yes – it's shameful that TT teased us with hints they were developing Wien's character only to ignore it for eight episodes. That's especially true given that there was a considerable amount of fluff over those episodes – some of it pleasant enough fluff to be sure, but fluff nonetheless – so it's not as if there just wasn't time. But I was also struck this week by the astonishing lack of concern the other characters (with the occasional exception of Taichi, who's the most observant member of the quintet) have showed for Wien – he's never been more than an afterthought or the butt of a joke (when Konatsu asked "Was he always like this?" I really wanted to smack her), and when he was showing clear signs of distress this week, again it was only Taichi who showed enough interest to actually pick up on them.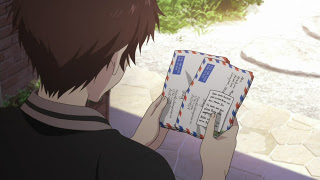 Nevertheless, better late than never – and at last, it's Wien's time to shine. Turns out that Wien was exactly what he appeared to be all along – just about the nicest guy in the known universe. In fact he's so cuddly that his soft spot extends not just to small animals (both Asian and European squirrels have been confirmed) but small children too. Those letters he's been writing have been to a 7 year-old boy back in Vienna (Wien) named Jan, the one he's left his Gambaraijer Red (serious bonus points for getting Hiyama Nobuyuki to voice the TV version) action figure with. A friendship was formed over Gambaraijer DVDs sent from Japan, and Wien has carried through on his promise to write after moving away – only to have all his letters returned to sender, with news that Jan no longer lives at his old address.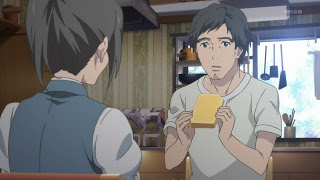 None of that would matter if Wien didn't work as a character, but he does. He's very funny and quite unlike anyone else in the cast, both for his skewed view of Japanese life and his unqualified idealism. It was indeed strange seeing Wien depressed, given that it's so contrary to his normal genki nature. Still, he remember his Gambaraijer promise to "never give up hope", and this comes into play when Shiho-san recruits the Choir Club to act as heroes (Konatsu is a natural, naturally) to help promote the shopping district. Yes, it's convenient – a gig that helps the club raise money for the musical play Konatsu has promised to stage for the culture festival, and gives Wien a chance to be in his element. But it's all part of that "Hey, Kids – let's put on a show!" vibe that's so much a part of the TT genetic code, so I'm happy to overlook that.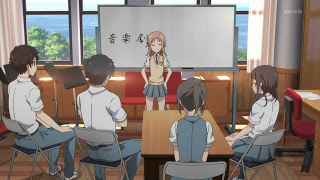 In fact, writer/director Masakazu-san even manages to loop Wakana's dilemma into this plot as well. She's struggling to write a song (as a way to connect with her mother, mainly) and of course, Konatsu plows ahead under the assumption that she'll happily write the centerpiece of the musical for the club. It's her father who initially suggests that she talk to Shiho-san (who's now extended her ass-slapping fetish to every female club member), but I figured sooner or later the trail would lead Wakana to Takakura-san, the Vice-Principal – and indeed, that's where Shiho sends her – as she was the one who seemed closest to Wakana's mother and certainly the one most connected to the song the Choir Club performed in the first arc. As of that weren't enough, the thread surrounding whatever nasty surprise the Chairman shoved down the Principal's throat is connected as well, and I suspect Wakana will end up helping her with that even as she helps Wakana understand the songwriting process, and her mother.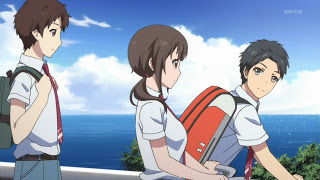 I think as much as anything what made this episode successful was that it was refreshingly free of the angst that hung over the last two like a Fairy's gloom cloud. Tari Tari is at its best when it's just serious enough but not too much – a sense of silliness and whimsy is a coat it wears much better than melodrama. There's plot, but it's treated like an adventure and there's always the feeling that things will work out OK. Wien is a good fit for that mode with his sunny disposition and innate kindness coupled with a childlike lack of guile, and actually making him a part of the group rather than an appendage opens up considerable possibilities for the last four episodes – if they're pursued. I would have preferred to see some of that explored before the final act, but if we get a final act that's similar in tone to this episode that'll be a very nice consolation prize.