There were definitely a couple of head-scratchers in that episode for this viewer…


Kawahara Reki is revealing himself to bit a bit of a frustrating writer for me. There are definite strengths there – a certain likeable sincerity, a deft touch in creating interesting alternative settings and a keen attention to detail for starters. But more and more the simplicity of the characters interactions both in SAO and Accel World rubs me the wrong way. I have no idea how old Kawahara-san is, but his writing has the feel of someone who's quite young (though heaven knows many older writers give that impression, too) in that he seems to like his emotional palette very black-and-white.
The again, from what I'm told the arc that covered the last two episodes of Sword Art Online is so extensively expanded from a very brief nugget of the LNs that it's almost anime-original, so perhaps laying my issues with the arc at Kawahara's feet may be unjust (and unlike AW, there's no one credited as Lead Writer here). There wasn't anything wrong with the premise in and of itself – I liked the first half of the arc pretty well, in fact – and as an excuse to start Kirito (she's cooking for you, Baka!) and Asuna bonding (maybe that was the whole point) it was perfectly fine. But I think it really broke down when it came to explanations and resolutions.
The basic idea of the entire mystery being a sting operation works well enough. Yoruko and Kains aren't dead at all, in fact, but in the midst of a plan to try and ferret out the killer of Griselda, and they're working with widower Grimlock (Narita Ken). Their so-called deaths were merely teleportations, timed to coincide with the destruction of the objects they were wearing – quite a clever scheme, actually. So Kirito and Asuna are merely dupes, though what Kains and Yoruko don't realize that they're dupes too, in a larger plan by Grimlock (in partnership with the player-killer gang "Laughing Coffin" that he presumably hired to kill his wife) to silence them forever and put an end to anyone asking questions about Griselda. So far, so good.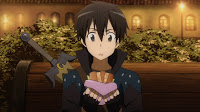 But that's where things start to come off the rails. First of all, I take issue with the fact that Kirito and Asuna aren't the slightest irritated that they've been used in this fashion – for high-level players like that (especially one with social status like Asuna) that's a pretty major insult. Second, I found Grimlock's rationale behind killing his wife completely insufficient. He didn't like how assertive he became inside SAO so he killed her to preserve the memory of the Yamato nadeshiko she was in RL? Sorry, not buying. Worst of all, after his speech to that effect one obvious accusation from Asuna – that what he felt wasn't love, but possessiveness – and he completely breaks down and becomes a helpless blob. Seriously – that notion has never occurred to him in all this time? It's obvious enough that he's surely constructed a wall of delusion to shield himself from the truth. And then – despite the fact that he's a confessed murderer – Yoruko and Kains ask to take care of him themselves and Kirito and Asuna (who, remember, represents authority within the players' self-government) say "Sure – no problem." And the cherry on top is the completely extraneous appearance of Griselda's smiling ghost (I'll apologize later if this turns out to be foreshadowing that players who die aren't really dead) at the end.
There's a common thread to all those points, and that's the matter of characters and events appearing to be manipulated for the convenience of the plot. That happens in every work of fiction, of course, but there's an art to making that manipulation natural enough that you don't notice it happening, and that art was not in evidence here for me. As well, more so than in any prior episode Kirito and Asuna came off as archetypes more than characters, and that's not a healthy development. We're still early enough in the series for that to change, and I think it's hugely critical that it does if Sword Art Online is going to build any real emotional traction.
SAO is definitely a better series than Accel World thus far, but it seems as if the strengths and weaknesses of Kawahara-san as a writer are readily apparent in both examples. Characters tend be be more fuzzy outlines than sharply defined individuals, and their interactions play out in broad and obvious emotional terms. Yet the world-building is impressive, and I continue to enjoy the nuance and detail in SAO's construction that's missing from the character makeup. From amusing little things that the "IMMORTAL OBJECT" window that pops up when Kirito slams his fist against a wall to the complicated notion of in-game marriage and how it relates to community property, this is good and often fascinating stuff – and a very believable scenario for what these VRMMOs in our near-future might really be like. Kawahara has the ability to create grand visions of these worlds, but seemingly not the precise hand to populate them with realistic characters. That's the difference between he and someone like Hosoda Mamoru, who created the breathtakingly imaginative VRMMO of "Summer Wars", but also an even more compelling vision of an eccentric extended family and the boy who crossed paths with it. And for me, so far at least, it's the difference between good anime and great.