It's about damn time someone did an anime episode about coffee roasting.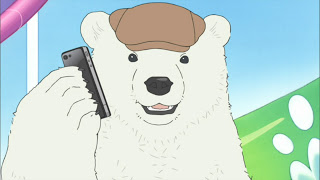 Disclaimer: I'm biased in favor of this ep. I worked in the coffee industry and had the chance to know several roastmasters (guys who have been doing this for 20+ years) and they're truly artisans. I also stovetop-roast coffee at home occasionally, and generally love everything about it – the history, the science, the taste, the smell… There's too much mediocre (or worse) coffee in the world and too many people think that's all coffee is (the same applies to beer) but it's clear that the mangaka here truly loves coffee – and it's also a fact that the Japanese are generally crazy about good coffee. Hell, even the canned coffee there is addictively good.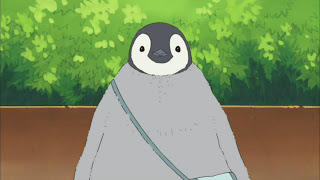 First things first though, and that's a pretty hilarious pool chapter, which also dips it's toes into the world of penguin taxonomy and brings on some seriously cute baby penguin antics. We get King Penguin (Nobuyuki Hiyama, who's all over anime this week), deeply resentful about always being confused with the Emperor variety. There's a trio of "minor" penguins from another genus, Gentoo (Hirakawa Daisuke), Chinstrap (Sugita Tomokazu), and Adelie (Konishi Katsuyuki, also Mr. Full-time Panda). Best of all are Penguin-san's nephew (Nonaka Ai) and King Penguin-san's son (Takeuchi Junko), just plain adorable and "adorably ugly".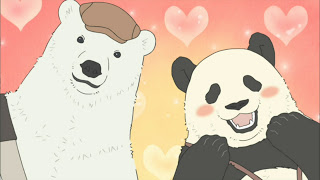 This skit represents a lot of why I love Shirokuma Café. It's very, very silly and features a lot of God-tier seiyuu having a grand time bringing the silliness to life. We have the belligerent King-san picking fights with everyone, especially Penguin-san – but the next generation show their elders the way ("Puffy!" "Fluffy!'). We also have the various Miss Penkos showing up – because Penguin-san tweeted that he was going to the pool – and chasing him for the duration of the ep. We also discover than Sasako-san is incompetent at taking the train. There's nothing particularly weighty about any of it but if you're temperamentally suited to enjoy this show, I can't imagine you didn't love that skit.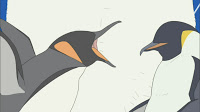 The coffee chapter is quite random and bizarre. We have the new character Masaki (Shimono Hiro, manic as usual) whom Shirokuma-san calls "Human". After Panda-kun (of all people) turns him on to the wonders of Polar Bear Café's black coffee, the impetuous Masaki-kun decides he wants to see how it's roasted. So Shirokuma takes he and Panda-kun to meet the roaster although it's "a little far" – a classic Shirokuma-san troll as the reason it's only a little far is that it's about 100 yards. It turns out that the coffee is roasted in a tree by (fittingly) Tree Kangaroo-san (Furukawa Toshio, a seriously legendary seiyuu) and a family of red tree squirrels led by Mama Red Squirrel (Miyata Kouki). Once they see the master at work Masaki and Panda decide they want to apprentice – and while Panda bails as soon as he hears it's hard work, Masaki-kun decides to stick it out.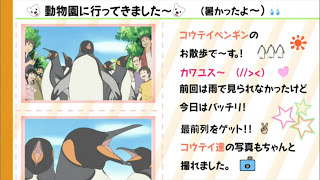 Although this may be one of the weirdest skits the show has done, again it's a good example of why I love it. Masaki playing volleyball against the squirrel family? Yes, please. And the coffee geekery is spot on – Tree Kangaroo-san is using a classic small-batch roaster (note the tray he uses to pull beans out and check the roast process by smelling them) and all that hand-sorting is how small roasters still sort their beans. You really do need to get rid of any beans that have evidence of insects, and sort them by size, and look for generally defective beans (sometimes you sort for peaberries as well). It's all hilariously bizarre, but also respectful of the art of the coffee roaster – and trust me, these guys really do put in years of hard work to master their trade.