I guess when you're a panda, losing your kawaii is the worst possible outcome.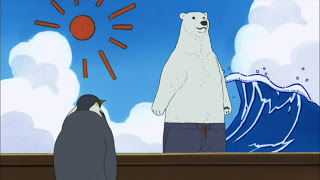 I wonder if I'm the only one disappointed not to hear the rest of Mandrill-san's ghost story? With a face like that, you'd have to figure he's seen some scary stuff (and maybe starred in a few stories himself). But as you'd expect, this is a pretty lame group when it comes to ghost stories – though Handa-san is such a wuss that even their halting efforts were enough to make him afraid of the dark. Shirokuma's story was a troll, Panda-kun kept falling asleep and getting distracted, Penguin-san's was about the seven Penkos… You get the point – everyone was true to themselves. Tortoise-san's story was probably the most interested, being in that it involved children speaking from the grave, but the payoff ended up being yet another pun ("mimi" as ears and crusts of bread). Sasako-san's story ends up being the only really good one, but we never get to hear the end of it. I was hoping we'd see Handa and Sasako go home together, but Llama-san seems to lack a certain delicacy when it comes to recognizing the moment.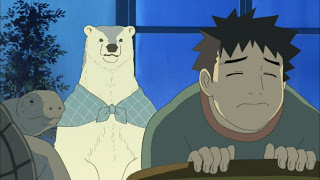 The second chapter was quite a bit higher on the Shirokuma sincerity scale. Panda-kun seems to be struggling with the classic "oldest child syndrome" (not that I'd know first-hand, as a youngest) – his mother expects more of him than his younger siblings. His younger siblings are cuter than he is. Heck, Panda-mama even postpones his birthday celebration so that she can combine it with his younger brothers' for convenience sake. So his solution is to run away from home – although, like everything else, Panda-kun has his own unique spin on that time-old activity, as he returns home for dinner and sleeping, only running away between meals.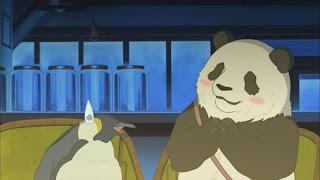 In all seriousness, this is something oldest siblings certainly have to deal with – the fear of "not being cute anymore" (especially worrying for a panda), the injustice of having to work while the rugrats get to play… Of course in Panda-kun's case he's primarily upset because he wanted a panda sno-cone maker for his birthday, and a month late is too late – but the gang at the café come through by having a sno-cone party for him there. It ends up being a disaster, but it's the thought that counts. And in the end, Handa-san gets a little consolation for losing his moonlit stroll with Miss Sasako – the new ED.
ED5: