An OVA from a series you loved is always a little bittersweet.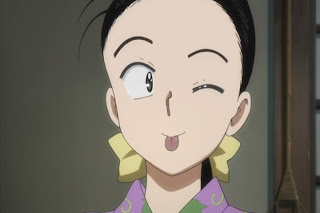 For me, Nazo no Kanojo X was a series that got pretty much everything right. It took an extremely smart and interesting manga by Ueshiba Richi and made it even better. Director Watanabe Ayumu and writer Akao Deko made brilliant decisions in terms of what to adapt and in what order, the soundtrack was one of the best of the season and the look was fabulously retro. And the casting of the central couple – the peerless Miyu Irino and virtual unknown Yoshitani Ayako – provided incredible chemistry and a non-stop supply of charm. It may have been somewhat overshadowed in one of the best anime seasons of the past half-decade, but MGX was without doubt one of the finest anime romance series ever.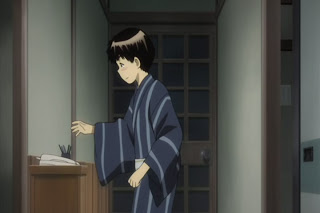 Ueshiba-sensei's manga is an undeniably surrealist story. Much like FLCL, by embracing the bizarre it managed to enlighten reality in a very profound way, to the extent very few manga or anime have been able to match. So it's fitting that for this OVA project Hoods has chosen to deliver the most surreal episode of the series, a summer festival tale that embraces the occult and the magical even more overtly than the TV series did. At the same time it loses none of the more Earthy magic the series has always achieved in portraying the relationship between Akira Tsubaki and Mikoto Urabe, one of my favorite anime couples ever. There was a bit too much Ueno and Oka – or maybe they were just a bit more annoying than usual – but apart from that, it does what every great episode of the series did – take Tsubabki and Urabe's relationship to a new place in a way that's utterly believable in spite of absurd circumstances.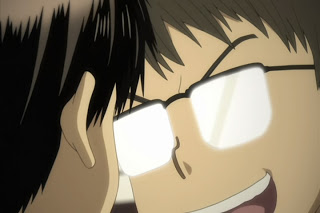 The underrated relationship in this series is the one between Tsubaki and his big sister Youko, played by the always winning Fukuen Misato. It really flowered in the TV finale, which explored Tsubaki's memories of the passing of his mother, and that added some additional poignancy to the scene at the beginning where she remembered their childhood days attending the summer festival together and encouraged him to wear a yukata, just like the old days. Rather than attending together as they had then, though, she encourages him to go with a girl he likes, reasoning that girls and boys always see their crush 209differently when they're wearing yukata. Youko may not be a mother but she's a very sharp woman, and her supportive and loving but not smothering approach to being Tsubaki's guardian is a model of good judgment and balance.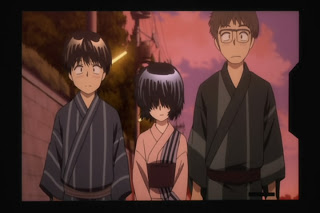 The conceit of the episode surrounds a pair of Kitsune, Matsubuya (Yuuki Hiro) and Togawa (Hayashibara Megumi, "All Purpose Cultural Cat Girl Nuku-Nuku" – and Ayanami Rei, and a jillion other legendary performances – herself) who take the form of human teenagers and provide a sort of Shinto alter-ego to Akira and Mikoto (instead of saliva, Matsubuya tastes Togawa's tears). They lead the pair on a mischievous chase, "capturing" Urabe and forcing Tsubaki to come to her rescue and to prove the red string of fate that connects them is strong. It's all in the service of a love charm that when placed on the wrist of a boy by a girl, cements their love. And it's their reward for putting on an entertaining show – and for the sake and cup that Matsubuya steals off the derrière portion of Urabe's yukata.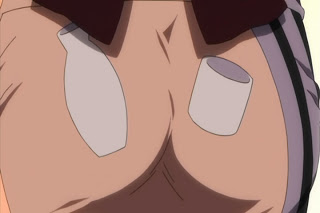 "Why did I fall in love with you? if I unlock your mysteries… Then I'm sure to unlock my own mysteries. That's what I believe. When we fall in love, everyone embraces mystery." Togawa's summation of the timeless relationship she shares with Matsubuya could serve as a wonderful summation of what Nazo no Kanojo X is all about. No show I know captures the frightening and thrilling duality of romantic love the way MGX does, embracing the purely physical and the spiritual in equal measure. As great as that last scene between the two Kami at the shrine is, I like the one that follows even better. I could watch Tsubaki and Urabe for hours and never get tired of them, because there's a seemingly endless amount of discovery and emotional honesty in their relationship. That's the essence of this series, and what makes it the rare gem that it is.