A funny thing happened on the way to figuring out this season, and its name is KoiChoco.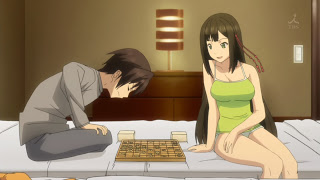 The two shows that have been on top of the chart for me this Summer are Jinrui and Natsuyuki Rendezvous, and that's been pretty well locked in place since the second week – there's a pretty big gap after Jinrui, and another one after Natsuyuki. But pretty much out of nowhere KoiChoco has been moving up the board, to the point now where I'd have to say it's my third-ranked Summer series. My preference between Tari Tari and Kokoro Connect has tended to waver back and forth as each show has waxed and waned in quality (ask me now, and I'll take TT. Ask me next week? Who knows.) but KoiChoco is the show that's had a consistently upward trajectory. I've liked it more and more with each passing week, and the eighth episode certainly did nothing whatsoever to change that.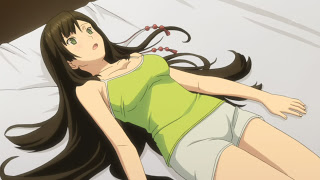 It certainly can't be ignored that this is pretty much exactly how things went down with Mashiroiro Symphony, another VN adaptation that aired in 2011. And I find myself citing a lot of the same reasons for my growing affection for KoiChoco that I did for Mashifony. I love the fact that it treats its characters with respect and generally allows them their dignity. I love the fact that the show continues to surprise me, over and over. And I love how direct the writing is – characters just tell each other what's on their minds in a way that's almost unheard of in anime, a medium that's made a religion out of misunderstanding and unexpressed feelings.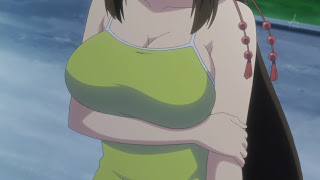 Of course Mashifony was a much more overtly romantic show than KoiChoco – or perhaps I should say that romance was more at the center of the story. KoiChoco is titular truth-in-advertising, in that love is only a third of what the show is about, and perhaps the most impressive element is the intricate plot that manages to span all three elements. The balance has been titled in favor of the political thread, but it's starting to level out – and we continue to see a tremendous amount of development with Satsuki as it does. Still, Chisato is definitely the first contender to enter the fray and can't be dismissed – and viewers everywhere are no doubt trying to read the tea leaves in the conversation between she and Yuuki early in this episode. Again, this is an example of the directness I'm talking about – Yuuki comes right out and tells her that while he'll never abandon her (a powerful statement in itself) it's "not that kind of love." And Chisato responds very simply, "I can't accept that." You can't get much more direct than that – but what does it all mean? Is there room in Yuuki's heart for that perception to change? I would say yes, and it's too early to write Chisato off, though this was certainly a painful moment for her.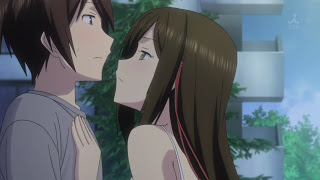 If Chisato's arc was an example of directness, Hazuki's is an example of the other two points I cited – surprising the audience and treating characters with dignity. She's the last person one might have expected to get a serious arc in a run-of-the-mill anime, someone who was played for laughs and sex appeal, a buxom, drunken buffoon. But the signs have been growing that there was more to her story, although the depth of it surprised me even so. Not only does she have a good reason for her escapist behavior and coldness towards Satsuki, but her affection towards Yuuki isn't some pure farcical cougar behavior. She really does love him – and not only that, she even admits "I'm an adult and I should know better." Well, yeah – she's 23 and he's 17 and her student, so damn right she should. But I don't think it's unrealistic that a perfectly sane 23 year-old could fall in love with a kind and charismatic 17 year-old – or that he might even reciprocate. In fact, Yuuki doesn't reject her confession outright – he tells her he needs time to think about it. Maybe he's being kind to spare her feelings – but maybe not. Is it really so far-fetched for two people to have inconvenient feelings for each other?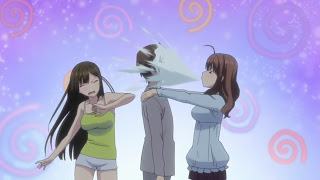 Of course in practical terms, I fully expect Hazuki has zero chance to end up with Yuuki – no mainstream anime is going to go there. But that doesn't stop her story from being involving. There was nothing especially original about a tale of a man who fathered a child out of wedlock and two girls with different mothers, but I thought the twist here was genuinely interesting. Hazuki is in fact the daughter of the same mother as Satsuki, but because she was born before her father's wife died, she actually bears the burden of being the out-of-wedlock child by his mistress. And she rejects her family out of loyalty to the woman who isn't even her mother – because by acknowledging that Satsuki's mother is her mother too, she effectively makes the woman the outside world thought was her mother irrelevant. In a sense Hazuki was really caught in the middle here, and I think it could be argued that her position is actually both quite principled and quite selfless, because she's undeniably hurting herself to honor the memory of a woman who she shares no blood with, simply because that woman was kind to her when it would have been easy for her not to be.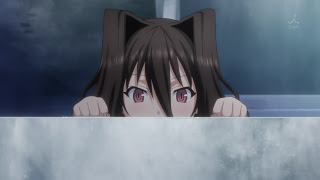 Ultimately Satsuki is the one in this thread who matters in terms of the "Love" part of the title, and if you're pulling for her the only worry I'd have is that she might be peaking too early. There's so much chemistry between she and Yuuki, from the silly "Loser-shima" type nicknames she gives him to the Yuuki-vision to the easy way they have of interacting with each other. The scene between them in her room as he hides from the pervert-hunting squad is one that could easily have been milked for cheap laughs, but wasn't – it's just the two of them getting to know each other and a growing sense of attraction. Now that the Hazuki situation has been brought into the open I can only see Yuuki and Satsuki growing even closer, though there's still their political rivalry to complicate things.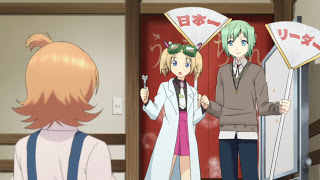 On that score, there's not much happening this week – just a brief appearance from Mouri-kun at the end, poring over the evidence of Yuuki's politically risky behavior. He's apparently figured out that he doesn't need to worry about Satsuki taking the low road, but he can't be pleased to see his candidate putting himself in such risky situations (ironic, as it would be toxic if his own support for Yuuki were to become publicly known), and it wouldn't shock me to see him come down hard on Yuuki next week, demanding he keep his distance from Satsuki. And then there's Michiru, whose story continues to get only the most fleeting development. This time she's on her balcony watching the drama between Yuuki and the Shinonome sisters play out in the quad. I 'd be lying if I said I had any idea what her angle is at this point – all we really know is that she's moemoe, loves to observe, and that she never seems to sleep.