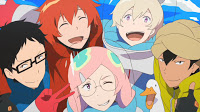 It's fitting that a series that delivered more happiness per minute than any I can remember should deliver a pleasant surprise right after it finishes airing…
In my series review for Tsuritama I said, "I haven't totally given up hope that Tsuritama could surprise and do pretty decently by NoitaminA's meager standards – nothing huge, but maybe 3-4 K discs." The final numbers are out and that prediction is looking pretty good – in fact, it was low. The first volume sold a combined 4454 discs in its opening week.


That number is obviously not going to worry the Nisemonogatari and Fate/Zero of the world, but for what it is – a stubbornly unusual and smart series that airs on NoitaminA – it's outstanding. The mix – 2338 Blu-rays and 2116 DVDs – indicates that as expected, the demographic was almost evenly split among men and women.


Those numbers are on the borderline of what would normally get a series a continuation. But even if that doesn't happen (there's been no talk of it that I've heard) it's still great that producer Yamamoto Kouji and the NoitaminA team see a show like Tsuritama be rewarded, and actually make money. And I'm glad that the Tsuritama staff, who clearly put a lot of love into this effort without much hope of commercial success, get to see that they reached the public in a big way. With Chihayafuru getting a second season and Tsuritama doing so well, it's been a good couple of months for the deserving underdogs of anime.